Omar's Primary, QAnon Backer's Georgia Runoff Top Tuesday Races
Bloomberg Government subscribers get the stories like this first. Act now and gain unlimited access to everything you need to know. Learn more.
Minnesota Democrat Ilhan Omar is defending her House seat for the first time in a primary Tuesday, the latest test for the bloc of progressive first-term Democratic women of color dubbed "The Squad."
Omar faces a big-spending challenge from Anton Melton-Meaux, a lawyer and first-time candidate who cast Omar as a divisive national figure.
Omar is the third of the four-member Squad to go through the primaries. Rep. Alexandria Ocasio-Cortez (N.Y.) in June and Rep. Rashida Tlaib (Mich.) last week overwhelmingly defeated their challengers. Rep. Ayanna Pressley (Mass.) is unopposed for renomination next month.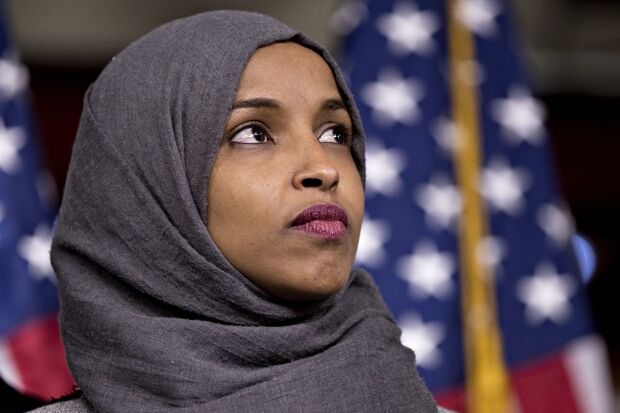 Minnesota's primary will also set potentially competitive November matchups in several districts including that of House Agriculture Chairman Collin Peterson (D).
There also are Republican runoffs in two strongly conservative Georgia districts where the winners will be favored to join the 117th Congress next January. One of them includes Marjorie Taylor Greene, a supporter of the QAnon internet conspiracy theory who also attracted attention for other provocative statements.
Primaries in Connecticut, Vermont, and Wisconsin are mainly formalities.
Here's a look at the races to watch.
Connecticut
5th District (Danbury, New Britain, Meriden, most of Waterbury; Hillary Clinton won 50%-46%): Rep. Jahana Hayes (D), a former national teacher of the year and the first Black woman to represent Connecticut in Congress, is favored to win a second term over Republican David X. Sullivan, a former federal prosecutor. Neither candidate is opposed in the primary.
Like the other four members of Connecticut's all-Democratic House delegation, Hayes is considered safe for re-election by the nonpartisan Cook Political Report. Connecticut's 5th is mildly Democratic, though Hayes won 56%-44% in 2018. She had $1.2 million in her campaign account as of June 30 compared with $109,000 for Sullivan.
Georgia
9th District (northeast; Donald Trump won 78%-19%): The winner of a Republican runoff between state Rep. Matt Gurtler and firearms business owner Andrew Clyde can punch his ticket to Washington from one of the nation's most Republican districts.
In the June 9 primary, Gurtler had 21% and Clyde took 18% to top a nine-candidate field and advance to the runoff.
Gurtler, known for casting lone "no" votes in the Georgia legislature, has support from Sen. Rand Paul (R-Ky.) and Rep. Thomas Massie (R-Ky.), who are like-minded iconoclastic conservatives.
"I really believe in limited government, the Constitution, free markets, getting the government off our backs to be as small as possible — so small you wouldn't even know it exists, that's my ultimate goal," Gurtler said at a Georgia Farm Bureau candidate event last month.
Clyde, a Navy veteran, said the IRS in 2013 sought to confiscate much of his business. He testified before Congress in 2015 in favor of legislation to change asset seizure law. It was enacted in 2019 as part of an IRS services and enforcement measure (Public Law 116-25), which was sponsored by the late Rep. John Lewis (D-Ga.).
"I decided to make it my mission to ensure that this never happened to another American ever again," Clyde said during the campaign. He would end the IRS and implement a flat tax on consumption.
Clyde received donations from the political action committees of United Parcel Service and Republican members of the Georgia delegation including Reps. Buddy Carter, Austin Scott, Drew Ferguson, and Jody Hice.
Rep. Doug Collins (R) declined to seek re-election and is instead running for the Senate, challenging Kelly Loeffler (R), who was appointed to the seat when Johnny Isakson resigned at the end of 2019.
14th District (northwest; Trump 75%-22%): Greene, who owns a construction business with her husband, is in a contentious runoff with neurosurgeon John Cowan in another district where winning the Republican nomination is tantamount to victory in the general election. Greene led Cowan 40%-21% in the June primary.
"I, like many Americans, are disgusted with the Deep State, who have launched an effort to get rid of President Trump," Greene said last month at an Atlanta Press Club candidate debate when she was asked if she was a QAnon follower.
Greene also attracted attention for other incendiary statements she made before becoming a political candidate, such as warning about an "Islamic invasion into our government offices." During the first-round primary, Greene aired an ad of her holding an AR-15 semi-automatic rifle and warning leftist antifa activists to "stay out of northwest Georgia."
Cowan's donors included House Minority Whip Steve Scalise (La.), the Republican Jewish Coalition, and health-care PACs including the American Medical Association.
Cowan attacked Greene for her company taking a Paycheck Protection Program loan as the wealthy Greene self-funded her campaign with $900,000.
Both ran as ardent Trump supporters. "I consider my campaign for Congress to be entirely about supporting the president and his agenda," Cowan said at the debate. He noted Greene didn't vote in the 2016 Republican presidential primary.
Greene said she has "passionately supported President Donald Trump from Day One, since he came down that escalator." She said she donated to his campaign before and after Trump became president, unlike Cowan.
Rep. Tom Graves (R-Ga.) didn't seek re-election.
For more: QAnon Believer's Racist Remarks Stoke GOP Alarm in House Runoff
Minnesota
Senate (Clinton won Minnesota 46%-45%): Sen. Tina Smith (D) is seeking a full six-year term after first joining the Senate in early 2018 as an appointee and then winning a special election that November to complete the term won by ex-Sen. Al Franken (D).
Smith has four lesser-known primary opponents. Of the five Republican candidates, the best-known and best-funded is former Rep. Jason Lewis, a former radio talk-show host who was defeated for re-election to the House in 2018 after one term.
While Minnesota was among the nation's most competitive states in the 2016 presidential election, Trump's re-election struggles and the lack of a top-tier Republican candidate make Smith a clear favorite to win.
1st District (Rochester, Mankato, Winona; Trump 53%-38%): Freshman Rep. Jim Hagedorn (R) and Dan Feehan (D), an Army veteran and former Pentagon official and teacher, are readying their rematch of a 2018 election that Hagedorn won by less than a percentage point. In a banner year for House Democrats, it was a rare Republican "flip" of a Democratic-held seat that had been held by Tim Walz, who won the governorship that year.
Hagedorn is a member of the Agriculture and Small Business committees and sponsored a bill the House passed in January that would require federal contracting officers to consider the past performance of a small business in joint ventures or subcontracts when evaluating that business for a prime contract.
Though Hagedorn is now the incumbent, Feehan is better-funded, with $1.8 million in his campaign account as of July 22 compared with $949,000 for Hagedorn. The nonpartisan Cook Political Report rates the race "Lean Republican."
2nd District (Eagan, Burnsville, Lakeville; Trump 47%-45%): Rep. Angie Craig (D), who ousted Lewis in 2018, will face Republican Tyler Kistner, a Marine Corps veteran.
"I'm ready to serve our country again," Kistner said in a campaign video ahead of his winning the Republican Party's endorsement at a congressional district convention in May. "I could not sit on the sidelines and watch politicians like Nancy Pelosi, Ilhan Omar, and Angie Craig destroy our Constitution."
Craig sponsored legislation that would expand the Affordable Care Act's insurance subsidies. The House passed a modified and expanded version of her bill in June. Craig also co-authored bipartisan bills to address insulin prices and aid colleges that sponsor apprenticeship programs.
3rd District (Bloomington, Plymouth, Brooklyn Park; Clinton 51%-41%): Rep. Dean Phillips (D) and Republican Kendall Qualls, a health-care executive, have nominal primary opponents. In the 2018 election, Phillips ousted Rep. Erik Paulsen (R) by a 56%-44% margin in a district that includes western suburbs of the Twin Cities.
5th District (Minneapolis, St. Louis Park; Clinton 74%-18%): Omar has four primary opponents led by Melton-Meaux, who said the congresswoman sought a national political profile at the expense of serving her district effectively.
"We don't need more dividers in Washington," Melton-Meaux said in a candidate forum.
Omar, one of two Muslim women elected to Congress in 2018, drew criticism early in the 116th Congress for comments about the political influence of pro-Israel groups in the U.S.
Melton-Meaux raised more than $4.1 million through July 22 and benefited from more than $2 million in spending from a super PAC, Americans for Tomorrow's Future, that's funded by pro-Israel donors. Melton-Meaux's most recent donors include Colorado Gov. Jared Polis (D), who's Jewish.
A Melton-Meaux ad Aug. 7 said he's "a progressive who gets things done" and touted an endorsement from the editorial page of the Star-Tribune newspaper.
An Omar ad Aug. 7 promoted her work on gun control and school nutrition policies and said she is "leading the fight for progressive priorities like Medicare for All."
Omar's most recent donors include Ocasio-Cortez, who sent $5,000 from her Courage to Change leadership PAC on Aug. 5.
The district includes Minneapolis, where George Floyd's death in May sparked nationwide protests and conversations about racism and inequality.
For more: Omar Hits the Airwaves as Minnesota Primary Challenge Heats Up
7th District (Moorhead, Willmar; Trump 62%-31%): Trump and House Republican leaders back former Lt. Gov. Michelle Fischbach to oppose Peterson, a 15-term House member who has the most pro-Trump district of any held by a Democrat.
"Send President Trump the ally he needs and wants," a Fischbach TV ad said.
Her four primary opponents include Noel Collis, a doctor who self-financed his bid with more than $700,000, and Dave Hughes, a pilot and Air Force veteran who held Peterson to 52.5% of the vote in 2016 and 52.1% in 2018 despite running underfunded campaigns. In one ad, Collis said "it's time to give Washington a colonoscopy."
Peterson's two primary challengers didn't raise enough money to file disclosure reports with the Federal Election Commission.
Peterson probably is the most conspicuous party-bucker in the House Democratic Caucus. In the current Congress, he voted against impeaching Trump and against Democratic bills that would expand gun background checks and ban oil and gas drilling off the Pacific and Atlantic coasts. Peterson was the only Democrat who opposed a resolution that condemned the Trump administration's legal efforts to rescind the Affordable Care Act.
For more: Agriculture Chair's Likely GOP Opponent Faces Primary Headache
Vermont
At-Large District (Clinton 57%-30%): Rep. Peter Welch (D), who's represented Vermont's statewide congressional district since 2007, has nominal opposition in the primary and is favored to defeat the winner of a four-candidate Republican primary. Vermont is among the nation's most Democratic-voting states in federal elections.
Wisconsin
3rd District (Eau Claire, La Crosse; Trump 49%-44%): Rep. Ron Kind, first elected in 1996, is one of the most senior House Democrats from a district Trump carried in 2016 and one of the most politically secure: He won 60% of the vote in 2018.
Kind, a member of the tax-writing Ways and Means Committee, has one lightly funded primary opponent and would face the winner of a Republican primary between Derrick Van Orden, a former Navy SEAL, and Jessi Ebben, who works in public relations.
Van Orden was endorsed by Vice President Mike Pence and former Wisconsin Gov. Scott Walker. Ebben was backed by the political arm of the House Freedom Caucus as well as the Right Women PAC, which supports conservative women.
5th District (Waukesha, West Allis, Wauwatosa; Trump 56%-36%): Scott Fitzgerald, the state Senate majority leader and a Wisconsin legislator for more than 25 years, is the clear favorite to win the Republican primary and then succeed Rep. Jim Sensenbrenner, a former Judiciary Committee chairman who's retiring after 42 years in the House.
7th District (Wausau, Superior; Trump 57%-37%): Rep. Tom Tiffany (R) and Tricia Zunker (D), the Wausau school board president and a justice of the Ho-Chunk Nation Supreme Court, are unopposed in the primaries and engaged in a rematch of a May 2020 special election that Tiffany won 57%-43%.
Wisconsin's 7th, which includes swaths of northern and northwestern Wisconsin, is the state's largest district and was Wisconsin's most pro-Trump district in 2016. The seat was held by Sean Duffy until his resignation in 2019.
To contact the reporter on this story: Greg Giroux in Washington at ggiroux@bgov.com
To contact the editors responsible for this story: Bennett Roth at broth@bgov.com; Loren Duggan at lduggan@bgov.com
Stay informed with more news like this – from the largest team of reporters on Capitol Hill – subscribe to Bloomberg Government today. Learn more.