Omar Hits the Airwaves as Minnesota Primary Challenge Heats Up
Bloomberg Government subscribers get the stories like this first. Act now and gain unlimited access to everything you need to know. Learn more.
Rep. Ilhan Omar launched her first TV ad and has beefed up her Facebook presence in response to the increasing threat of a primary challenger.
The defensive moves are a sign that the Aug. 11 race is closer than the Minnesota Democrat's campaign had previously let on.
Antone Melton-Meaux, a lawyer who has never held elected office, is posing an unusually strong challenge to a Democratic incumbent in the Minneapolis-based 5th District, former Democratic-Farmer-Labor Chairman Mike Erlandson said.
He outraised Omar in the second quarter — $3.2 million to $471,000 — and has spent $1.7 million on TV ads, according to Advertising Analytics. Erlandson said Melton-Meaux has also pushed an aggressive direct mail campaign. He's targeted the freshman congresswoman for missing 40 House votes and for the lack of bills she's sponsored, and, without mentioning the incumbent's name, criticizes her for prioritizing her own profile over representing the district's interests.
In a recent TV ad, Melton-Meaux touts his progressive bonafides and says he's "not out to sell books, become a national celebrity or fight for my own agenda." In another, he says, "I won't be chasing cameras or selling books."
"It's still a tough race, but is it possible that he wins? Without a doubt," Erlandson said. "It's possible, not probable. If there's momentum in the race now, he has it."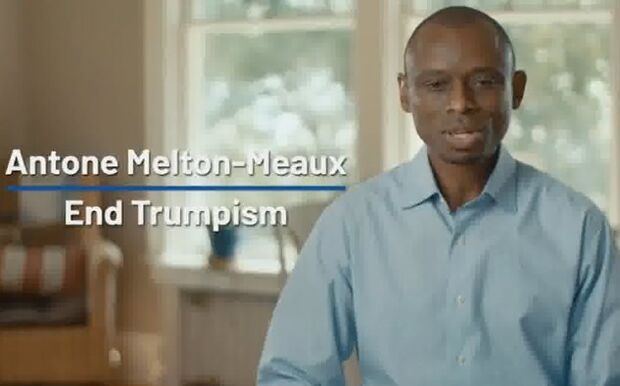 In response to Melton-Meaux's fundraising, Omar released an internal poll conducted in June that showed she was leading the race by 37 percentage points. She also spent $146,000 on Facebook advertising between April 24 and July 22, according to the Facebook Ad Library. Melton-Meaux, who's aired at least three TV ads, only has four ads total on Facebook, spending $1,220 since April 24 and just $639 in the past 30 days.
Melton-Meaux is also receiving help from an outside group. Americans for Tomorrow's Future, a pro-Israel PAC, launched a TV ad last week that accuses the congresswoman of "self-dealing" with campaign funds.
And a spot out Tuesday features voters saying they won't vote for Omar again, in part for ethical questions related to her marrying in March a political consultant who once worked for her.
In Response
In her first TV ad, which hit the airwaves on July 24, Omar seeks to build on the energy from the protests over the death of George Floyd in Minneapolis.
"We can translate our cries for justice into legislation. And that's the fight we have been leading in Congress. On Aug. 11, we take that fight to the ballot box. Join us," Omar says.
Erlandson said it's significant that Omar's campaign is responding at all.
"Most of the time incumbents ignore their opponents, particularly incumbents that are in safe congressional districts," Erlandson said. "In this case the incumbent is being forced to respond to what he's saying, being forced to put out literature that is addressing his attacks on her, which tells me that the congresswoman's polling shows that she is vulnerable on these ethical discretions."
Omar's campaign didn't respond to a request for comment.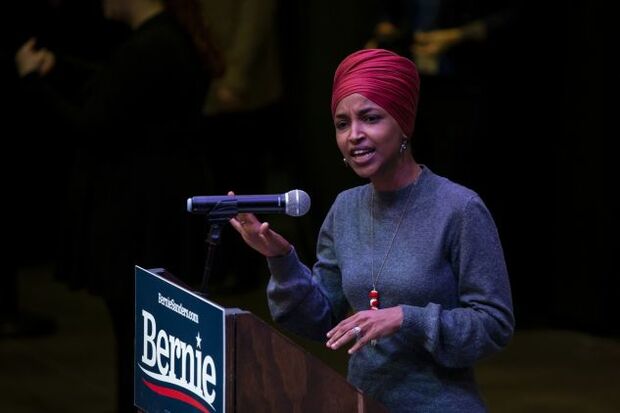 Omar's Facebook ads include Minnesota Attorney General Keith Ellison (D), who previously held Omar's seat, urging voters to "show up for Ilhan" in the primary, as well as posts promoting articles about Melton-Meaux's support from anonymous consulting firms. Four ads tie Melton-Meaux to the GOP, saying many of his donations have come from Republicans who want to replace Omar with "someone who will protect their interests and oppose progressive priorities like Medicare for All."
The DFL will run digital and direct mail ads supporting Omar and use text messages to urge voters to show up at the primary, DFL spokesman Brian Evans said.
"The fact that she released that poll, the fact that all of a sudden she's showing up in the district in a public way tells you the message has gotten through that she's in trouble," said Larry Jacobs, a political scientist at the University of Minnesota. "People who are up by 30 points don't behave that way."
Splintering Support
Jacobs said the energy around Melton-Meaux's campaign has been, in part, because of Omar's eroding support among the Jewish community in the suburbs and splintering support among the African American community.
In the 2018 primary, Omar lost St. Louis Park, a suburb of Minneapolis with a higher Jewish population, by one percentage point. She also lost the largely suburban Anoka County by 4 points.
Omar has criticized Israel's treatment of Palestinians and supported the Boycott, Divestment and Sanctions movement, which calls for boycotting companies doing business with Israel. Israeli Prime Minister Benjamin Netanyahu in 2019 barred Omar and Rep. Rashida Tlaib (D-Mich.) from visiting Israel, though he later said Tlaib could visit her grandmother on the West Bank if she agreed not to promote the boycott movement during her stay. She declined to visit under those conditions.
Tlaib also faces a primary challenge, on Aug. 4.
Former Minneapolis NAACP President Nekima Levy Armstrong wrote in a Minneapolis Star-Tribune op-ed that she endorsed Melton-Meaux because Omar has not risen "to the occasion of prioritizing the needs of the 5th Congressional District." The challenger also received endorsements from civil rights leader Josie Johnson and suburban elected officials including Golden Valley Mayor Shep Harris.
Some of Melton-Meaux's funds have come from pro-Israel political action committees, NorPAC and Pro-Israel America, according to FEC filings. State Sen. Ron Latz, who represents part of the district, said Omar's statements supporting the BDS movement was one reason he endorsed Melton-Meaux in the primary.
Jacobs said it would still be "shocking" if Melton-Meaux hit 40 points but that the momentum so far is on his side.
"This is hers to lose," Jacobs said. "She'll probably win, but she's also going to face a much more significant challenge than anyone would have predicted."
To contact the reporter on this story: Samantha Handler in Washington at shandler@bloombergindustry.com
To contact the editors responsible for this story: Kyle Trygstad at ktrygstad@bgov.com; Bennett Roth at broth@bgov.com
Stay informed with more news like this – from the largest team of reporters on Capitol Hill – subscribe to Bloomberg Government today. Learn more.