Ohio's Chabot, Wenstrup in Same District: Ballots & Boundaries

The Republican-controlled Ohio Legislature is getting ready to pass new congressional district lines that would pair two GOP incumbents and create tossup districts in Toledo and Akron.
The bill (S.B. 258) would pair two Republican incumbents, Steve Chabot and Brad Wenstrup, in a Cincinnati district with a small (roughly 3%) GOP lean, according to a partisan analysis by Dave's Redistricting App.
It also would transform the safe blue "snake on the lake" district represented by Marcy Kaptur(D) into a toss-up and create a slightly-blue tossup district in the Akron area. Overall, Republicans would start the decade dominating in 12 of 15 congressional districts.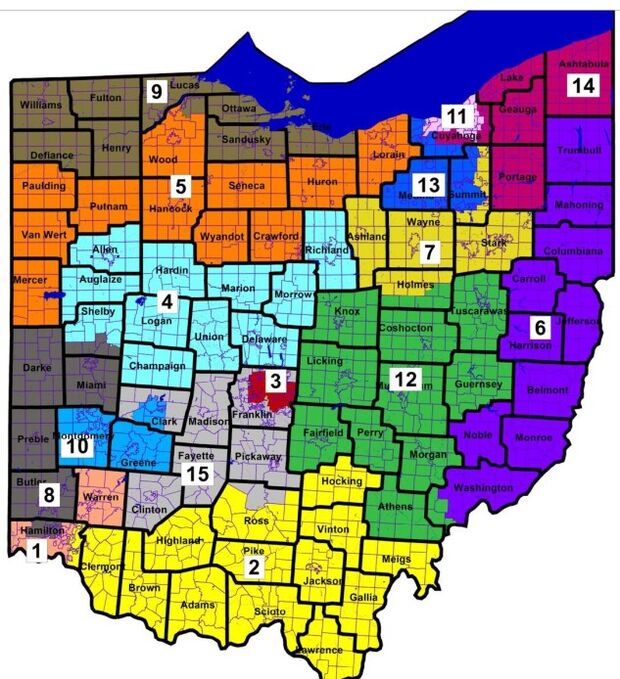 Rep. Jim Jordan (R) would be able to breathe easy. Though prior redistricting proposals suggested combining his home turf with a portion of Columbus, this fast-moving bill would cement a nearly 35 point GOP advantage in his 4th Congressional District.
Republican legislative leaders say they expect the state Senate to pass the plan tomorrow, followed by final passage in the House on Thursday. — Alex Ebert
CALIFORNIA: FINAL COMMENT TIME
In a state as large, populous, and diverse as California, it would have been miraculous if the California Citizens Redistricting Commission pleased every interest group with its first draft map.
There was no miracle.
Some groups, though, did like at least part of the commission's work. The LGBTQ community in San Francisco, Orange County's Little Saigon, and the Karuk Tribe near the Oregon border were all kept whole, although the tribe didn't get the coast-hugging district it suggested.
Overall, 13 of the 52 proposed congressional districts were set up with a Latino-majority population, up from the current 10 districts, said David Becker, executive director of the Center for Election Innovation and Research and an adviser to the commission. However, the Latino-dominant 40th District, represented since 1993 by Rep. Lucille Roybal-Allard (D) and before that by her father, former Rep. Edward Roybal (D), was dismantled under the draft map. It had been the slowest-growing district in the state, according to a Bloomberg Government analysis.
Watch for more suggestions about what to change before the commission finalizes the map next month.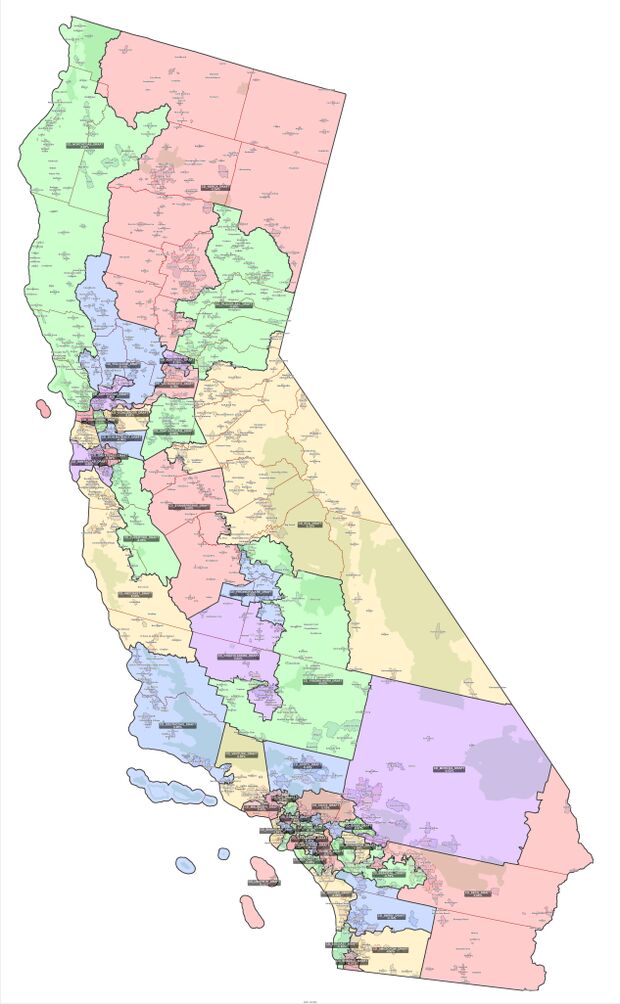 For instance, LGBTQ enclaves in Long Beach, San Diego, and the Coachella Valley are divided in congressional maps, said Samuel Garrett-Pate with Equality California. And while the booming (up by more than 1.2 million statewide) Asian-American community would remain united for purposes of electing someone to a Los Angeles-area state Assembly seat, those same L.A. voters wouldn't get extra influence in deciding who goes to Congress.
And the draft map put more of the Los Angeles area's Black neighborhoods into Rep. Maxine Waters' (D) district instead of configuring the seats to elevate the importance of Black votes in other districts as well, said James Woodson with the Black Redistricting Hub. —Tiffany Stecker
Background:
(Were you forwarded this newsletter? Subscribe for free.)
WISCONSIN: VETO WATCH
Next up in Wisconsin is the Democratic governor's promised veto of legislative (S.B. 621) and congressional (S.B. 622) redistricting maps pushed through by the legislature's majority Republicans.
Assembly Speaker Robin Vos (R) said the maps will withstand any legal challenge and bragged about the minor number of adjustments from the current configurations. Democrats say voters shouldn't be forced to put up with an extension of the status quo. "The partisan gerrymanding is not fair," state Rep. Sylvia Ortiz-Velez (D) said during floor debate. "These maps are illegal and a perversion of justice," she said.
Gov. Tony Evers (D) appointed a People's Map Commission to draw up its own maps. Vos shrugged those off, saying the governor has the power to sign or veto maps, not draw different ones. — Stephen Joyce
VIRGINIA: NEW DEADLINE
Redrawing districts became the job of the state Supreme Court when the Virginia Redistricting Commission ended in partisan deadlock. The next step, appointment of a special master, has been delayed because the court rejected every suggestion offered by Republicans.
GOP leaders in the General Assembly have until 5 p.m. tomorrow to submit different names. — Richmond Times-Dispatch
MONTANA: DISTRICTS DONE
Montana is preparing to hold two U.S. House elections for the first time since 1990 now that the state's redistricting commission has completed its work.
The western district, numbered the 1st, has a mild Republican lean and no incumbent: Republican Ryan Zinke is seeking to return to the House after a stint as Donald Trump's first interior secretary. Rep. Matt Rosendale (R) will be favored to win a second term in the eastern 2nd District, which is more strongly Republican.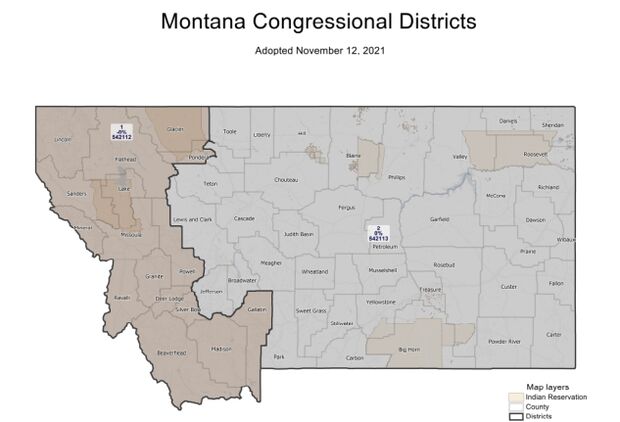 Montana went from two districts to one in the 1990 reapportionment but reclaimed a second seat in the 2020 reapportionment following fast population growth. — Greg Giroux
NEVADA, OKLAHOMA: SPECIAL SESSIONS UNDERWAY
Oklahoma's special session, which began yesterday, is on track to help Rep. Stephanie Bice (R) with a congressional map that makes her 5th District a little more Republican-leaning.
In Nevada —one of 11 states requiring inmates to be counted at their pre-prison addresses for redistricting purposes — the state House revised political maps to comply with the prison gerrymandering law. Gov. Steve Sisolak (D) supports the maps, the Nevada Independent reported. Next stop: the state Senate. — Associated Press
ARIZONA: SECRECY CHALLENGED
An Arizona appeals court is telling cybersecurity company Cyber Ninjas, contracted by the state Senate to review results of the 2020 election in Maricopa County, to turn over audit-related documents. The Arizona Court of Appeals upheld a lower court decision that found records detailing the contentious exercise are public.
The decision said Cyber Ninjas must release the requested documents because the company decided to withhold some of them from the Senate. A company representative told The Arizona Republic that Cyber Ninjas disagrees with the decision and could appeal. —Brenna Goth
FLORIDA: DELIBERATION TIME
This is the day Florida Senate's subcommittee on congressional reapportionment begins reviewing four draft maps showing options for how to add one more seat to the delegation.
Mindful of the legal battles a decade ago, a memorandum from Florida Senate President Wilton Simpson (R) notes that committee staff drew the starting-point maps without consulting "any person other than counsel." — Jennifer Kay
Caught Our Eye
Resources
Add Us to Your Inbox
Click HERE to sign up for Ballots & Boundaries, your weekly check-in as states change voting laws and revise political districts, influencing power and policy for the next decade.
To contact the reporters on this story: Tiffany Stecker in Sacramento, Calif. at tstecker@bgov.com; Greg Giroux in Washington at ggiroux@bgov.com; Jennifer Kay in Miami at jkay@bloomberglaw.com; Stephen Joyce in Chicago at sjoyce@bloomberglaw.com; Brenna Goth in Phoenix at bgoth@bloomberglaw.com; Greg Giroux in Washington at ggiroux@bgov.com; Alex Ebert in Columbus, Ohio at aebert@bloomberglaw.com
To contact the editors responsible for this story: Tina May at tmay@bloomberglaw.com; Katherine Rizzo at krizzo@bgov.com; Bennett Roth at broth@bgov.com