Ohio Would Get New Maps in Four Years Under Final District Plan
Maps would have to be redrawn before 2026 under state law
Democrats would face stiff headwinds outside metro areas
Republicans easily cleared a congressional redistricting plan on a party-line vote Thursday, giving Gov. Mike DeWine the opportunity to lock in a 12-3 GOP advantage.
The bill (S.B. 258) would give Democrats safe seats in Columbus and Cleveland, a slight edge in a new Akron-area district, and disadvantages everywhere else in the state. Republicans would hold a slight advantage in rejiggered districts around Toledo and Cincinnati and strong advantages in the remaining 10 districts, according to a partisanship analysis by Dave's Redistricting App.
DeWine (R) declined to comment on whether he would sign the maps. His spokesman, Dan Tierney, said the governor was briefed by the GOP-controlled legislature and still needs to do his own analysis.
( Sign up for Ballots & Boundaries, a weekly check-in as states change voting laws and revise political districts.)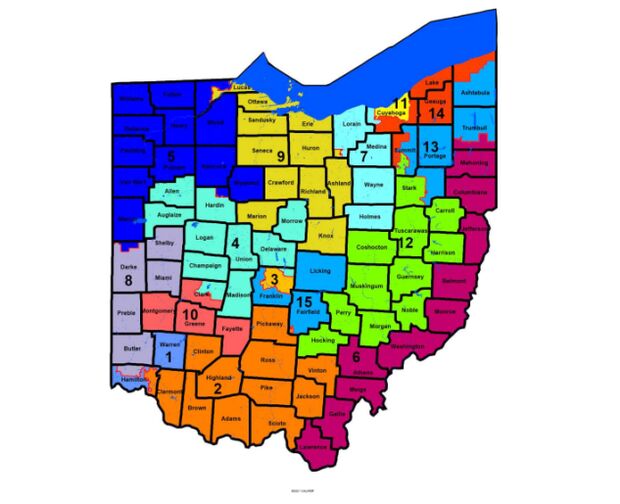 Since the map wasn't passed with Democratic support—the state Senate passed it 27-4 and the House passed it 55-36—under state law the map can be used for only four years. Ohio then would have a mid-decade redistricting that could change the lines prior to the 2026 congressional elections.
Litigation is on the horizon. Ohio law prohibits the maps from unduly favoring one political party over another, and voting rights groups have sued in the Ohio Supreme Court seeking to invalidate state House and Senate maps that were also drawn to benefit Republicans.
To contact the reporter on this story: Alex Ebert in Columbus, Ohio at aebert@bloomberglaw.com
To contact the editors responsible for this story: Katherine Rizzo at krizzo@bgov.com; Kyle Trygstad at ktrygstad@bloombergindustry.com