Ohio Voters Weigh Whether It's Too Easy to Update Constitution
Abortion initiative would be affected if threshold changes
Early voters have cast more than 488,000 ballots already
Bloomberg Government subscribers get the stories like this first. Act now and gain unlimited access to everything you need to know. Learn more.
Ohio has inflamed post-Roe v. Wade emotion by asking voters to limit the ability to change the state's constitution—just before an abortion rights question goes on the ballot.
The measure (Issue 1) would raise the victory threshold for proposed constitutional amendments to 60% rather than the current simple majority.
It also would make it harder to get citizen-driven questions onto statewide ballots by requiring 5% of the total who voted in the last gubernatorial election in all 88 counties to sign petitions.
The outcome of the Aug. 8 special election will determine the level of difficulty for an abortion rights proposal that will be considered in November, and will guide lawmakers in other Republican-trending states, such as Missouri, that have considered setting higher bars for constitutional changes.
"The eyes of the country are on Ohio now with respect to this issue, primarily because it's about abortion and not because it's about the larger, broader question of how we govern ourselves in the states," said Robert F. Williams, an emeritus law professor at Rutgers University's law school.
Abortion Rights Effort Spurs Bid to Change Ohio Constitution
So far, pre-Election Day turnout has been robust; more than 488,000 early ballots were cast as of Aug. 1, according to data compiled by the secretary of state's office. For comparison, nearly 639,000 people total voted in August of last year for legislative primaries. That election had historically low turnout, though, noted Aaron Ockerman, executive director of the Ohio Association of Election Officials, adding that it has been "amazing" this year.
'Sex Changes'
Heading into the campaign's final stretch, opponents' commercials were emphasizing the connection between this ballot question and abortion, an issue that's in flux because a judge blocked a law effectively banning the termination of pregnancies after six weeks' gestation. The Ohio Supreme Court is reviewing the case.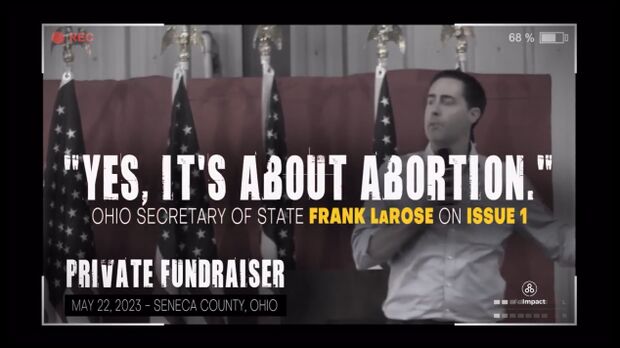 "They're trying to rig the rules to lock in Ohio's extreme abortion ban and stop efforts to restore our rights," says a TV ad by the group One Person One Vote—a spot that also features video in which the state's top elections official, Secretary of State Frank LaRose (R), says "it's about abortion." Other spots contended that a higher bar for ballot question success would "end majority rule."
Backers of the ballot question have pressed a different set of arguments. A dominant pro-Issue 1 advertiser, the group Protect Our Constitution, compares Ohio's simple-majority threshold to the higher bar imposed by the US Constitution.
"Our fundamental rights can be wiped away by corporate greed," one ad says, "Let's set the bar at 60%. Be wise like the founders. Vote yes on Issue 1."
And Protect Women Ohio raised the specter of a future with less parental control of schools.
"Out-of-state special interests that put trans ideology in classrooms and encourage sex changes for kids are hiding behind slick ads," says a spot by the group. "Don't be fooled. You can keep this madness out of Ohio classrooms and protect your rights as a parent by voting 'yes' on Aug. 8."
Protect Women Ohio's spokeswoman, Amy Natoce, said the group wanted to show that multiple issues would be affected by the outcome of the special election.
"At its core, this is about protecting Ohio's constitution from out-of-state special interest groups, conservative and liberal," she said. "Not one party, not one ideology is solely responsible for trying to buy constitutional amendments. This swings both ways."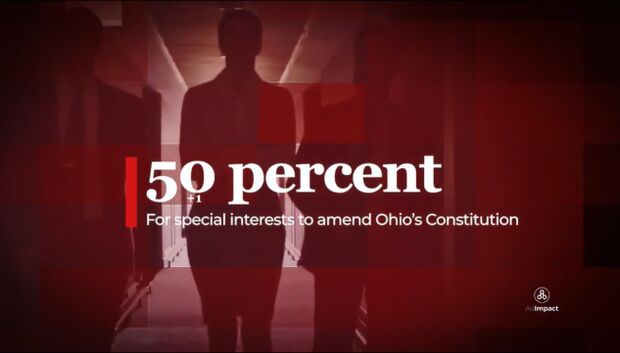 Kellie Copeland, executive director of Pro-Choice Ohio, said introducing issues other than abortion was a strategic choice.
"They've had 50 years to make their argument and they know they've failed," she said. "That's why they're changing the subject."
A USA Today/Suffolk University poll conducted from July 9 to July 12 found that 58% of Ohioans surveyed said they support the November abortion amendment, while 32% oppose it. The poll numbers are comparable to results in other conservative states, said Mary Ziegler, a law professor at the University of California, Davis who specializes in reproductive law, history and politics.
"I think there's a lot of effort to, you know, to ask questions that aren't the actual main question here, which is 'what do Ohioans think about abortion rights?'" Ziegler said. "The answer to that, if you're Republican right now, is not one you want to hear."
Large Donors
The advertising on both sides is being fueled with the help of donors and organizations from around the US.
One Person One Vote reported large contributions from the American Civil Liberties Union, Sixteen Thirty Fund, and the Tides Foundation as part of its $14.8 million total. A California physician and Democratic party donor, Karla Jurvetson, gave nearly $1.1 million, campaign finance records showed.
On the other side, Illinois billionaire and prolific Republican donor Richard Uihlein gave $4 million to the group Protect Our Constitution, or almost all of the $4.8 million the group reported as of July 27.
(SUBSCRIBE to Ballots & Boundaries to keep up with ballot initiatives, congressional campaign trends, and more.)
Protect Women Ohio, which also opposes the abortion rights amendment going in front of voters in November, received more than $6.1 million from Susan B. Anthony Pro-Life America, comprising the bulk of the $9.7 million that group reported.
Still, the Ohio effort comes after multiple states put abortion questions to voters last year. In Republican-heavy Kansas, voters kept in place their Supreme Court's decision that said the state constitution ensures abortion rights.
Michigan voted to enshrine abortion rights in the state constitution, and Kentucky, which hasn't supported a Democratic presidential candidate in more than two decades, shot down measure seeking to amend the constitution to include "no right to an abortion."
The winning side drew less than 60% support in all three elections.
While the ballot question was pushed by the GOP-led state legislature, sentiment doesn't fall neatly along partisan lines. Among Issue 1's opponents are two former governors, John Kasich and Bob Taft, and ex-Attorneys General Betty Montgomery and Jim Petro. All four are Republicans.
"I'm disappointed legislators didn't take a longer view of what the proper standard should be," said Taft, who was governor from 1999 to 2007. He said the proposal shouldn't go in front of voters on an off-year, off-cycle election where turnout tends to be lower than in an even-numbered year with other contests on the ballot.
"I just think it's not a good practice to have such a high-impact change enacted by a very small minority of voters," he said.
To contact the reporter on this story: Eric Heisig in Ohio at eheisig@bloombergindustry.com
To contact the editors responsible for this story: Katherine Rizzo at krizzo@bgov.com; Stephanie Gleason at sgleason@bloombergindustry.com
Stay informed with more news like this – from the largest team of reporters on Capitol Hill – subscribe to Bloomberg Government today. Learn more.