NYC Gateway Tunnel Gets Plug From Amtrak Head Defending Finances
Coscia says company deserves credit for fiscal house in order
Trump budget would halve funding for Northeast Corridor
Amtrak shouldn't be punished with reduced federal investment, particularly for New York's Gateway tunnel and bridge project, just because the company has its financial house in order, Chairman Tony Coscia said.
"Our single best lobbying effort is to run Amtrak efficiently," Coscia said Thursday. The U.S. passenger railroad expects to break even in coming years after paring losses from roughly $500 million a decade ago, he said.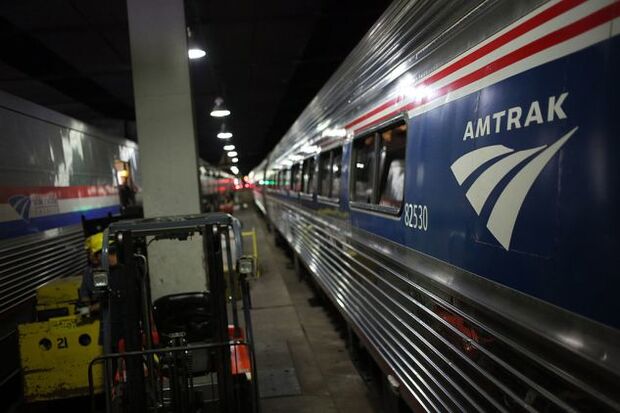 "You are in fact punishing good behavior and suggesting you should reward bad behavior," he said in an interview with Bloomberg News and Bloomberg Government reporters.
"So you need to in fact increase the amount of money that you give us because now what you're spending the money on is capital that represents long-term investment in the system and a better return," Coscia said they tell lawmakers.
The company has persuaded congressional leaders in recent years to increase funding for Amtrak to reward good behavior. Transportation Secretary Elaine Chao may be a harder sell.
'Idle Cash'
Chao, at a recent Senate Transportation-HUDAppropriations Subcommittee hearing, defended the administration's budget that oould cut by about half the funding for the Northeast Corridor, which Gateway supporters saw as an attempt to keep funds away from the Portal Bridge and Hudson Tunnel projects.
"Why is there idle cash of $1 billion?" Chao asked about Amtrak's balance sheet.
The company has begun pooling capital so it can invest in the $25 billion in capital expenses anticipated in the next 10 years, Amtrak Senior Executive Vice President Stephen Gardner said.
"We will get this company to breaking even, but please do not mistake that for having capital necessary to turn this system into what it should be," Coscia said.
Gateway Prep Unabated
Amtrak is focusing on its engineering and maintenance in addition to its finances. The company has worked to ensure that the Harbor Tunnel can continue to operate at current levels, despite sorely needed federal investments, Amtrak CEO Richard Andersonsaid in the same interview.
"We are sort of bidding against ourselves because the better we are at keeping this really flawed, over-capacity piece of infrastructure operating, the better we are at it, the easier it makes it for people to just simply kind of wait" for it to stop functioning, Coscia said.
The company is also designing its new tunnel to prepare for the day when the political headaches subside.
"We're going to continue down that path unabated on the design and environmental work, so that we're poised to be able to launch the work once the funding issues are resolved," Anderson said. "I believe there's an inevitability to it."
To contact the reporter on this story: Shaun Courtney in Washington at scourtney@bgov.com
To contact the editors responsible for this story: Paul Hendrie at phendrie@bgov.com; Robin Meszoly at rmeszoly@bgov.com