Now-Legal Hemp Industry Needs FDA Stamp to Help Tap Big Market
Farmers say hemp needs rules to combat bogus marketing claims
FDA seeks public comments ahead of hemp derivative rulemaking
Hemp farmers got a big win in the 2018 farm law, which legalized hemp as an agricultural product. Now, they're facing another hurdle, as they await federal regulations on one of their best-selling items: hemp-derived CBD.
Cannabidiol (CBD) is a compound in cannabis that doesn't give users the "high" associated with marijuana, hemp's cousin. While CBD is best known for its pain relief and calming effects, further impacts of CBD from hemp aren't well-known. Concerns have emerged over marketing claims that CBD could cure cancer or other ailments, and quality research is scarce due to cannabis' legal complexities.
Bloomberg QuickTake: Crash Course on CBD, THC, Hemp, Other Cannabis Lingo
Penalizing any companies that "make false claims makes sense," said Steve Bevan, president of GenCanna, a hemp research farm near Winchester, Ky., in an interview. But "I think there is an expectation for some clarity at some point in time," he said.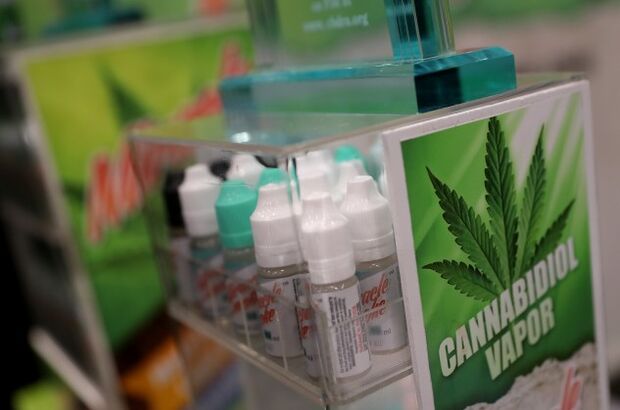 Former Food and Drug Administration Commissioner Scott Gottlieb said last month that his agency, which has already approved one CBD-based drug, would ask Congress to pass further legislation that specifically addressed CBD regulations due to the "highly novel rulemaking process," he said at a Brookings Institution event.
In the meantime, the FDA, which would make the call on CBD's effectiveness and what claims companies can make, has scheduled a public hearing May 31 on products containing cannabis and its derivatives. The FDA has already started a "high-level internal agency working group to explore potential pathways for dietary supplements and/or conventional foods containing CBD," it said.
One potential framework is allowing lower concentrations of cannabidiol as a food additive and "a more purified, high-concentration form as an approved drug," Gottlieb told House appropriators this month.
The internal working group "remains committed" to forming a regulatory framework for hemp-derived CBD, said Amy Abernethy, FDA's principal deputy commissioner, in a statement.
Growing Market
So far, companies have marketed CBD in oils, creams, and even pet food, while cafes and restaurants have begun selling meals with CBD.
CVS Health Corp. announced in March it'll begin selling hemp-infused products at over 800 of its stores, while Walgreens Boots Alliance will reportedly start selling hemp products like creams and sprays in nearly 1,500 stores.
Still, as the industry booms and more farmers are turning to growing the newly legalized hemp, regulators have some catching up to do. Without federal regulations, farmers are losing out on big investors afraid to sell their products.
The industry wants to know "which way the compass is pointing so we can communicate with investors," said Kentucky Agriculture Commissioner Ryan Quarles, whose state's hemp sales more than tripled between 2017 and 2018, according to data from the state's Agriculture Department. Meanwhile, the national market could hit a value of $16 billion by 2025, according to a new report by New York-based Cowen & Co.
But some major food suppliers have opted out of selling CBD products until federal rules are implemented. Whole Foods Marketsaid in a statement it won't sell any such products "until all issues regarding the regulatory status are completely resolved to our satisfaction."
Investors are "unlikely to spend millions and millions on branding and marketing and all front end things until you have a sense of clarity," said Bevan.
Hazy Claims
The FDA is also concerned that Americans—nearly 7 percent of whom already use CBD, according to the Cowen & Co. report—could be misled to consuming CBD products due to bogus marketing claims. Gottlieb said this month that he's concerned some retailers have already begun selling CBD products without federal regulations in place.
CBD is the most popular use of hemp right now, said Jonathan Miller, general counsel for U.S. Hemp Roundtable, a coalition of dozens of hemp companies, in an interview. "The entire industry is at stake."
"We want to make sure as the crop takes off we don't regulate it to death, but at the same time, the industry needs product standards," Quarles said. "Consumers will demand that as well."
The law (Public Law 115-334) outlines actions that would be considered violations of the law, such as producing a plant with more than 0.3 percent THC content or cultivating hemp without a license, and the FDA has sent "warning letters" to CBD marketers that make "unsubstantiated therapeutic claims."
"As the crop continues to mature, we need to know everyone is playing to the same rule book and playing to the same rules as well," Quarles said.
But a lack of research on cannabis products has given the FDA pause over fears that including it in food can "undermine the drug approval process and diminish commercial incentives for further clinical study of the relevant drug substance," the agency said in announcing the public hearing.
"When you think of the cumulative effects of having CBD for breakfast and lunch and dinner in different food products, you might be getting a dose that could potentially cause public health concerns," Gottlieb told lawmakers this month.
Waiting Game
Since 2014, hemp farmers have been able to legally grow the product under an Agriculture Department pilot program. But its legalization has generated some confusion over regulating hemp-derived CBD, which makes up over 70 percent of the products produced by Kentucky's hemp program, Quarles said.
Without federal regulations, some states such as Alaska, Missouri, and Vermont have introduced legislation that eases the sale of hemp-derived food products on their own, while others say they are moving to penalize it, absent a green light from the FDA.
In California, CBD products won't be approved as a food, ingredient, additive, or dietary supplement "until the FDA rules that industrial hemp-derived CBD oil and CBD products can be used," the state's Public Health Department said in a statement.
But after Gottlieb's departure this month, it's unclear if CBD regulations are on the FDA's priority list. Ned Sharpless, the agency's interim commissioner, has yet to publicly comment on further CBD regulation plans.
After Gottlieb's resignation, cannabis stocks fell as analysts said it added uncertainties to the CBD market, Bloomberg reported. "We wonder if 2019 approval is slipping away," Brett Hundley, an analyst for Seaport Global, wrote in a note to clients in March.
Eventually the FDA will need to make decisions, Kentucky's Quarles said, but some farmers and processors are already "full steam ahead and not waiting for the FDA to act."
To contact the reporter on this story: Teaganne Finn in Washington at tfinn@bgov.com
To contact the editors responsible for this story: Paul Hendrie at phendrie@bgov.com; Brandon Lee at blee@bgov.com; Cheryl Saenz at csaenz@bloombergtax.com