'Not Inequitable Enough to Matter': Ballots & Boundaries
Bloomberg Government subscribers get the stories like this first. Act now and gain unlimited access to everything you need to know. Learn more.

American Indians who don't have traditional home addresses on reservations or live hundreds of miles from the nearest post office will be extra-affected by the U.S. Supreme Court decision allowing limits on dropping off someone else's ballot.
The 6-to-3 opinion said Arizona's ban on what the law's backers call "ballot harvesting" doesn't violate the federal Voting Rights Act in a state where most people vote by mail. Opponents unsuccessfully argued that ballot collection is essential for rural and elderly American Indians and other communities of color.
The decision "acknowledged the inequitable burden created by these laws, but indicated that it was not inequitable enough to matter," Jacqueline De León, staff attorney for the Native American Rights Fund, said in a statement. "Since when have our American ideals been that discriminatory policy is okay as long as it is just a little discrimination?" — Brenna Goth
CHANGING THE REFEREES
Two dozen new state laws politicize, criminalize or interfere in aspects of election administration, according to States United Democracy Center, a bipartisan group that aims to advance fair voting.
That trend "threatens the foundations of fair, professional, and non-partisan elections," the group wrote in a memorandum.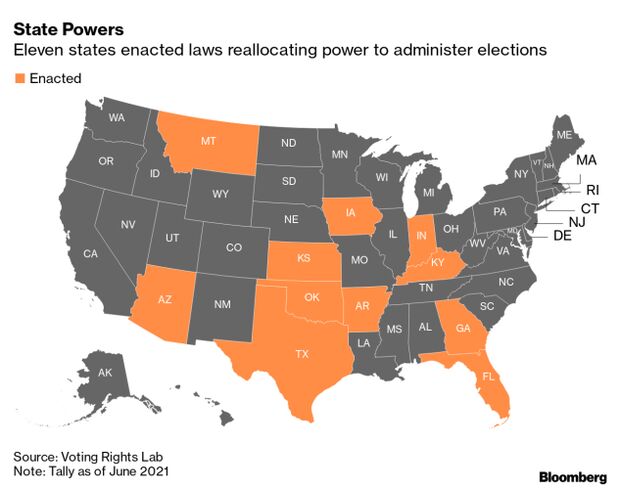 Examples: Georgia, Iowa and Texas gave oversight to legislative or state officials while removing it from local counterparts. Kansas shifted authority to lawmakers from the executive and judicial branches. — READ MORE from Nic Querolo
CALIFORNIA: COMMISSION LAWYERS UP
$1,625 per hour.
That's the price tag for one of the lawyers, Gibson, Dunn, & Crutcher LLP partner Ted Boutrous, who will defend California's new district maps from litigation. The California Citizens Redistricting Commission has approved contracts for two law firms—Gibson Dunn and Los Angeles-based Strumwasser & Woocher LP— to represent the commission against challenges.
Boutrous is a fierce critic of former President Donald Trump, and offered free legal representation to targets of the former president's defamation lawsuits. He's also represented Uber Technologies Inc. in litigation over the rideshare company's labor practices. — Tiffany Stecker
(Did you get this newsletter as a forward? Subscribe here.)
TEXAS: 'UNINTENDED EFFECTS'
It took Nancy Crowther three hours, four public bus rides and an impressive amount of gumption to make sure her vote counted in the 2020 election. Under Texas law, she couldn't ask someone else to return her ballot. Immunocompromised because of a neuromuscular disease, and not confident about mail delivery, Crowther, who uses a wheelchair, made the nine-mile trip to the Travis County elections office.
When Texas lawmakers meet this week in a special session to change the state's voting laws, a proposal that could be reconsidered would require Crowther to submit proof that she's disabled before she can get a mail-in ballot. (Under current law, the county took her word for it.) Two dozen organizations serving voters with disabilities recently signed on to a joint statement asking lawmakers to consider the "unintended and negative effects" of proposed legislation. — Texas Tribune
WISCONSIN: DROP BOXES AREN'T PEOPLE
A complaint against the Wisconsin Elections Commission alleges that voters can't use absentee-ballot drop boxes, ever.
Existing state law specifies mail-in balloting and handing absentee ballot envelopes to municipal clerks but no other options, according to the Waukesha County Circuit Court case. "Allowing ballots to be cast by placing them into an unsupervised, inanimate object invites the fraud and abuse that the Legislature was attempting to prevent," the lawsuit said.
Wisconsin clerks used about 500 drop boxes during 2020 general election, according to the lawsuit. — Stephen Joyce
LOUISIANA: VETO
Louisiana Gov. John Bel Edwards vetoed several election bills because they "would have restricted access to the polls."
He rejected proposed changes to the annual canvassing already required of registrars (H.B. 138), the poll watching process (H.B. 704), to where absentee ballots may be returned (S.B. 63), and absentee voter applications (S.B. 224). Edwards (D) also vetoed a requirement for annual audits of state, local, and federal elections (S.B. 220). — Jennifer Kay
COLORADO: INDEPENDENCE UNLEASHED
Republican political consultant Dick Wadhams notes the irony of his party's happiness with the starting-point maps drawn by the staff of the two independent redistricting commissions.
"It must be frustrating to Democrats, since they helped create these commissions," he said. "They could have written Republicans out of existence if they had wanted to gerrymander in a partisan way."
The commissions will review proposals that would pit incumbents against each other in 20 new legislative districts currently controlled by Democrats, and set up two tossup congressional districts. — Tripp Baltz.
Must Reads
Resources
Put Us in Your Inbox
Click HERE to sign up for Ballots & Boundaries, your weekly check-in as states change voting laws and revise political districts, influencing power and policy decisions for the next decade.
To contact the editors responsible for this story: Tina May at tmay@bloomberglaw.com; Katherine Rizzo at krizzo@bgov.com
Stay informed with more news like this – from the largest team of reporters on Capitol Hill – subscribe to Bloomberg Government today. Learn more.