Swing-State North Carolina Gets Maps With Partisan Balance (2)
Interim map is only for 2022 congressional races
First try at redistricting tossed as too GOP-biased
(Updates with additional comment)
Bloomberg Government subscribers get the stories like this first. Act now and gain unlimited access to everything you need to know. Learn more.
North Carolina's highest court has thrown out challenges to a short-term congressional redistricting plan, finalizing less Republican-friendly lines that will be used for just one election cycle.
The map, with a roughly even partisan balance, was given final approval when the state Supreme Court dismissed challenges late Wednesday. Rep. Richard Hudson (R)on Thursday said he'll seek re-election in the new 9th District, while one of his congressional delegation colleagues was openly pondering leaving Washington.
The new district lines could help Democrats as they try to keep control of Congress, and should increase the likelihood that representation in Washington will reflect what a swing state North Carolina has become.
"Republicans were looking to North Carolina to pick up one, two, maybe three seats to get them to a majority," said Michael Bitzer, political scientist at Catawba College in Salisbury, N.C. That path "has kind of been dashed now."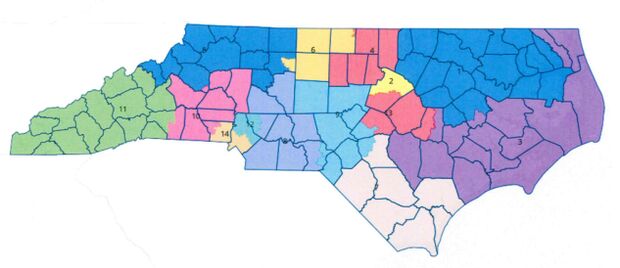 Donald Trump carried the state by less than 1.5 percentage points. Under the new configuration, after the state gains a seat to reflect population changes, seven districts would have voted for Joe Biden and seven would have voted for Trump in the 2020 presidential election.
Currently, North Carolina is represented by eight Republicans and five Democrats.
This map "achieves the partisan fairness and 'substantially equal voting power' required by the Supreme Court of North Carolina without diluting votes under the Voting Rights Act," special masters had written in a recommendation to the trial court.
The president's party traditionally loses ground in the legislative branch during midterm elections, a dynamic that can be amplified when there's one-party control of redistricting.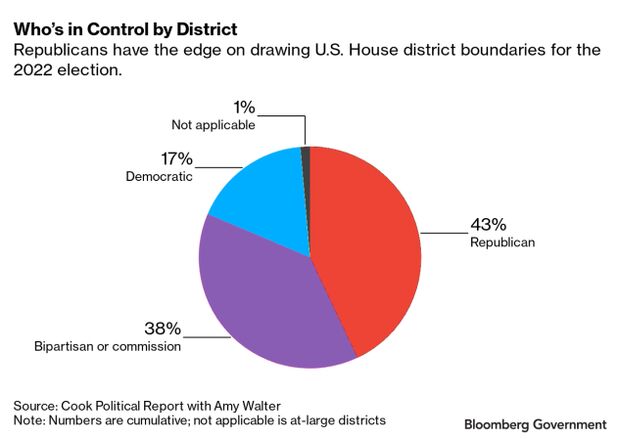 A winner under the court-ordered map is freshman Kathy Manning (D). Her 6th District will be anchored in Guilford County in and around Greensboro and will have a Democratic lean, though not as overwhelmingly so as her current district.
The two most competitive new district, and perhaps the only one, is the 13th District in the metropolitan Raleigh area, which Biden would have won by 2 percentage points.
"If Republicans have a good year, they should be able to hold the seven they should have and pick that one (the 13th) up. But that leaves it at an 8-6 dynamic when they were thinking 10-4 previously," Bitzer said.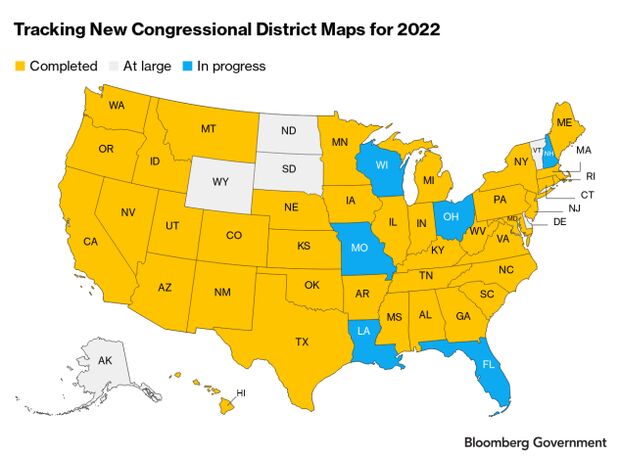 Only a handful of states have yet to finish revising their district lines.
In North Carolina, a lower court had set the congressional district boundaries after state lawmakers made two attempts to come up with a configuration that wouldn't violate the state constitution by unfairly favoring GOP candidates.
"Activist judges have subverted our constitution," Rep. Dan Bishop (R) said on Twitter. "I am weighing whether to run in the court-imposed 8th or 9th district. But I am also actively exploring running for state-wide judicial office—in 2022 we will restore constitutional government in North Carolina."
(Subscribe to Ballots & Boundaries to follow how states revise political districts.)
Hudson presently represents 47% of the people in the reconfigured 9th compared with 21% for Bishop, who had more of his constituents drawn into the more heavily Republican 8th District. The revised 9th, which includes most of Cumberland County in and around Fayetteville, would have backed Trump by 8 percentage points in 2020. (Members of Congress aren't required to live in their districts, though most do.)
North Carolina now will need an extra round of redistricting, since the court said the new map can only be used for the 2022 congressional elections.
If Republicans maintain control of the North Carolina legislature and win a majority on the state Supreme Court in the November elections, said Bitzer, "they're going to redraw the congressional map, and they're out for vengeance."
Candidate filing for the May 17 primary elections opened Thursday.
To contact the reporters on this story: Greg Giroux in Washington at ggiroux@bgov.com; Chris Marr in Atlanta at cmarr@bloomberglaw.com
To contact the editors responsible for this story: Katherine Rizzo at krizzo@bgov.com; Heather Rothman at hrothman@bgov.com; Tina May at tmay@bloomberglaw.com
Stay informed with more news like this – from the largest team of reporters on Capitol Hill – subscribe to Bloomberg Government today. Learn more.