No Time Off From Campaign Fundraising for Swing-Seat Freshmen (Corrected)
Sophomore Gottheimer top Democrat in districts carried by Trump
Freshman campaign cash leaders include Delgado, Harder, Omar
(Restores Cunningham's total to the first chart.)
Rep. Antonio Delgado, who defeated a sitting congressman to flip a seat last year, is the No.1 campaign fundraiser among the vulnerable group of freshmen representing swing districts.
The New York Democrat raised nearly $755,000 from January through March, and already is spending money to defend his seat.
"I'm here to find common ground," Delgado says in a digital ad filmed during a series of recent town hall events in his district. "It doesn't mean we're not going to have differences. We can do so in an agreeable fashion."
Delgado, who toppled incumbent Republican John Faso, is one of 22 freshman Democrats from House districts won by President Donald Trump in 2016. Those newcomers are being targeted by both parties, as the GOP seeks to regain ground in a presidential election year and Democrats try to make 2018 the start of a new trend.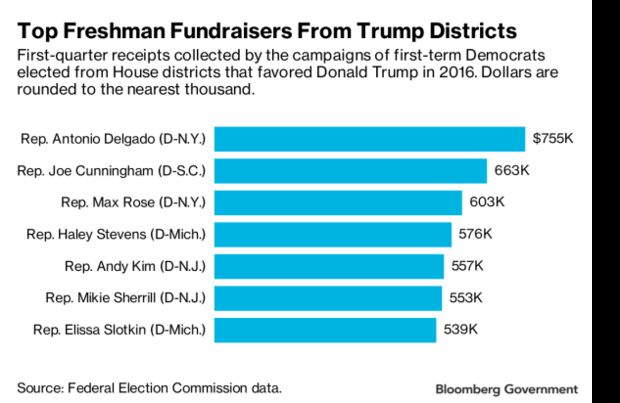 The campaigns of 10 swing-seat Democrats took in at least $400,000 in the first quarter this year, putting them on track to again raise millions before the next election.
Holding Trump Districts
Money was big factor in the Democrats' success in 2018, with challengers frequently outraising Republican incumbent lawmakers in midterm races that shattered campaign money records.
Maintaining fundraising momentum could be tougher for House Democrats in 2020. They have to compete for attention with Senate Democrats still seeking to take control of that chamber and with nearly two dozen presidential contenders vying in Democratic primaries to take on Trump next year.
Trump-District Democrats Vital to Party Keeping House Majority
House Democrats also face stiff opposition from Republicans seeking to regain the House majority. Take Back the House 2020, a newly registered joint fundraising committee linked to House Minority Leader Kevin McCarthy (R-Calif.) reported raising more than $16.5 million, so far this year, mainly in contributions of $100,000 or more from big Republican donors.
Delgado raised more than $9.2 million in campaign contributions for his midterm race in 2018, leading the money race among dozens of Democrats who flipped Republican districts to take the House majority.
Small-Donor Movement
This year, two House freshmen from more Democrat-friendly districts, Reps. Josh Harder (Calif.) and Ilhan Omar (Minn.) have raised even more than Delgado. Harder has collected nearly $874,000, while Omar – a frequent target of criticism by Trump and other Republicans – has raised $832,000.
Rep. Josh Gottheimer (D-N.J.), who flipped a Republican-held seat in 2016, was the top fundraiser among incumbent House Democrats in districts that Trump won in 2016. Gottheimer raised just over $830,000 from January through March.
ActBlue, a Democratic political action committee that operates an online fundraising platform crucial for raising smaller contributions, said in January that it handled more than $1.6 billion in contributions in the 2018 election cycle. The platform doubled its previous record in the number of donors giving and total amount raised and predicted the momentum would continue into this year.
"The small-dollar donor movement that drove huge wins in 2018 is here to stay," ActBlue's analysis said.
To contact the reporter on this story: Kenneth P. Doyle in Washington at kdoyle@bgov.com
To contact the editors responsible for this story: Katherine Rizzo at krizzo@bgov.com; Bennett Roth at broth@bgov.com