No Name, No Picture: Military to Reckon With Bias in Promotions
Bloomberg Government subscribers get the stories like this first. Act now and gain unlimited access to everything you need to know. Learn more.
The U.S. military currently has just two four-star generals who are Black. House Democrats and the Pentagon are seeking to change that statistic by removing pictures and names from promotion and selection pitches.
The military would be required to scrub all personal identity information—most notably names and photos—from packages that go to selection and promotion boards as part of the House Armed Services Committee's defense authorization bill.
The provision, written by Rep. Jackie Speier (D-Calif.), aims to eliminate bias and boost the number of people of color and women in military leadership.
Personnel data show the percentages of women and minorities shrink as the military rank increases. The only two Black military commanders attaining the top rank are Charles Brown, the Air Force's incoming chief of staff and the first Black service chief in U.S history, and Michael Garrett, the head of the Army's Forces Command.
The change "is needed and could make a substantial difference for the force as a whole," said Emma Moore, a research associate for the Military, Veterans, and Society program at the Center for New American Security. "Bias is hard-wired into people's perception of the world," she said in an interview. Removing identifiers for gender and race would help erode that discrimination, but would be "insufficient," she said.
Racial diversity decreases at the upper echelons of the military. While the officer corps has levels of racial diversity similar to those in the general population, those with higher ranks—generals in the Air Force, Army, and Marine Corps, and admirals in the Navy—are disproportionately White. There is an even greater ethnic disparity in the top ranks, according to a Council on Foreign Relations paper on the demographics of the U.S. military.
Defense Secretary Mark Esper directed several actions to improve diversity and inclusion within the department on Wednesday, reflecting the larger U.S. societal debate over racism and racial disparities that prompted nationwide protests.
Picture Ban
Esper's actions include prohibiting use of photographs by promotion boards and during selection processes for assignments, training, education, and command starting Sept. 1. In addition, the Pentagon's personnel chief would have to develop guidance by the end of September on how to remove all references to race, gender, and ethnicity in personnel packets submitted to selection panels.
About 31% of the U.S. military is made up of minorities, according to data Speier's office provided to Bloomberg Government.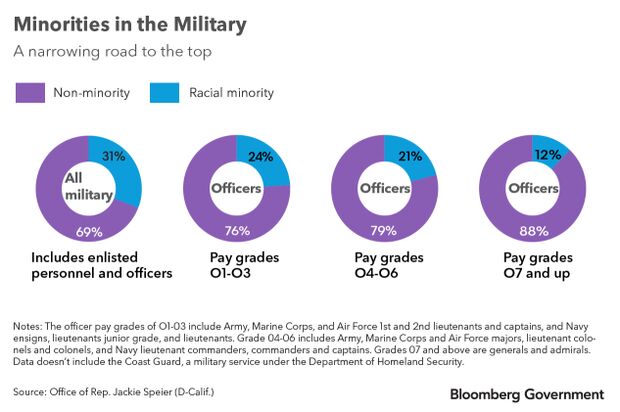 Among majors to colonels in the Army, Marine Corps, and Air Force and lieutenant commander and captain in the Navy (pay grades O4-O6), 21.1% are minorities.
Rising to the ranks of brigadier general or real admiral lower half (O7-O10) to general and admiral, only 12.3% are a racial minority, the data show, and Black people make up only about 9% of the officer corps.
U.S. Demographics
The U.S. resident population ages 18-64 is 76.2% White, 13.7% Black, 6.3% Asian, 1.2% American Indian/Alaskan Native, 0.3% Hawaiian/Pacific Islander, 17.9% Hispanic origin, and 2.2% unknown. Black people make up almost 17% of active-duty military, the only group overrepresented relative to the U.S. population, according to 2018 data from the Congressional Research Service.
The enlisted corps is more racially diverse than the U.S. resident population, with nonwhite service members accounting for roughly one-third of all active duty enlisted and 23% of the total U.S. population ages 18-64, the Defense Manpower Data Center reports.
Women make up 16.5% of the active-duty military force, according to Military OneSource, a support website for military personnel that compiles the demographics. There are 4.2 female enlisted members for every female officer, and 4.7 male enlisted members for every male officer, according to Military OneSource, which used data from 2018.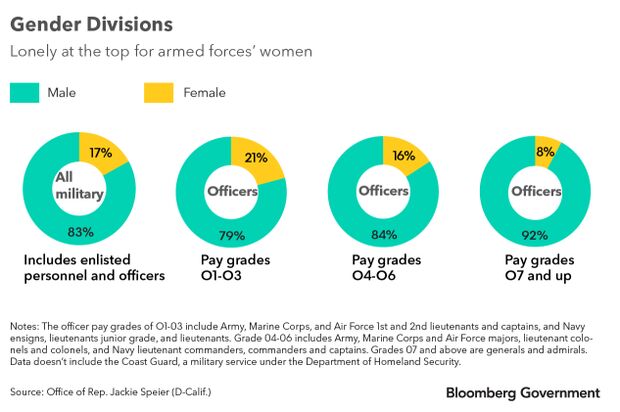 "The causes are many, from blatant prejudice to inadequate childcare to the old boys network of mentorship so crucial to getting ahead," Speier, who leads the House Armed Services Military Personnel subcommittee, said in a statement to Bloomberg Government.
"My amendment to remove names, photographs, and other personally identifiable information from materials before promotion boards will remove opportunities for conscious and unconscious bias, making the military promotion system more fair and equitable," Speier added.
Beyond Promotion Pitches
Changing how packets are presented to the promotion and selection board is "a good start not just for racial bias but also gender bias," said Don Christensen, a retired Air Force colonel, and the president of Protect Our Defenders, a human rights organization. "The more senior you get, the Whiter and more male you get. Women and people of color have traditionally been promoted at a lower rate."
It goes well beyond photographs, said Christensen, who served as chief prosecutor for the Air Force. He said the Air Force eliminated photos from packets decades ago. "I don't think I have met a promotion board with a photo in, yet, we still have problems with minorities and women being promoted."
"It is more of a symbolic change right now that hopefully makes some difference," he said in an interview.
Everything from professional military education to mentors contribute to the disparity, he said. In the Judge Advocate General corps for example, a future general is identified when they are captains, he said, and "they are identified by White general officers."
"It's a multiyear track to get to that general officer rank," he added.
Elite Groups
Every service has its elite, and that's where some of the highest promotions originate. For example, in the Air Force it's the fighter pilots, Christensen said.
Gen. Brown, who will be officially appointed as the Air Force chief of staff on Aug. 22, detailed his own experiences in the military in a June 5 video address about his reaction to the killing of George Floyd, an unarmed Black man, in Minneapolis police custody. As an Air Force pilot, he said, he was "often the only African American in my squadron." Or as a senior officer, "the only African American in the room," Brown said, leading to questions about whether he was really a pilot. He also indicated that he rarely had "a mentor that looked like me."
Career field preferences and assignment policies can contribute to racial disparity among senior military leaders, CRS reported, citing a study in which researchers found that African American cadets tend to prefer combat service support branches, whereas White cadets tended to gravitate towards combat arms.
What's Next
The House is scheduled to vote on the annual defense authorization bill, H.R. 6395, next week. The Senate is also debating its version of the bill, S. 4049, which doesn't have similar language.
If the provision is signed into law, it would codify the changes.
To contact the reporter on this story: Roxana Tiron in Washington at rtiron@bgov.com
To contact the editors responsible for this story: Robin Meszoly at rmeszoly@bgov.com; Sarah Babbage at sbabbage@bgov.com
Stay informed with more news like this – from the largest team of reporters on Capitol Hill – subscribe to Bloomberg Government today. Learn more.