Nix TSA in Next Shutdown? Not So Fast, Lawmakers, Industry Say
Privatization no panacea as agency would select contractors
Legislation would allow tapping fees paid by passengers
San Jose's airport has a zero-interest loan program ready to open. Portland, Oregon's airport says it's prepared to re-launch food banks and provide three meals a day for federal employees.
Airports across the country are brainstorming contingency plans if federal funding lapses again this month and U.S. Transportation Security Administration officers are obligated to once more work without pay. Lawmakers are also circulating proposals and legislation to help insulate TSA workers and prevent another round of mass-call outs similar to what happened during the record-breaking 35-day shutdown.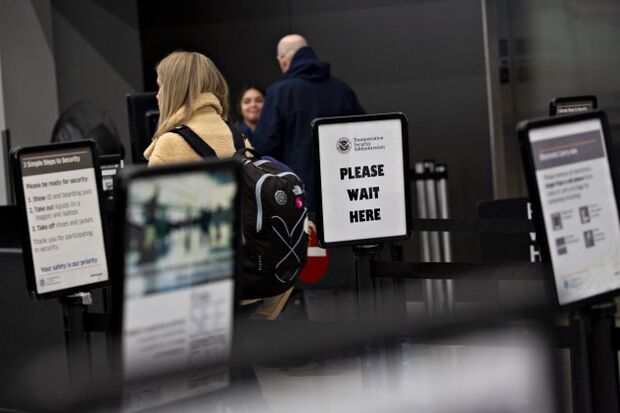 So far, one idea — replacing TSA officers with screeners hired by private companies — hasn't gained altitude. Sen. Rand Paul (R-Ky.) and former House Transportation Committee Chairman John Mica (R-Fla.) championed privatization for years as a way to cut down the federal workforce and give industry more control.
"It would give some relief to a lot of these airports in the future if we had shutdowns," Mike Rogers(R-Ala.), the ranking member of the House Homeland Security Committee, said.
88-Minute Waits
Cash-strapped TSA officers who couldn't afford to get to work led to shuttered security lines and screening waits as long as 88 minutes in Atlanta. By contrast, a handful of airports such as San Francisco International that use contracted screeners were able to pay their workers throughout the shutdown.
The shutdown also fueled concerns about compromising the quality of security screening.
Still, representatives from airlines and airports said in interviews that they were pleased with the TSA's performance throughout the shutdown and weren't seeing a push to privatize. The process takes years, they said, and the TSA ultimately selects and manages the contractor that will staff an airport through its Screening Partnership Program.
This means a contractor's regular funding and management is still at the mercy of the agency's resources. The American Federation of Government Employees union has also opposed privatization, saying it could lower wages and strip worker benefits.
No `Silver Bullet'
Privatization is "not a silver bullet," Doug Yakel, spokeman at San Francisco's airport, said. "At the end of the day, you're still interacting with the TSA."
Senate Commerce, Science and Transportation Chairman Roger Wicker (R-Miss.) and Ranking Member Maria Cantwell (D-Wash.) said in interviews Thursday they don't support privatization.
House Transportation and Infrastructure Committee Chairman Peter DeFazio (D-Ore.) and Homeland Security Chairman Bennie Thompson (D-Miss.) also opposed the idea, and said the agency has standardized airport security since its founding after terrorists launched the Sept. 11 attacks after slipping past private security screeners.
"There's no reason because of a president who unnecessarily shuts down the government to privatize the TSA and go back to the bad old days," DeFazio said.
Legislative Fixes
DeFazio and Thompson have proposed paying officers during a shutdown with money from security fees already collected from airport passengers. Currently, about a third of that funding is diverted into the general pool of federal revenues instead of going toward airport security—a practice heavily chided by industry.
Rep. John Katko (R-N.Y.) introduced a bipartisan bill (H.R. 705) Jan. 22 aimed to give the agency authority to tap security fee funds. The measure has yet to receive a hearing or floor vote.
Industry has largely applauded these legislative efforts as a better fix than privatization.
Free-market oriented groups such as the Mercatus Center and the Heritage Foundation, as well as some security specialists like Jeff Price, an aviation security consultant and former assistant security director at Denver International Airport, say privatization may get a renewed push this year if another shutdown occurs. January is typically the slowest air travel month, meaning a shutdown in February would likely lead to more stress on agents and longer wait times.
"Airports and airlines are spending a lot of money trying to keep TSA agents fed, and they're going to get tired of that after a while," Price said.
To contact the reporter on this story: Michaela Ross in Washington at mross@bgov.com
To contact the editors responsible for this story: Paul Hendrie at phendrie@bgov.com; Robin Meszoly at rmeszoly@bgov.com; Jonathan Nicholson at jnicholson@bgov.com