Nielsen Firing Leaves Cybersecurity Concerns Without a Champion
Homeland secretary elevated cybersecurity to national stage
Departure comes as Trump ramps up focus on stemming migrants
The abrupt ouster of Homeland Security Secretary Kirstjen Nielsen could be a blow to the department's efforts to bolster America's defenses against growing cybersecurity threats, former officials from the department, advocates and lobbyists say.
"The worst-case scenario is that our adversaries use this moment of leadership transition, and use it as a Trojan Horse to launch some sort of attack," Caitlin Durkovich, former DHS assistant secretary for infrastructure protection for the Obama administration, said in an interview.
"Who's to say that the new acting secretary's priorities aren't different and that there will be the same emphasis on cyber when there's such an emphasis on immigration?" said Durkovich, who now works with risk advisory firm Toffler Associates.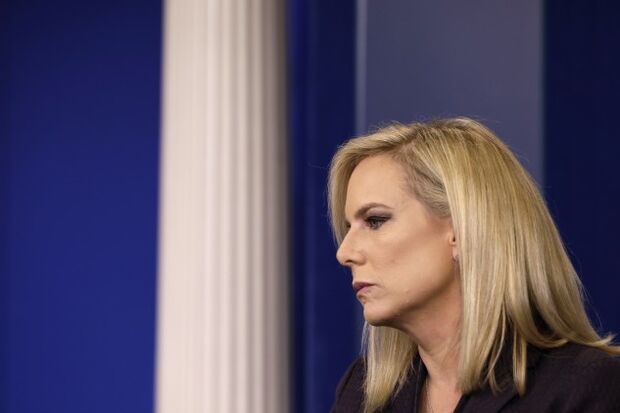 Nielsen may be most remembered as the face of President Donald Trump's most hard-line immigration policies. But over her 16-month tenure, cyber specialists and federal officials have applauded her relentless championing of cybersecurity priorities. She frequently warned that increasing threats of hijacking critical infrastructure—from the electric grid to voting machines—were a greater threat to America's security than terrorism.
"On the top of my list of threats—I bet many of you can guess the word CYBER is circled, highlighted, and underlined," Nielsen said last month at her annual State of Homeland Security Address.
Another candidate for the position isn't likely to match Nielsen's expertise in cybersecurity, the former officials and lobbyists said. Trump said current U.S. Customs and Border Protection Commissioner Kevin McAleenan will replace Nielsen in an acting capacity. Other names being floated for the position don't have the depth of background on the issue as Nielsen, these experts said.
Nielsen launched her own cyber advisory firm and was a senior fellow at the George Washington University's Center for Cyber and Homeland Security before becoming secretary. Her credibility allowed her to bring together leaders across the Cabinet for all-of-government initiatives, one senior administration official said.
Now That Trump Has Ousted Secretary Nielsen, It's Miller Time
Trump Ousts DHS Chief as Border Prommises Unravel Ahead of 2020
"It could have a real impact on the progress that DHS has made on becoming a functional body to help protect critical infrastructure and the government on cybersecurity," Ari Schwartz, managing director of cybersecurity services at Venable LLP, and former White House National Security Council member, said in an interview.
Cyber Legacy
Officials and cyber experts said Nielsen will be remembered for launching the National Risk Management Center last summer as a central hub to monitor and analyze cyber threats.
She also elevated the department's cybersecurity arm to a full-fledged agency last year, the Cybersecurity and Infrastructure Security Agency. This shift alone has made it easier for the department to attract top cyber talent and advertise itself as the go-to stop when companies or federal agencies needed help securing their systems or addressing an attack, Chris Krebs, director of the CISA, has said.
Nielsen was instrumental in reaching out to local and state election officials and promoting department efforts to secure America's voting machines and registration systems against another targeting by Russia and foreign actors.
To be sure, officials such as Durkovich and lobbyists pointed out that she's already created a leadership group at the agency. A spokeswoman for DHS declined to comment.
"She leaves behind in the CISA team a very strong group of individuals who know the issue set and will work tirelessly in the private sector and government to do the important cybersecurity work our nation needs in the runup to the 2020 election," Andrew Howell, partner at Monument Advocacy, said in an interview.
To contact the reporter on this story: Michaela Ross in Washington at mross@bgov.com
To contact the editors responsible for this story: Paul Hendrie at phendrie@bgov.com; Robin Meszoly at rmeszoly@bgov.com