Next Steps In Court on Control of Congress: Ballots & Boundaries
Bloomberg Government subscribers get the stories like this first. Act now and gain unlimited access to everything you need to know. Learn more.

Control of Congress is a moving target as courts are being asked to order different political lines for 2024. Here's the latest on the black-robes phase of redistricting.
ALABAMA: Help Wanted—Cartographer
Today's the deadline for Republicans and Democrats to submit the names of map-drawing experts to assist federal judges in a redo of congressional district boundaries (if it comes to that.)
The new line-drawer would collaborate with special master Richard Allen, a former Alabama chief deputy attorney general. The original court-appointed cartographer withdrew last week. Look for the court to select its mapmaker quickly; state officials have said any new map has to be final by early October to give candidates and election administrators time to prepare for March primaries.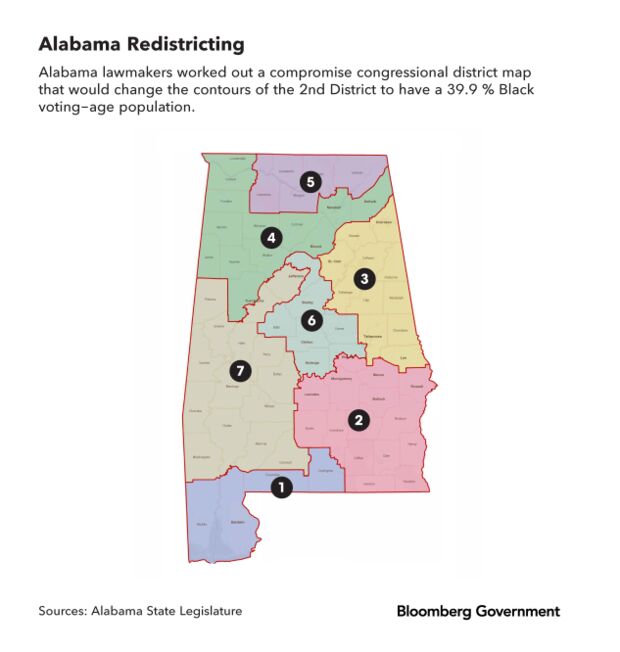 This also is the day challengers will formally tell the court they object to the GOP legislature's recent revisions. The replacement map redrew the southeastern 2nd District to be 40% Black — seemingly well short of instructions to come with a majority or something close to a majority.
A second Black-majority district likely would result in a Democratic pickup of a Republican-held seat.
Rep. Terri Sewell from the Black-majority 7th District is Alabama's only Democrat in Congress.
Defendants have an Aug. 4 filing deadline, followed by reply briefs from the plaintiffs by Aug. 7 and then a hearing Aug. 14 in Birmingham. — Greg Giroux
See also:
Alabama map with 40%-Black district risks clash with court edict
WISCONSIN: New Face, New Suit
The opportunity to press a fresh Wisconsin gerrymandering case will open next week when Milwaukee Judge Janet Protasiewicz joins the state Supreme Court, giving the liberals a 4-3 majority on the bench. Soon afterward, the group Law Forward Inc. says it will contest Republican-tilted political lines that the previously configured court upheld.
Neither party has a lock on voter preference, said University of Wisconsin-Madison political science Professor Barry Burden. "It's basically 50/50," he said. "But these maps give Republicans a substantial bonus."
If the litigation results in new maps, two GOP-held US House seats could become toss-up districts.
READ MORE:
NEW YORK: Republicans Appeal
After a lower court gave Democrats hope by ordering New York's Independent Redistricting Commission to restart the congressional line-drawing process, Republicans are appealing to the highest state court.
The lines set for the 2022 election helped give the GOP the majority in the US House. Even if those lines are used again, though, New York Democrats still have a chance to flip seats in a higher-turnout presidential election year when they'll target districts that preferred Joe Biden in 2020.
(Hat-tip to Politico for pointing out that the NY court's on a summer recess until Sept. 12.)
See also:

OHIO: Abortion Question Makes the Ballot
In a week and a half, a simple majority of Ohio voters will decide whether it's too easy to amend the state constitution. If they raise the minimum and start requiring a supermajority, it'll apply to an abortion-rights proposal that's now been certified for the November ballot. READ MORE from Eric Heisig
See also:
Ohio election workers are weary — Associated Press
(Was this newsletter forwarded? SIGN UP for your own free subscription to Ballots & Boundaries.)

RHODE ISLAND: Is Bernie Influential?
Back in 2016, Rhode Island Democrats preferred fellow New Englander Sen. Bernie Sanders over Hillary Clinton for the presidential nomination and Aaron Regunberg was one of the Sanders campaign's organizers.
Now Sanders (I-Vt.) is backing Regunberg in the special election for an open US House seat. — Providence Journal

UTAH: No Hurry
Sen. Mitt Romney (R) said "I'm going to wait til the fall" to announce re-election plans. — CNN

MONTANA: Sheehy Spends, Rosendale Mulls
After Club for Growth president David McIntosh conspicuously talked up House re-election prospects rather than a potential Senate candidacy for Rep. Matt Rosendale (R), the Montanan told BGOV's Zach C. Cohen he's undecided on a Senate bid: "We've got plenty of time for that."
While Rosendale ponders, fellow Republican Tim Sheehy is up this morning with his first TV ad. It tries to blunt any you're-not-from-here headwinds by explaining that he became a Navy SEAL after the Sept. 11 attacks, then moved to Montana to start a business and family. National Republican Senatorial Committee Chair Steve Daines, who represents Montana's other Senate seat, prefers Sheehy over Rosendale, who lost to Sen. Jon Tester (D) in 2018. — Greg Giroux
Earlier:
Key GOP Senate recruit seeks job overseeing his largest customer

Mississippi can't restrict disabled voting assistance this year, judge rules — Associated Press
Wisconsin's election office in limbo after GOP tries to force out its director — Bolts Mag
Democrats threaten to sue over decision to scrap satellite voting stations in Richmond — Virginia Mercury
Republican promoters of election fraud falsehoods approve ballot hand-counts — Guardian
Resources
Add Us to Your Inbox
SIGN UP for Ballots & Boundaries to keep up with congressional campaign trends, ballot initiatives, state voting laws, and redistricting.
To contact the reporters on this story: Greg Giroux in Washington at ggiroux@bgov.com; Eric Heisig in Ohio at eheisig@bloombergindustry.com; Alex Ebert in Madison, Wisconsin at aebert@bloombergindustry.com; Zach C. Cohen in Washington at zcohen@bloombergindustry.com
To contact the editors responsible for this story: Katherine Rizzo at krizzo@bgov.com; Bennett Roth at broth@bgov.com
Stay informed with more news like this – from the largest team of reporters on Capitol Hill – subscribe to Bloomberg Government today. Learn more.