New Yorker Among 9 Republicans Nationwide to Win Biden District
John Katko had to run well ahead of Trump to be re-elected
But Trump's performance helped GOP pick up two seats
New York's John Katko was one of only nine House Republicans to win last year in a congressional district that was also carried by President Joe Biden, according to state election data compiled by Bloomberg Government.
Katko, who voted last month to impeach Donald Trump, was re-elected to his Syracuse-area seat in November by 10 percentage points, as Trump lost the 24th District by 9 percentage points. Only Rep. Brian Fitzpatrick of Pennsylvania ran further ahead of Trump among all the Biden-district Republicans nationwide.
Biden carried 20 of New York's 27 districts in all, including a pair of Hudson Valley districts Trump won in 2016. Katko, a former federal prosecutor who was first elected to the House in 2014, was able to hang on thanks to his cultivation of an independent and bipartisan image.
"Congressman Katko is overwhelmingly re-elected time and again because he works across party lines to achieve results for the Central New York community and the nation," Katko campaign political director Benedicte Doran said in a statement to Bloomberg Government. "In 2020, he again outperformed the top of the ticket and received broad support from voters from across the political spectrum. Congressman Katko cares less about party and more about who he can work with to get things done."
Click here to download a chart with the New York presidential election results by congressional district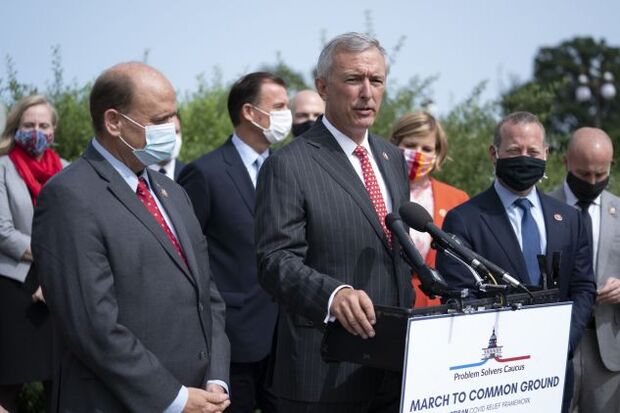 In the 116th Congress, he was among eight Republicans who voted to condemn the Trump administration's legal campaign to rescind the Affordable Care Act, and one of five Republicans who voted to expand protections for private sector workers' right to unionize. In one of his 2020 campaign ads, Katko said he was "proud" to be ranked as the second most bipartisan House member in a 2019 analysis by the Lugar Center and the McCourt School of Public Policy at Georgetown University.
Other spots portrayed Democratic challenger Dana Balter as more liberal than Biden and most 24th District residents. One showed a Democrat saying he'd vote for Biden and Katko. Another used footage of Biden attacking Sen. Bernie Sanders (I-Vt.) over his Medicare for All proposal, which Katko's ad said was also "Balter's dangerous plan." Unlike Sanders, Balter said she would allow Americans to buy into Medicare but wouldn't eliminate private insurance.
Where Trump Helped
While Katko was the only New York Republican to win a Biden district — he received about 28,500 more votes than Trump — the GOP picked up two seats in the state off the strength of Trump's performance.
Freshman Democrats Max Rose and Anthony Brindisi couldn't overcome Trump's 10.5-point win in Staten Island and southern Brooklyn and his 11-point victory in central New York, respectively, which helped GOP challengers Nicole Malliotakis and Claudia Tenney get elected.
Tenney defeated Brindisi by 109 votes in an election so close it was certified only this month.
While Tenney ran well behind Trump, other Trump-district Republicans outperformed him. Reps. Lee Zeldin in eastern Long Island and Elise Stefanik in the North Country were easily re-elected after running ahead of Trump by more than 4 points. Andrew Garbarino ran a point and a half ahead of Trump as he kept the Long Island-based 2nd District of retiring Republican Pete King in GOP hands.
No Longer No. 1
Trump received only 38% of the statewide vote and lost two districts he'd won four years earlier: the 18th, held by Democratic Congressional Campaign Committee Chair Sean Patrick Maloney, and the 19th, where Antonio Delgado won a second term against a lightly funded Republican.
But Trump's improvement among Hispanic voters led to New York no longer having the two most Democratic districts in the country.
In 2016, New York's majority-Hispanic 15th and 13th districts gave Hillary Clinton 94% and 92% vote shares, respectively, as Trump received only 5% in both districts. In 2020, Biden won a statewide high 88% in the 13th District, which includes northern Manhattan and northwestern Bronx and is held by Rep. Adriano Espaillat (D), and 86% in the 15th District, which takes in the south Bronx and is held by freshman Ritchie Torres (D).
With those drops in performance over the past four years, the most Democratic district in the nation is Pennsylvania's 3rd District, a Black-majority Philadelphia district represented by Dwight Evans (D).
Ahead of the 2022 elections, New York is projected to lose one or two of its 27 House districts in reapportionment because of slow population growth. An advisory commission will redraw its congressional map, though it's nonbinding and the Democratic super-majority in the state legislature could enact an alternative.
To contact the reporter on this story: Greg Giroux in Washington at ggiroux@bgov.com
To contact the editors responsible for this story: Kyle Trygstad at ktrygstad@bgov.com; Bennett Roth at broth@bgov.com