New York Republicans See 2022 Opportunity in Cuomo Scandal (1)
State GOP dusts off anti-Cuomo campaign strategy from 1994
Democratic Party chair 'not that worried' about GOP jump start
(Updates with Astorino announcement in the 5th paragraph.)
Bloomberg Government subscribers get the stories like this first. Act now and gain unlimited access to everything you need to know. Learn more.
New York Republicans are trying to wrap up their 2022 gubernatorial election preliminaries a year early, while Democrats are in limbo waiting to find out whether the embattled Andrew Cuomo will be viable for re-election.
The state GOP plans to meet next month to try to home in on one hopeful, avoiding a 2022 primary and starting the work that will be required to sell their nominee to voters and donors, party Chairman Nick Langworthy said.
"Resources and assets are better employed running a general election campaign than an intramural for the Republican nomination," Langworthy said. "There's really great wind at our back."
The best-known Republican entrant, U.S. Rep. Lee Zeldin (R), said he raised over $2.5 million in the first 10 days after announcing his candidacy for the gubernatorial nomination. Half of the state's Republican county party chairs and some Conservative Party chairs have publicly backed him.
Lewis County Sheriff Mike Carpinelli also has announced a bid for governor, and former Westchester County Executive and 2014 gubernatorial nominee Rob Astorino launched a campaign on Tuesday. Other Republican names under discussion include Dutchess County Executive Marc Molinaro and Andrew Giuliani, son of former New York City Mayor and Trump lawyerRudy Giuliani.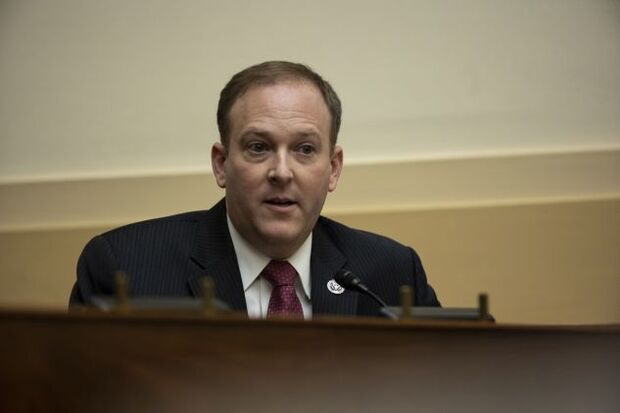 "There's an opportunity right now in New York, and just looking at the polling numbers, it's eerily similar to when George Pataki beat Mario Cuomo back in the day," said Jim McLaughlin, a Republican strategist and pollster.
Andrew Cuomo's job performance rating declined to 42% favorable in April down from 46% in March, according to a Siena College poll. If Cuomo runs for re-election, 33% of voters surveyed said they are prepared to vote for him, compared to 57% who prefer "someone else."
Lines of Attack
When Pataki (R) thwarted Mario Cuomo's bid for a fourth term in 1994, two of the issues were the state's taxes and slowing population growth, McLaughlin said.
Cuomo's son would be seeking his fourth term after agreeing to higher taxes on the wealthiest New Yorkers and after a U.S. Census count showed population gains fell short of the level needed to maintain the state's current level of representation in Congress.
Plus, he gave his future opponent a couple extra talking points by earmarking funds to help undocumented immigrants, and legalizing recreational marijuana.
Democrats may have erred strategically when they passed a budget that raised taxes, said Craig Burnett, associate professor of political science at Hofstra University. "It just sort of lends some credence to the narrative that I think the Republicans can use," he said.
"I think the New York public probably has an appetite to move on," Burnett said. "If they put Cuomo up again, I think you open the door for a Republican to win."
'Vindication'
Cuomo (D) announced plans to run for re-election in May 2019. His campaign started this year with nearly $17 million. Disclosures due out in July will show whether he has maintained his fundraising pace amid an impeachment investigation, a federal probe into the his administration's response to Covid-19 deaths in nursing homes, and an investigation overseen by state Attorney General Letitia James looking into several allegations of sexual harassment or inappropriate behavior.
The 63-year-old has largely evaded recent questions from the media on whether the investigations will hinder his planned run. "I'm focusing on my job," Cuomo said at a news conference in March when asked whether he still plans to run. "Let's get the facts, and then we can have a discussion on the facts."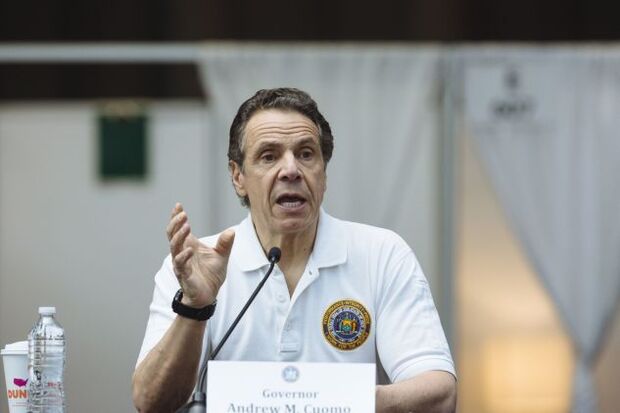 Republicans anticipate Cuomo's name on the ballot "because that's what he's looking at as his vindication," McLaughlin said.
Jay Jacobs, the state Democratic Party chairman and longtime Cuomo ally, said, "Everything is dependent upon what comes up with these investigations."
"He'll make his decisions after that," Jacobs said. "I know that he's always been a strong candidate and he's got a solid base of support still. We'll see how it plays out."
Four's Tough
Running for a fourth term is challenging for any candidate, said Christina Greer, an associate professor of political science at Fordham University.
Cuomo is good at fundraising and gained national supporters as one of the faces of "anti-Trumpness" for four years, she said. "He's unrelenting, so there are lots of people obviously who were so willing to sort of tap dance on what they thought was his political grave, but it was a little premature."
The state's economic recovery, how Cuomo deals with federal funding, and what happens with Covid-19 are all more likely to affect his odds than the scandals, she said: "Almost every single voter goes to the polls thinking about economics."
The Bench
Jacobs said a primary is possible, and the state party is hearing from Democrats who would like to be considered if Cuomo decides not to run.
Among the possible Democratic contenders being discussed in Albany: Lt. Gov. Kathy Hochul, state Comptroller Thomas DiNapoli, state Sen. Alessandra Biaggi, New York City Public Advocate Jumaane Williams, and outgoing New York City Mayor Bill de Blasio. Attorney General James could be a strong choice as a woman of color taking aim at corruption, Greer said.
The 2022 campaign clock really starts this winter, in Jacobs' view.
"I'm not that worried about the Republicans gaining an advantage," he said. "I think the candidates that would seek the nomination are going to be well enough established that they'll be able to make up for any lost time."
If Zeldin's the GOP nominee, his experience running for Congress would be an asset, McLaughlin said.
"He's won a tough suburban district on multiple occasions, he's a war veteran, and he's a Jewish Republican, which is a great, great formula for Republicans over the years," McLaughlin said.
However, his ties to former President Donald Trump could be a two-sided coin: Helping with fundraising while turning off some swing voters. "This isn't Florida, it's New York," Greer said. "I definitely would not think to go with someone so far to the right when you're trying to capture so many people in the middle."
Cuomo shouldn't be underestimated, Greer said.
"There's no one who knows Albany better than Andrew Cuomo. He's been there since he was 19," she said. "You don't go after Cuomo unless you're ready to go to war."
To contact the reporter on this story: Keshia Clukey in Albany, N.Y. at kclukey@bloomberglaw.com
To contact the editors responsible for this story: Katherine Rizzo at krizzo@bgov.com; Tina May at tmay@bloomberglaw.com
Stay informed with more news like this – from the largest team of reporters on Capitol Hill – subscribe to Bloomberg Government today. Learn more.