New York Remapping Targets Republicans Malliotakis, Tenney (1)
GOP delegation could be slashed from eight to four
Democrats view state as buffer with control at stake
(Updates with comments of Republican chairman in the fourth and fifth paragraphs.)
New York Republicans Nicole Malliotakis and Claudia Tenney would have to find a way to appeal to opposition-party voters under a gerrymandered congressional district plan released Sunday.
The proposed map is designed to maximize the prospects for Democrats ahead of the November election, when that party could lose its five-seat majority in the U.S. House. New York is one of the most strongly Democratic states, with supermajority control of the legislature and a Democratic governor, Kathy Hochul, getting final say over the maps.
The configuration put together by legislative Democrats would give their party an edge in as many of 22 of the 26 new districts and reduce the number of GOP-friendly seats to four from the current eight.
State Republican Party Chairman Nick Langworthy issed a written statement calling the maps "the most brazen and outrageous attempt at rigging the election to keep Nancy Pelosi as Speaker."
"For all of their phony protestations about transparency and fairness in elections, what they're doing is textbook filthy, partisan gerrymandering that is clearly in violation of the New York State Constitution," Langworthy said. "We are reviewing all of our legal options to protect the voices of millions of New Yorkers."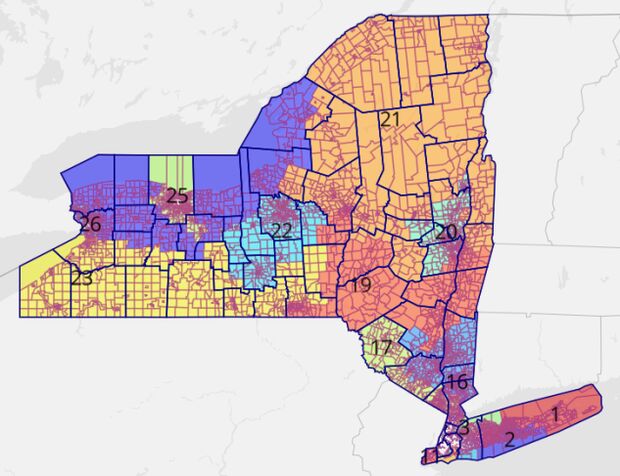 Democrats would have a strong shot at enhancing their footprint in the state's congressional delegation even as the state loses one seat as a result of the 2020 Census.
Democrats hold 19 of the current 27 districts.
Legislators faced pressure to draw a gerrymandered map because Republicans are redrawing more congressional district lines nationwide than Democrats, influencing who'll be in power for the next decade.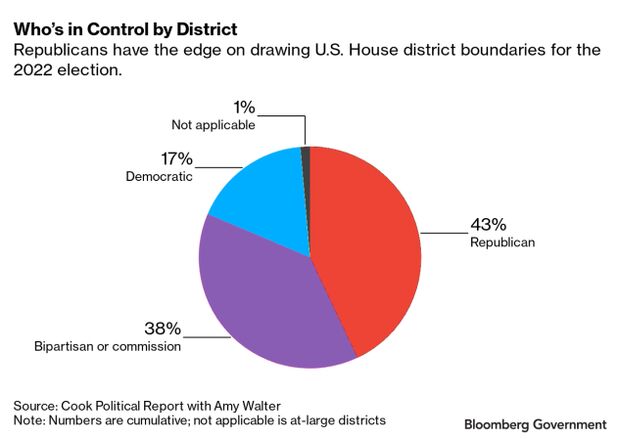 Under the New York proposal, the Staten Island-based district of Malliotakis would absorb Democratic precincts in Brooklyn, primarily from the heavily Democratic district of Rep. Nydia Velázquez. The changes would convert Malliotakis' district from one Donald Trump won by 11 percentage points in the 2020 election to one Joe Biden would have carried by 10 points.
Malliotakis, the only House Republican who represents part of New York City, unseated one-term Democrat Max Rose in 2020. Rose announced a rematch almost two months ago.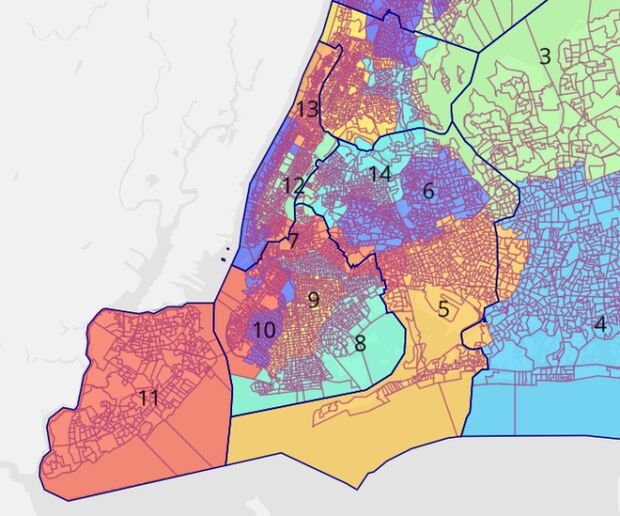 The map pairs Tenney, who represents a Republican-leaning district in and around Utica and Binghamton, with two-term Hudson Valley Democrat Antonio Delgado in a district Biden would have won by 10 points. Delgado currently represents 48% of the people in the merged district compared with 41% for Tenney.
About 199,000 of Tenney's constituents would be shifted to the heavily Republican North Country district of Rep. Elise Stefanik, the chair of the House Republican Conference.
( SUBSCRIBE to Ballots & Boundaries to follow how states revise political districts.)
A Syracuse-based district would become more strongly Democratic with the addition of Tompkins County in and around Ithaca and Cornell University. Rep. John Katko, a popular Republican with crossover appeal to Democrats, isn't seeking re-election and Democrats are favored to win the reconfigured district, which would be renumbered the 22nd from the 24th.
The map would reconfigure three of the four Long Island-based districts to lean Democratic, including the 1st District of Republican Rep. Lee Zeldin and the 3rd District of Democratic Rep. Tom Suozzi. Both are running for governor. The reconfigured 3rd District would include part of Westchester County north of New York City.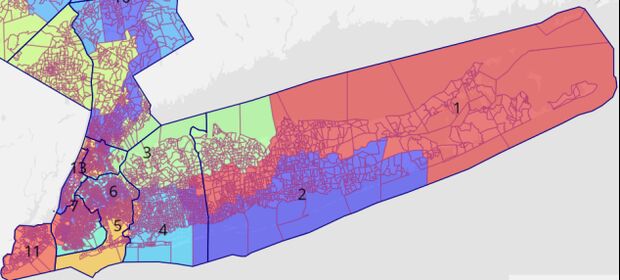 The Hudson Valley-based 18th District of Democratic Congressional Campaign Committee Chair Sean Patrick Maloney would become marginally more Democratic-leaning, though it could be politically competitive in a good Republican year. The reconfigured 18th is one of four the president would have carried by fewer than 12 points, along with the Zeldin, Malliotakis, and Delgado-Tenney districts.
"It will be tough to challenge," said Jeffrey M. Wice, adjunct professor and senior fellow at the New York Census and Redistricting Institute, New York Law School. Wice has decades of experience in redistricting and previously worked in national Democratic politics.
The proposal appears to follow the criteria in the state Constitution, including one-person-one-vote and a requirement that all districts are equally populated, Wice said. "It maintains the integrity of most districts while also addressing the population changes," he said in an interview Sunday.
The proposal could be voted on as soon as Wednesday, and if it's signed by Hochul, "We could have a very orderly spring primary process," he said.
The state legislature took over the map-drawing process after New York's advisory redistricting commission, bogged down in partisanship, failed to come to an agreement on a consensus map.
A two-thirds majority in each chamber is needed to send the maps to Hochul.
To contact the reporters on this story: Greg Giroux in Washington at ggiroux@bgov.com; Keshia Clukey in Albany, N.Y. at kclukey@bloomberglaw.com
To contact the editors responsible for this story: Katherine Rizzo at krizzo@bgov.com; Tina May at tmay@bloomberglaw.com; Kyle Trygstad at ktrygstad@bloombergindustry.com