New York Outcome Could Influence Florida: Ballots & Boundaries

So few states, so much drama, such big consequences. The shape of New York's next congressional delegation now depends on the courts, while Republican infighting continues to hold up redistricting in Florida, Missouri, and New Hampshire.
The number of competitive districts allowed by the politicians in Florida and by the courts in New York will determine how tough it will be for Democrats to keep control of Congress (and how easy it will be for Republicans to thwart President Joe Biden in 2023 and 2024.)
In New York, Democrats are trying to reinstate a map that would favor their party in as many as 22 of the 26 redrawn districts, up from 19 of 27 districts now. And Florida Gov. Ron DeSantis (R) wants 20 GOP-favoring seats, up from the current 16. An April 19 special legislative session is to draw the next map.
"I'm not sure that we'd be talking about this kind of fight if Florida had a deadline to complete redistricting last fall," said David Wasserman of the nonpartisan Cook Political Report with Amy Walter. New York's aggressive approach is one of the things that "really upped the willingness of Republicans to avenge places where Democrats are doing well," he said.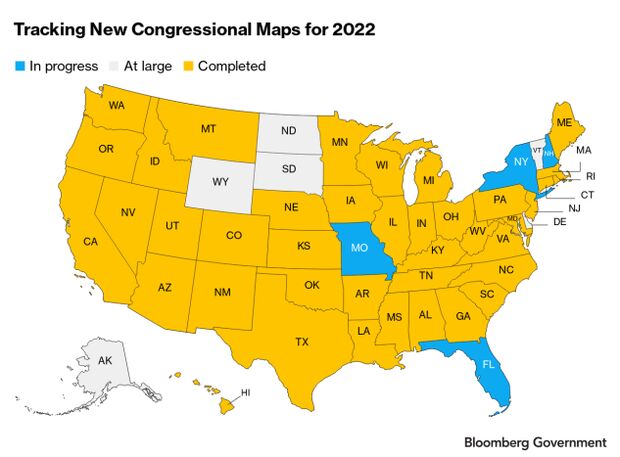 In Missouri, the state Senate hasn't yet assented to a conference committee. And New Hampshire's stalemate boils down to a fight over placement of the line dividing the swing 1st District of Rep. Chris Pappas (D) and the mildly Democratic-leaning 2nd District of Rep. Annie Kuster (D). In both states, Democratic lawyers have filed "impasse" lawsuits asking courts to manage redistricting. — Greg Giroux
(Was this newsletter forwarded to you? It's free. SUBSCRIBE )
NEW YORK: NEXT STEPS
Candidates in New York have until Thursday to file for the June 28 primary, even though there's no guarantee the district lines will stick.
Also on Thursday: an appellate court will hear oral arguments before deciding whether to extend a stay against the redistricting plan. — Keshia Clukey

MARYLAND: DONE
Here's the new congressional map signed into law in Maryland yesterday after the Democratic state attorney general's office agreed to drop its court challenge.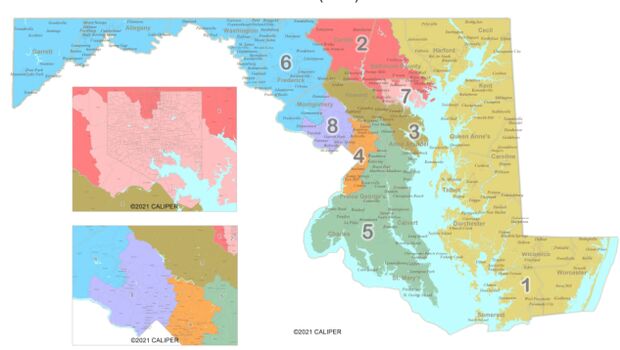 It's less Democratic-leaning than the version vetoed by Gov. Larry Hogan (R), restoring a strongly Republican district for Rep. Andy Harris (R) and giving the GOP a chance to unseat Rep. David Trone (D) in November. — Greg Giroux
Redistricting Impact: Member-vs-Member
You probably saw that Rep. Fred Upton announced he'll cede the field to Bill Huizenga, ending in an incumbent-against-incumbent Republican primary in Michigan's 4th District. We'll keep watching as campaigns kick into high gear by incumbents who aren't as lucky as Huizenga.
Georgia's 7th (D-vs-D): Rep. Lucy McBath says in her first campaign TV ad that "my tragedy turned to purpose" after the shooting death of her son in 2012. Everytown for Gun Safety Victory Fund said it plans to "spend seven figures" to aid McBath starting this week with mail, radio and digital ads. McBath is up against Rep. Carolyn Bourdeaux in a strongly Democratic district dominated by Gwinnett County near Atlanta.
Michigan's 11th (D-vs-D): Rep. Haley Stevens raised $1 million and Rep. Andy Levin collected $750,000 in this year's first quarter, according to their campaigns. All candidates for Congress must file detailed campaign finance reports by April 15. Stevens and Levin are facing off in a strongly Democratic district near Detroit.
Election Law
GEORGIA: FRAUD INVESTIGATIONS
Election fraud complaints could bypass the election professionals at the Secretary of State's office and go straight to the Georgia Bureau of Investigation under legislation headed for the desk of Gov. Brian Kemp (R).
The GOP-majority legislature added election fraud language to an unrelated bill (S. B. 441) yesterday, the last day of its 2022 session. It would let the criminal investigators initiate probes when claims are "sufficient to change or place in doubt the results of an election."
Both Kemp and Secretary of State Brad Raffensperger drew the ire of former President Donald Trump's supporters for contradicting Trump's unfounded claims that he lost the state because of fraud. As they seek reelection this year, both Kemp and Raffensperger face Trump-endorsed primary election candidates. — Chris Marr
MISSISSIPPI: 'ZUCKERBUCKS' OUTLAWED
Grants or other private funding can no longer be used for election-related expenses in Mississippi.
Gov. Tate Reeves (R) signed into law a measure (H.B. 1365) intended as a criticism of Meta CEO Mark Zuckerberg, who funded equipment-buying grants that some Mississippi counties took advantage of in 2020. In a video posted to Facebook Reeves noted that a local election commissioner was indicted on charges of embezzling grant money awarded to Hinds County by the Zuckerberg-funded Center for Tech and Civic Life.
Reeves hasn't yet acted on separate legislation changing how Mississippi maintains voter registration rolls (H.B. 1510 ) — Jennifer Kay
OREGON: HARASSMENT PROTECTIONS
Home addresses of election workers will be shielded from public disclosure under a new Oregon law (H.B. 4144) that also makes harassing an election worker a misdemeanor.
A report by the Brennan Center for Justice and Bipartisan Policy Center found one in three election officials feels unsafe because of their job, and nearly one in five listed threats to their lives as a job-related concern. — Joyce E. Cutler
GEORGIA: MTG SUES
Rep. Marjorie Taylor Greene (R-Ga.) is fighting efforts to remove her from the 2022 primary ballot based on her alleged role in the Jan. 6, 2021, Capitol attack.
Greene's lawsuit seeks an order blocking a Georgia statute that allows any elector who's eligible to vote for a candidate to challenge qualifications.
Greene "vigorously denies" allegations that she tried to thwart the peaceful transfer of presidential power and says the law allowing such challenges violates her constitutional rights under the First and Fourteenth amendments. — Jacklyn Wille
WISCONSIN: DOCUMENT DISPUTE
Wisconsin Assembly Speaker Robin Vos (R) has until April 13 to comply with a court order to turn over documents related to a taxpayer-funded investigation into the 2020 Wisconsin presidential election.
Dane County Judge Valerie Bailey-Rihn ruled Vos in contempt of court for not releasing the documents to the watchdog group American Oversight. She also ordered Vos to pay American Oversight's legal fees.
"It makes me angry that Dane County liberals will do whatever it takes to make conservatives look bad. We have followed the law," Vos told The Journal Timesin Racine. "It's really them trying to stop our investigation. This all focused back on them not wanting to get to the truth of what happened in 2020." — Stephen Joyce
Caught Our Eye
As Texas defends against accusations that its new political maps are discriminatory, it's laying the groundwork to ask the U.S. Supreme Court to throw out longstanding Voting Rights Act protections. (The Texas Tribune)
MyPillow CEO Mike Lindell says he's spent $35 million fighting for Trump election fraud claims. (Newsweek)
Resources
Finished Maps
Alabama|Arizona | Arkansas | California| Colorado |Connecticut |Georgia |Hawaii| Idaho | Illinois | Indiana | Iowa | Kansas | Kentucky |Louisiana| Maine | Maryland | Massachusetts | Michigan | Minnesota | Mississippi |Montana | Nebraska | Nevada | New Jersey | New Mexico |New York | North Carolina |Ohio| Oklahoma | Oregon | Pennsylvania | Rhode Island |South Carolina |Tennessee| Texas | Utah | Virginia|Washington | West Virginia | Wisconsin
Add Us to Your Inbox
Click HERE to sign up for Ballots & Boundaries, your check-in on redistricting, state voting laws, and initiatives.
With assistance from Andrew Small
To contact the reporters on this story: Greg Giroux in Washington at ggiroux@bgov.com; Keshia Clukey in Albany, N.Y. at kclukey@bloomberglaw.com; Joyce E. Cutler in San Francisco at jcutler@bloomberglaw.com; Chris Marr in Atlanta at cmarr@bloomberglaw.com; Jacklyn Wille; Stephen Joyce in Chicago at sjoyce@bloomberglaw.com; Jennifer Kay in Miami at jkay@bloomberglaw.com
To contact the editors responsible for this story: Tina May at tmay@bloomberglaw.com; Katherine Rizzo at krizzo@bgov.com