New York Democratic Clashes, Florida Primaries Set for Tuesday
Nadler-Maloney matchup, Hudson Valley special top N.Y. races
Sunshine State House contests, Oklahoma GOP runoffs on tap
New York elections Tuesday will oust at least one Democratic member of Congress and embolden the political party that wins a special House race 11 weeks before the nationwide midterm vote.
There also are primaries in Florida, where a congressional map from Gov. Ron DeSantis (R), a potential rival to Donald Trump in the next presidential race, may strengthen the GOP's advantage in the state's congressional delegation and help Republicans win a majority of House seats.
In New York, House Judiciary Committee Chair Jerry Nadler and House Oversight and Reform Committee Chair Carolyn Maloney, both 30-year House Democrats, became rivals for the same Manhattan district after a new congressional map unexpectedly merged large parts of their constituencies. In another New York City district, Rep. Mondaire Jones (D) may become a lame-duck freshman after unfavorable redistricting.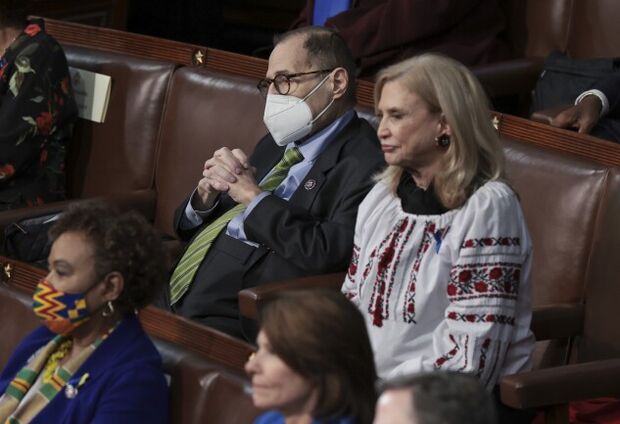 Voters in a competitive district in the Hudson Valley and Catskills will fill a House vacancy in a special election that could carry national significance just before the midterm elections determine whether Democrats can keep their slender majorities in one or both houses of Congress.
Democrat Pat Ryan, the Ulster County executive and a West Point graduate, and Republican Marc Molinaro, the Dutchess County executive and a former state legislator, are running in the 19th District, where President Joe Biden defeated Trump by 1.5 percentage points in the 2020 election.
Ryan made abortion rights protections the linchpin of his campaign after the US Supreme Court in June overturned Roe v. Wade and Kansas on Aug. 2 overwhelmingly voted to preserve abortion rights in its state constitution.
"New York 19 is the next big test for abortion rights, and we feel confident we're going to send a strong message here that, as the Republican Party goes further and further to the extreme right, they're increasingly out of touch with the American people," Ryan said in an interview.
A Molinaro win in the 19th District would pull the GOP within three seats of a House majority and give Republicans confidence they can flip many more districts on Nov. 8 that Biden won two years ago.
"This is their moment, their opportunity to send a powerful message to Washington," Molinaro said in an interview. "And that is that we don't want to be ignored."
The National Republican Congressional Committee, the campaign arm of House Republicans, spent more than $1.2 million on a campaign attacking Ryan. The Congressional Leadership Fund, the main super PAC working to elect a House Republican majority, also intervened in the race.
Ryan or Molinaro will complete the term of ex-Rep. Antonio Delgado (D), who resigned in May to become New York's lieutenant governor. Ryan and Molinaro are also seeking full two-year terms in different districts under new congressional lines adopted by a New York court after it invalidated the Democratic legislature's map as an unlawful partisan gerrymander.
Oklahoma is holding primary runoff elections, and the Republican nominees for open Senate and House seats will be strongly favored in November.
Here's a look at primaries to watch. The 2020 election vote percentages for Biden and Trump are noted parenthetically.
Florida
Senate (Trump won Florida 51%-48%): The primaries are a formality that will confirm a matchup between Sen. Marco Rubio (R), a 2016 Republican presidential candidate now seeking a third Senate term, and Rep. Val Demings (D), a former Orlando police chief who was a House manager during Trump's first impeachment trial in 2020.
Nonpartisan political analysts expect a competitive race but give Rubio a small edge in a state where Democrats have fallen tantalizingly short of victory in recent statewide elections. Demings would be Florida's first Black senator.
1st District (Trump 65%-33%): Rep. Matt Gaetz (R), one of Trump's biggest and brashest allies in Congress, is opposed in the primary by Mark Lombardo, a former FedEx executive and Marine Corps veteran who primarily self-financed his campaign to unseat the three-term incumbent.
Lombardo said in a TV ad that he would represent the northwestern Florida district "with integrity." He referenced news reports from early 2021 that said Gaetz was under investigation by the Justice Department over accusations that he had a sexual relationship with a 17-year-old girl and paid her to travel with him. Gaetz denied the allegations and hasn't been charged with any crime.
A Gaetz ad featured praise from Trump and DeSantis.
2nd District (Trump 55%-44%): Reps. Neal Dunn (R) and Al Lawson (D) will face off in November after redistricting dismantled Lawson's heavily Black district, which connected Tallahassee and Jacksonville. Dunn has the edge in the redrawn 2nd District, which includes all of Tallahassee and Panama City.
4th District (Trump 53%-46%): No incumbent is running in this Republican-leaning district in the Jacksonville area. Minority Leader Kevin McCarthy (R-Calif.), the Florida Bankers Association, and the National Association of Realtors backed Republican state Sen. Aaron Bean.
7th District (Trump 52%-47%): Rep. Stephanie Murphy (D) is retiring after three terms and not seeking re-election in a district north and east of Orlando that Republicans redrew to favor their party.
The Republican primary includes state Rep. Anthony Sabatini, whose supporters include Rep. Marjorie Taylor Greene (R-Ga.) and the Protect Freedom PAC aligned with Sen. Rand Paul (R-Ky.); Brady Duke, a former Navy SEAL; and Cory Mills, an Army veteran who primarily self-funded his campaign.
None of the four Democratic candidates, including state Democratic Party vice chair Karen Green, reported raising more than $30,000 through Aug. 3.
10th District (Biden 65%-33%): The Orlando-based district Demings is giving up to run for Senate is a Democratic bastion and her successor surely will come out of a 10-candidate primary.
Maxwell Alejandro Frost, a 25-year-old gun-control activist who formerly worked for the American Civil Liberties Union, racked up endorsements from the Congressional Progressive Caucus and Congressional Hispanic Caucus PACs and the anti-corruption group End Citizens United. Crypto billionaire Sam Bankman-Fried's Protect Our Future PAC also backed Frost.
Frost's opponents include state Sen. Randolph Bracy, whose donors included pro-Israel groups. Also running are former Reps. Alan Grayson, a frequent candidate seeking a third stint in the House, and Corrine Brown, who pleaded guilty to tax fraud in May.
13th District (Trump 53%-46%): Redistricting converted this Tampa Bay district in Pinellas County from one that Biden won by 4 points to a district Trump would have carried by 7 points. Rep. Charlie Crist (D) is running for governor.
Anna Paulina Luna, an Air Force veteran who lost to Crist 53%-47% in 2020, was endorsed by Trump and Reps. Jim Jordan (R-Ohio) and Lauren Boebert (R-Colo.). Luna's rivals for the Republican nomination include Kevin Hayslett, a lawyer who ran as a "law and order" candidate and attacked Luna on immigration policy, and Amanda Makki, a lawyer and former congressional aide who was runner-up to Luna in the 2020 Republican primary, ran as a "pro-DeSantis" Republican.
Democrat Eric Lynn, who was a Defense Department official during the Obama administration, is unopposed in the primary.
15th District (Trump 51%-48%): Five Republicans and five Democrats are competing for an open, mildly Republican-leaning district in parts of Hillsborough, Pasco, and Polk counties just east of Tampa.
The Republicans include former Florida Secretary of State Laurel Lee, state Sen. Kelli Stargel, and state Rep. Jackie Toledo. Lee's donors included the National Association of Realtors PAC. Stargel, who promoted a measure to ban abortions in Florida after 15 weeks, received a donation from the anti-abortion Susan B. Anthony List. Maggie's List, which works to elect conservative women, donated to Toledo.
The Democrats include Alan Cohn, a former broadcast investigative reporter, and Eddie Geller, a political activist and former standup comedian. Cohn's donors include the political arm of the New Democrat Coalition, a large bloc of center-left House Democrats the group says is "committed to pro-economic growth, pro-innovation, and fiscally responsible policies."
20th District (Biden 76%-23%): Rep. Sheila Cherfilus-McCormick (D) faces former Broward County Commissioner Dale Holness in a rematch of a November 2021 special primary that Cherfilus-McCormick won by just five votes in an 11-way race. That win paved the way for Cherfilus-McCormick to succeed the late Alcee Hastings (D) in a strongly Democratic district in parts of Broward and Palm Beach counties. The rematch primary includes just one other candidate, state Rep. Anika Omphroy.
23rd District (Biden 56%-43%): Rep. Ted Deutch (D) isn't running for re-election and plans to resign before the end of the 117th Congress to become CEO of the American Jewish Committee. The district includes parts of Broward and Palm Beach counties.
The best-funded Democratic candidate is Jared Moskowitz, a Broward County commissioner and former state legislator whose donors include the American Israel Public Affairs Committee, House Democratic Caucus Chair Hakeem Jeffries (N.Y.), and gun control groups.
Moskowitz's rivals for the nomination include Ben Sorensen, a Fort Lauderdale city commissioner, and Hava Holzhauer, a civil rights lawyer. They linked Moskowitz to DeSantis, who appointed Moskowitz director of Florida's emergency management department in 2019 and to the Broward County Commission in 2021.
27th District (Trump 49.8%-49.5%): First-term Rep. Maria Elvira Salazar (R) has nominal primary opposition even after voting with Democrats for some gun-safety legislation, an immigration overhaul known as the Dream Act, and a bipartisan commission to investigate the Jan. 6, 2021, attack on the Capitol by a mob of Trump's supporters.
Democratic leaders supported state Sen. Annette Taddeo over Miami City Commissioner Ken Russell.
The 27th District, a Hispanic-majority district wholly within Miami-Dade County, became a little friendlier to Republicans after redistricting, though it's about evenly divided between Trump and Biden voters. Salazar upset one-term Democrat Donna Shalala in the 2020 election, when Republicans made gains with Hispanic voters in south Florida.
28th District (Trump 53%-46%): Like Salazar, Rep. Carlos Gimenez (R) was protected by Republican-led redistricting after unseating a Democratic incumbent in a Miami-area, Hispanic-majority district in 2020. Gimenez also broke with most Republicans on guns, immigration, and a bipartisan Jan. 6 commission, but isn't facing serious opposition in the primary.
Democrats didn't field a top-flight candidate against Gimenez, the former mayor of Miami-Dade County. The 28th District includes a part of Miami-Dade and all of Monroe County, which takes in the Florida Keys.
New York
1st District (Biden 49.4%-49.2%): Rep. Lee Zeldin, the Republican nominee for governor, isn't defending an eastern Long Island district within Suffolk County that was redrawn to be about evenly divided between Biden and Trump voters.
The three Republican candidates are Nick LaLota, a former Suffolk County Board of Elections commissioner and a Navy veteran; Anthony Figliola, who was the deputy supervisor of Brookhaven, and Michelle Bond, CEO of the Association for Digital Asset Markets and a former lawyer with the Securities and Exchange Commission. Bond also previously worked for Bloomberg LP, serving as head of global regulatory affairs. Michael Bloomberg is the majority owner of Bloomberg LP, Bloomberg Government's parent company.
LaLota was endorsed by the Suffolk County Republican organization. Bond said in a TV ad that she's "a businesswoman, not a politician."
The winner of the Republican primary will face Democrat Bridget Fleming, a Suffolk County legislator and a former Manhattan prosecutor who finished third in the 2020 Democratic primary.
2nd District (Trump 50%-49%): First-term Rep. Andrew Garbarino (R) has two primary opponents including Robert Cornicelli, a sanitation inspector and military veteran who ran as a pro-Trump "America First" conservative.
Cornicelli attacked Garbarino for opposing most Republicans in voting for the 2021 infrastructure law (Public Law 117-58), a bill that would require background checks on all gun purchases including at gun shows, and a bipartisan Jan. 6 commission that never materialized. Garbarino voted against creating the Jan. 6 select committee.
Garbarino received super PAC help from Defending Main Street, which often aids mainstream conservative Republicans against primary challengers, and the Congressional Leadership Fund backed by House GOP leaders.
Democrat Jackie Gordon, a former Babylon councilwoman and Army veteran who lost 53%-46% to Garbarino in the 2020 election, is unopposed in the primary. Redistricting made the 2nd, which is mostly in Suffolk County, a little less Republican-leaning.
3rd District (Biden 53%-45%): Five Democrats are on the ballot in a district in northwestern Nassau County and northeastern Queens. Rep. Tom Suozzi (D) isn't seeking re-election after an unsuccessful bid to oust Gov. Kathy Hochul (D) in June, when New York held its primaries for nonfederal offices.
Suozzi backed Josh Lafazan, a Nassau County legislator who received outside spending help from Bankman-Fried's Protect Our Future PAC. Robert Zimmerman, a longtime public relations executive and Democratic National Committee member, received donations from labor unions, Rep. Gregory Meeks (D-N.Y.), and groups that advocate for more LGBTQ representation in public office. Jon Kaiman, the former North Hempstead supervisor who lost to Suozzi in the 2016 primary, is running again along with Melanie D'Arrigo, a progressive who opposed Suozzi in the 2020 primary.
Financier George Santos is unopposed in the primary after running as the 2020 Republican nominee against Suozzi, who won 56%-43%. Redistricting made the 3rd a little less Democratic-leaning. Santos' website says he's part of a "new generation of Republican leadership" and he's discussed his family background and sexual orientation during the campaign, telling the DailyMail.com he's a "walking contradiction."
'It's just me being authentic, authentically me. I am gay, yes. I am Latino, yes. I am a Republican, unapologetically,' Santos told the publication.
4th District (Biden 57%-42%): Four Democrats are seeking to succeed retiring four-term Rep. Kathleen Rice (D) in southwestern Nassau County.
The best-funded is Laura Gillen, a lawyer who was formerly the supervisor of Hempstead — a post Gillen noted was held by Republicans for more than a century. Her donors included Rice, the political arm of the New Democrat Coalition, and Bankman-Fried's Protect Our Future PAC. Gillen's opponents include Keith Corbett, the mayor of Malverne.
Republican Anthony D'Esposito, a Hempstead councilman and a former New York City police detective, is unopposed in the primary.
10th District (Biden 85%-14%): The Democratic primary is the election that matters in this strongly liberal swath of lower Manhattan and western Brooklyn.
The top contenders include Dan Goldman, a wealthy lawyer who served as the lead Democratic counsel during Trump's first impeachment. Goldman, a first-time candidate and an heir to the Levi Strauss & Co. fortune who primarily self-financed his campaign, said at a candidate debate he would rather talk to voters than donors. The New York Times editorial page endorsed him.
Related: Trump Impeachment Lawyer in New York Primary Got Big Law Money
Rep. Mondaire Jones, who was elected in 2020 from a district in Rockland County and part of Westchester County north of New York City, is seeking a second term in the 10th District rather than run against another Democratic incumbent. Jones' donors include Speaker Nancy Pelosi (D-Calif), Congressional Black Caucus Chair Joyce Beatty (D-Ohio), and the LGBTQ Victory Fund. The 2020 election made Jones and Afro-Latino Rep. Ritchie Torres (D-N.Y.) the first openly gay Black members of Congress.
Jones, perhaps more than any other candidate, attacked Goldman as insufficiently progressive to represent the district.
The Democratic field includes New York Assemblywoman Yuh-Line Niou, who's Taiwanese American and would be the first openly autistic member of Congress. Niou's supporters include the progressive Working Families Party.
Carlina Rivera, a New York City councilwoman from the Lower East Side of Manhattan, was backed by Rep. Nydia Velazquez (D-N.Y.). The Hispanic-oriented Nuestro PAC paid for a TV ad that said Rivera would provide "bold, pragmatic leadership."
Other contenders include ex-Rep. Liz Holtzman, a House member from 1973 to 1981 who later served as New York City comptroller, and Jo Anne Simon, a state assemblywoman who noted she was the only candidate representing part of Brooklyn.
Rivera and Holtzman appeared together Aug. 19 to promote abortion rights and urge voters to elect a progressive woman.
11th District (Trump 53%-46%): Court-ordered redistricting aided one-term Rep. Nicole Malliotakis (R), who's headed for a likely rematch with ex-Rep. Max Rose (D) in Staten Island and part of Brooklyn.
Malliotakis was targeted for defeat under the Democratic legislature's proposed reconfiguration of the district, which would have absorbed Brooklyn neighborhoods that are heavily Democratic. After that map was invalidated, the new lines adopted by a New York court revised the 11th to look more like the district Malliotakis won in 2020, though it reduced Trump's margin of victory to 8 points from 11 points previously.
Rose has two primary opponents including Brittany Ramos DeBarros, a community organizer and Army veteran whose donors included the progressive group Indivisible Action.
Malliotakis was among the 13 House Republicans who voted for the 2021 infrastructure law written by Democrats. She also broke with most Republicans to back an increase in the minimum age to purchase semi-automatic rifles, though she voted against a proposed ban on certain semi-automatic firearms often called assault weapons.
12th District (Biden 85%-14%): Nadler and Maloney, who were elected together in 1992, are allies-turned-opponents in mid-Manhattan after redistricting combined Nadler's West Side political base with Maloney's East Side turf.
Senate Majority Leader Chuck Schumer (D-N.Y.) and the New York Times editorial page endorsed Nadler, the Judiciary Committee chairman whose panel advanced articles of impeachment against Trump. Nadler's committee also has an expansive policy jurisdiction: in the current 117th Congress, Nadler sponsored measures to codify same-sex marriage in federal law (H.R. 8404), expand gun-safety requirements (H.R. 7910), decriminalize and tax marijuana (H.R. 3617), and require employers to provide reasonable accommodations for pregnant employees and job applicants (H.R. 1065).
Nadler criticized Maloney's votes against the Iran nuclear deal and for the Iraq War and the anti-terrorism law known as the Patriot Act. Maloney said she regretted her vote on Iraq but defended her opposition to the Iran pact.
Maloney, who represents more of the merged district than Nadler, promoted her legislative work on financial services and women's health policy and for district-specific accomplishments like funding the Second Avenue subway. She's the first woman to lead the House Oversight and Reform Committee. "You cannot send a man to do a woman's job," Maloney said in a TV ad.
The third major Democratic candidate is Suraj Patel, a lawyer and former Obama administration aide who came close to unseating Maloney in the 2020 primary. Patel, 38, made generational change a leading theme of his campaign to unseat Maloney, 76, and Nadler, 75. He also invoked Maloney's past skepticism of vaccine safety — as did a new super PAC called Democracy Protection PAC that hasn't yet disclosed its donors.
16th District (Biden 71%-28%): First-term Rep. Jamaal Bowman (D) is opposed by two members of the Westchester County Board of Legislators in a district that's dominated by southern Westchester and also includes part of the north Bronx.
Vedat Gashi, who came to the US as a refugee from the former Yugoslavia, was endorsed by former Rep. Eliot Engel (D-N.Y.), who lost his seat to Bowman in the 2020 primary, and former Rep. Nita Lowey (D-N.Y.). Gashi is better-funded than his colleague Catherine Parker, a fourth-generation Westchester resident and former small business owner who calls herself a "progressive change agent" on Twitter.
Bowman is in the small but vocal bloc of progressive Democratic lawmakers known as The Squad. He cast dissenting votes on defense bills and, more conspicuously, on the 2021 infrastructure law after it wasn't paired with a vote on sweeping social spending legislation.
"This is not the time to debate ideology or defund law enforcement or actively block infrastructure investment," Gashi said at a League of Women Voters candidate forum.
Bowman emphasized the importance of combating climate change and touted his support for a 10-year, $1.43 trillion Green New Deal for public schools. Justice Democrats, a progressive PAC, helped Bowman in the primary.
17th District (Biden 54%-44%): Democratic Congressional Campaign Committee Chair Sean Patrick Maloney is opposed in the primary by state Sen. Alexandra Biaggi, who ran to Maloney's left in a lower-middle Hudson Valley district that includes all of Rockland and Putnam counties and parts of Dutchess and Westchester counties.
Biaggi was endorsed by Rep. Alexandria Ocasio-Cortez (D), who represents New York's 14th District in parts of Queens and the Bronx. Biaggi promoted a single-payer, "Medicare for All" health-insurance system — "the soul of what this party represents," she said at a League of Women Voters candidate forum earlier this month. Maloney said Medicare for All would be prohibitively expensive and also endanger union-negotiated health plans.
Maloney said Biaggi's call to "defund the police" was a "very dangerous" and a "terrible" idea. He also noted Biaggi represents a state Senate district that's overwhelmingly in the Bronx, with a small part in Westchester.
Maloney irked some progressive Democrats earlier this year when he quickly announced his candidacy for the reconfigured 17th District, which includes his Putnam County residence but is mostly comprised of people Mondaire Jones (D) now represents. Jones decided to run in the 10th District in New York City rather than oppose Maloney or Bowman in a primary.
The leading Republican candidate is Mike Lawler, a New York assemblyman from Rockland County.
18th District (Biden 53%-45%): Democrat Pat Ryan, the Ulster County executive running in Tuesday's special election in the pre-redistricting 19th District, is seeking a full two-year term in the post-redistricting 18th District, which takes in all of Orange County and most of Dutchess and Ulster counties in the middle Hudson Valley.
Ryan is favored to defeat one primary opponent and then face Republican state assemblyman Colin Schmitt on Nov. 8.
19th District (Biden 51%-47%): Republican Marc Molinaro, the Dutchess County executive opposing Ryan in the special election in the pre-redistricting 19th District, will also be his party's nominee for a full term in the new 19th, which takes in all or part of 11 counties including all of Broome (Binghamton) and Tompkins (Ithaca) but not Dutchess.
Jamie Cheney, a businesswoman, and Josh Riley, a lawyer and former congressional aide, are seeking the Democratic nomination. After the Supreme Court overturned Roe v. Wade, Cheney disclosed in a TV ad that she once had an abortion. Riley played up his family's long roots in the district and his decision to reject campaign contributions from corporate PACs.
22nd District (Biden 53%-45%): Democrats may flip a Syracuse-based district that popular Rep. John Katko (R) isn't defending.
The Congressional Leadership Fund promoted businessman Steve Wells (R) in a TV ad as a "tough on crime former prosecutor" and "the conservative fighter we need in Congress." Wells is opposed in the primary by Brandon Williams, a technology businessman and Navy veteran who ran as a more strongly conservative candidate.
The best-funded Democrat is Francis Conole, a Naval Academy graduate and Iraq War veteran who lost the 2020 Democratic primary for this seat.
23rd District (Trump 58%-40%). The Republican primary is the key election in a district that takes in New York's Southern Tier and most of Erie County outside Buffalo. The district is composed primarily of territory formerly represented by ex-Rep. Tom Reed (R), who resigned in May, or currently represented by Rep. Chris Jacobs (R), who's not seeking re-election.
The primary pits Carl Paladino, a wealthy developer and the 2014 Republican nominee for governor, against Nick Langworthy, the state Republican Party chairman.
Paladino's supporters include House Republican Conference Chair Elise Stefanik, who represents New York's 21st District in the North Country. A super PAC called American Liberty Action PAC attacked Paladino for past donations to Democratic officeholders.
Paladino's opponents have also flagged his history of inflammatory remarks, including saying in a 2021 radio interview that Adolf Hitler was "was the kind of leader we need today" because of his ability to rouse crowds. After the comments were publicized, Paladino said he understood that "invoking Hitler in any context is a serious mistake and rightfully upsets people."
One of Paladino's ads featured past praise from Langworthy.
Paladino and Langworthy aren't running in the special election to complete Reed's unexpired term in the pre-redistricting version of the 23rd. The heavy favorite in that race is Republican Joe Sempolinski, the Steuben County Republican chairman who previously worked as Reed's district director.
"There's no job you can have in the federal government that puts you more in touch with the people of a congressional district," Sempolinski said in an interview. He added that he was "a little more conservative" than Reed.
Sempolinski would serve the remaining four-plus months of Reed's unexpired term and isn't seeking a full two-year term.
24th District (Trump 57%-40%): Rep. Claudia Tenney (R) is seeking re-election in a district that's heavily Republican but almost completely new to her: just 5.7% of the people in the 24th, which runs from near Buffalo east along part of Lake Ontario to Watertown, are Tenney's current constituents.
Tenney's home county of Oneida was drawn into the Syracuse-based 22nd District, a more competitive district where her strongly conservative and pro-Trump views wouldn't have played well.
Tenney is much better-funded than her primary opponents Mario Fratto, a lawyer, and George Phillips, a former Broome County legislator. Fratto received a donation from Joe Kent, a pro-Trump former Army Green Beret who ousted Rep. Jaime Herrera Beutler (R-Wash.) in a primary earlier this month.
Oklahoma
Senate (Trump won Oklahoma 65%-32%): Rep. Markwayne Mullin faces former state House Speaker T.W. Shannon in a special Republican runoff for the seat that Sen. Jim Inhofe (R) is vacating two years into the six-year term he won in November 2020.
In the first-round primary in June, Mullin led the 13-candidate field with 44% of the vote followed by Shannon at 18%.
In strongly Republican Oklahoma, the Republican nominee will be favored over Kendra Horn (D), a former one-term House member.
2nd District (Trump 76%-22%): In staunchly pro-Trump eastern Oklahoma, Mullin's successor almost certainly will be the winner of a Republican runoff between state Rep. Avery Frix and former state Sen. Josh Brecheen. In the first-round primary, Frix had 15% of the vote and Brecheen took 14% to top a 14-candidate scrum.
Frix partially self-funded his campaign and also received a donation from the American Bankers Association PAC. Frix was first elected to the state legislature in 2016 at age 22 and would be among the youngest House members in the next Congress.
Brecheen's supporters included Sen. Ted Cruz (R-Texas), who promoted Brecheen in a TV ad as a "pro-Trump conservative" who will "take on the left and hold Republicans accountable." The ad was paid for by School Freedom Fund, a super PAC aligned with the free-market Club for Growth and funded by Susquehanna International Group's Jeff Yass.
With assistance from Zach C. Cohen
To contact the reporter on this story: Greg Giroux in Washington at ggiroux@bgov.com
To contact the editors responsible for this story: Bennett Roth at broth@bgov.com; Angela Greiling Keane at agreilingkeane@bloombergindustry.com