New York Counts More Votes as Mail-in Mistake Laws Change (1)
Eight states have new laws allowing absentee ballot corrections
Forgotten signatures among repairable common voter errors
(Adds Albert quote in eighth paragraph. A previous version corrected Myrie's gender in the last paragraph.)
Bloomberg Government subscribers get the stories like this first. Act now and gain unlimited access to everything you need to know. Learn more.
More than 8,000 ballots that would have been tossed in the trash in years gone by actually got counted last year after New York changed its mail-in voting rules.
Local election officials in New York now have the power to contact voters who omit secrecy envelopes, or forget to sign, or whose names became too smeared on a rainy day to check against the signatures on file.
Eight states followed suit this year, establishing or improving "ballot curing" processes—partly in response to the surge in absentee voting during the coronavirus pandemic, partly at the urging of advocates for the elderly and disabled, and anticipating that people will want to avoid Election Day lines in the future.
(Sign up for Ballots & Boundaries, a weekly check-in as states change voting laws and revise political districts.)
The changes mean that more votes count—potentially enough to make a difference in close elections.
"It benefits voters across the political spectrum," said Liz Avore, vice president of law and policy for the Voting Rights Lab, which tracks changes in state election law.
Nationwide, 318,728 mail-in ballots were rejected in the 2016 general election, or 1% of those returned, according to the federal Election Administration and Voting Survey. Data from the 2020 general election wasn't available.
Vote-by-Mail Favored by Older, Affluent Voters, Census Finds
The issue hasn't drawn the attention of other voting debates, such as the Democratic exodus from Texasto deny a quorum, the fraud-hunt in Arizona, and the Georgia law against giving refreshments to people waiting in line.
It's not "particularly sexy," Sylvia Albert, director of Voting and Elections for Common Cause, said of ballot curing. But when you add it to other legislative changes, "we provide access across the board and give people options," Albert said.
At least 18 states have tightened the rules around voting, such as accepting fewer forms of identification or purging the names of infrequent voters, according to the Brennan Center for Justice at New York University School of Law.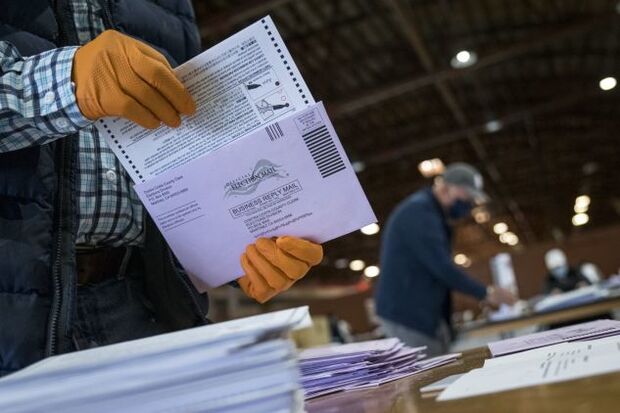 Arizona, for instance, made it more difficult for voters to fix their mailed-in ballots.
But Hawaii, Indiana, Iowa, Kentucky, Maine, North Dakota, Vermont, and Virginia enacted laws this year requiring election officials to be more forgiving when people voting by mail make a mistake.
"This is a very human process," said Audrey Kline, national policy director of the nonprofit National Vote at Home Institute. "We're talking about sometimes the most vulnerable voters and when elections are made or lost in these margins, every voice matters."
Big Apple Ballots
New York changed its process after a botched New York City primary in June 2020, and after seeing a large influx of mail-in ballots during the pandemic.
There had been a lot of "bad faith attempts to eliminate ballots from a particular race by opponents on each side of that race," said state Sen. Zellnor Myrie (D), who chairs the Senate Committee on Elections. "You should not have your constitutional right eviscerated because of a stray pen mark."
Under the old law, nearly 24,000 ballots, about 5.9% of the more than 400,000 absentee ballots returned in the 2016 general election, were marked invalid, according to state Board of Elections data. In the 2020 general election, 64,710 absentee ballots were initially marked invalid, and 8,725 of those were counted after a followup with the voters as a result of the new law.
Bipartisan Decisions
Vermont, which has a Democratic-led legislature and a Republican governor, now requires ballots to be mailed to all registered voters for the general election. Its new law (S.15) requires voters to be notified of potential errors and given the chance to fix them.
Republican-led Indiana also has a permanent ballot-curing process for the first time (S.B. 398), as does Democratic Party-dominated Virginia (S.B. 1245) and Maine (S.P. 450).
Kentucky stands out for ballot-curing bipartisanship with the signature-fixing system it approved in April (H.B. 574), said University of Kentucky law Professor Joshua A. Douglas.
Arizona Changes
Republican-controlled Arizona in May passed a law (S.B. 1003) slicing five days from the amount of time localities have to fix mail-in ballot deficiencies. Unsigned ballots now must be fixed by 7 p.m. on Election Day or be thrown out, while ballots with mismatched signatures still have five business days after the election for corrections.
Iowa and Nevada changed their ballot-curing windows by one day. "In the context of Nevada specifically, narrowing some timelines can help strike the balance between voter access and getting election results on a reasonable timeline," Kline said.
The Republican-controlled Wisconsin Legislature passed a bill (S.B. 212) that would prohibit county clerks from correcting defects in mail-in ballots. Gov. Tony Evers (D) hasn't acted on the measure, which was inspired by a lawsuit unsuccessfully brought by former President Donald Trump (R).
Sparse Voter-Fraud Cases Undercut Claims of Widespread Abuses
"Wisconsin statutes are clear that if a certificate is missing the address of a witness, the ballot may not be counted. However, that is not how ballots are handled by many clerks in our state," bill sponsor state Sen. Alberta Darling (R) said in an email.
She cited the dissent of Wisconsin Supreme Court Chief Justice Patience Roggensack who, as the majority tossed Trump's election lawsuit, said clerks were relying on agency guidance rather than state law when told to write in missing information on ballots.
"We saw a record level of absentee ballots cast in the last election. Since that trend will likely continue, it's important to clarify our statutes and make sure everyone in Wisconsin is voting under the same rules," Darling said. "This bill will continue our state's tradition of making it easy to vote and hard to cheat."
Federal Attention
The U.S. Justice Department on Wednesday reminded state and local officials about their obligations to protect the voting process and ballots. Its guidance cited a 2002 statute (Public Law 107-252) that requires mail-in ballots for federal elections to contain instructions on how to correct a ballot before it's counted, and how to get a replacement ballot if necessary.
There's also been attention on ballot-curing in Congress. A House-passed proposal (H.R. 1) would bar states from requiring identification or a notarization other than a signature on absentee ballots.
That bill is one of many that stalled because of partisan disputes.
Meanwhile, in New York, bill-sponsor Myrie offered anecdotal information from the trenches. Election boards weren't as quick to eliminate ballots in November because that would trigger a "ballot curing" notice, he said. "I think it has been a win for everybody."
With assistance from Alex Ebert and Stephen Joyce
To contact the reporter on this story: Keshia Clukey in Albany, N.Y. at kclukey@bloomberglaw.com
To contact the editors responsible for this story: Katherine Rizzo at krizzo@bgov.com; Tina May at tmay@bloomberglaw.com
Stay informed with more news like this – from the largest team of reporters on Capitol Hill – subscribe to Bloomberg Government today. Learn more.