New Mexico Democrats Clear House Map Targeting Lone Republican
Rep. Yvette Herrell would be imperiled under new boundaries
Changes reduced Democratic leanings in two other districts
New Mexico's Democratic legislature passed a congressional map that would imperil Rep. Yvette Herrell, the lone Republican in the state's congressional delegation.
The map sent to Gov. Michelle Lujan Grisham (D) for her signature would append a heavily Hispanic Democratic section of Albuquerque to Herrell's 2nd District, now a Republican-leaning area centered in southern New Mexico.
President Joe Biden would have carried the reconfigured 2nd District by 52%-46%, a big change from the 55%-43% margin for Donald Trump under the current lines. Herrell was elected 54%-46% in 2020, unseating one-term Democrat Xochitl Torres Small.
The changes to the 2nd District reduced the Democratic leanings in the 1st District, which is centered in Albuquerque and would extend southeast to Roswell, and in the 3rd District, which includes the state capital of Santa Fe and would extend to parts of oil-rich southeastern New Mexico now represented by Herrell. Melanie Stansbury (D) was elected to the 1st District in June, and Teresa Leger Fernández (D) won the 3rd District seat in 2020. Stansbury replaced Deb Haaland, who was appointed by Biden to be Interior Secretary.
( Sign up for Ballots & Boundaries, a weekly check-in as states change voting laws and revise political districts.)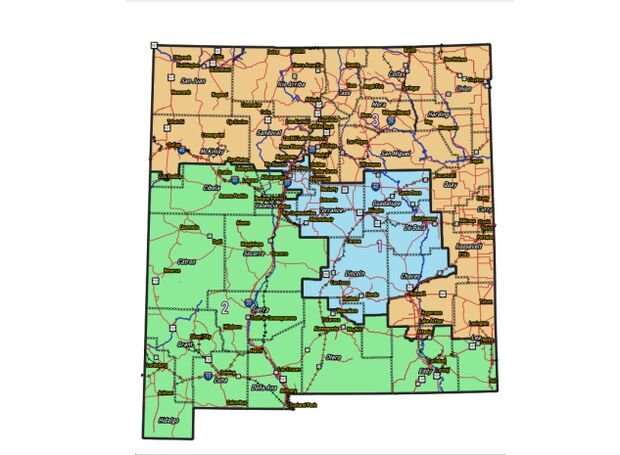 New Mexico Senate Judiciary Committee Chair Joseph Cervantes (D), a sponsor of the map, said New Mexicans would be well-served having all three of their House members representing a mix of urban and rural areas.
"Let's reimagine New Mexico where our districts include urban and rural and we bring people together and we create a symbiotic relationship between Albuquerque and the rest of the state," Cervantes said during floor debate Dec. 10.
State Sen. Mark Moores (R) said it was the job of New Mexico's U.S. senators to represent all of the state's interests, and that the Democratic map abrogated communities of interest.
"We have different communities of interest in New Mexico. Albuquerque is much different than northern and southern New Mexico," Moores said Dec. 10.
The New Mexico Senate passed the map (SB1) by 25-15 on Dec. 10. The state House cleared it 44-24 on Dec. 11.
To contact the reporter on this story: Greg Giroux in Washington at ggiroux@bgov.com
To contact the editors responsible for this story: Bennett Roth at broth@bgov.com; Kyle Trygstad at ktrygstad@bloombergindustry.com