New Jersey Commission Approves Democratic Congressional Map
New lines provide boost for three incumbent Democrats
Rep. Tom Malinowski's (D) district remains competitive
New Jersey's redistricting commission adopted a congressional map that favors Democrats and shores up three of their four House members from politically competitive districts.
John E. Wallace Jr., a former state Supreme Court justice who served as the tiebreaking chair of a panel with six Republicans and six Democrats, said Wednesday he voted for the map submitted by Democrats after the commission approved a Republican-backed map in the 2011 redistricting.
"In the end, I decided to vote for the Democratic map simply because the last redistricting map was drawn by the Republicans," Wallace said. "Thus, I concluded that fairness dictates that Democrats had the opportunity to have their map used for this next redistricting cycle."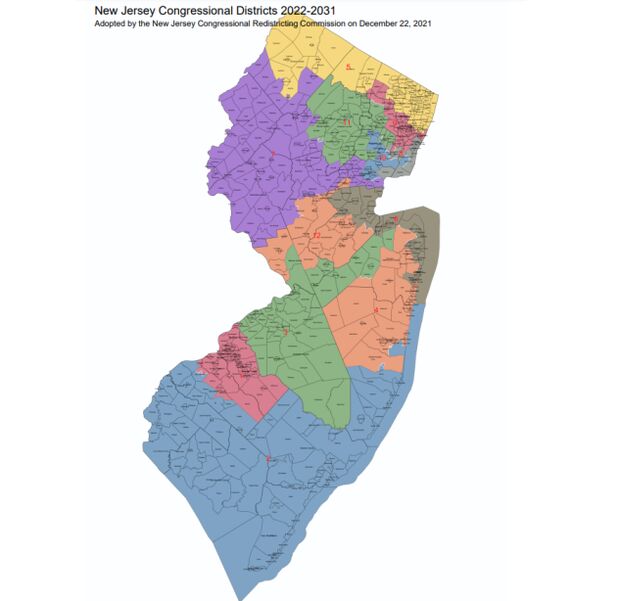 ( Sign up for Ballots & Boundaries, a weekly check-in as states change voting laws and revise political districts.)
The new lines boost Democratic Reps. Andy Kim of the 3rd District, Josh Gottheimer of the 5th District, and Mikie Sherrill of the 11th District. All were re-elected in 2020 with less than 54% of the vote.
But the new map is a setback for Rep. Tom Malinowski (D), whose competitive 7th District would absorb Republican precincts in the northwest. Malinowski was re-elected in 2020 by 1.2 percentage points over state Sen. Tom Kean Jr. (R), who announced a rematch earlier this year.
Democrats currently hold 10 of the 12 congressional districts in New Jersey.
Doug Steinhardt, a former New Jersey Republican Party chairman and the leader of the GOP delegation on the commission, said his side's map would've kept about 85% of New Jersey residents in their current districts.
"To be candid, we're disappointed in the final result," Steinhardt said. "We're disappointed in a process that disenfranchises most of the state's voting population. We're equally disappointed in a process that purported to promote equity, fairness, and competition but in the end has skewed those virtues."
To contact the reporter on this story: Greg Giroux in Washington at ggiroux@bgov.com
To contact the editors responsible for this story: Kyle Trygstad at ktrygstad@bloombergindustry.com; Tina May at tmay@bloomberglaw.com