New Idaho Congressional Map Shifts State's Dividing Line West
State's two districts will remain solidly Republican
Line runs through Ada County, where Boise is located
Idaho's redistricting commission adopted a new congressional map that makes minimal changes to the state's two districts, which will remain strongly Republican.
The commission, which approved the lines in a 4-2 vote on Nov. 5, continued Idaho's tradition of keeping the dividing line for the districts in Ada County, where Boise, the state capital, is located.
The map moved the boundary line slightly west to shift about 35,000 people from the faster-growing 1st District, which includes Idaho's panhandle and other territory in the west, to the eastern 2nd District to make them equal in population. Almost all of Boise, including the airport just south of Interstate 84, will be in the 2nd District, which is less heavily Republican than the 1st District.
( Sign up for Ballots & Boundaries, a weekly check-in as states change voting laws and revise political districts.)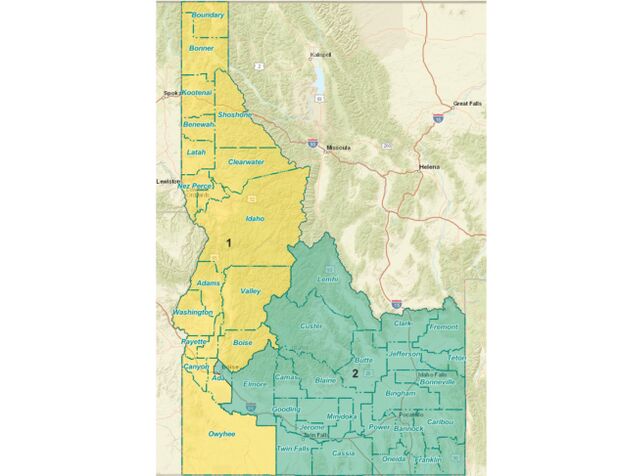 Republicans have won both House districts in six consecutive elections dating to 2010. Russ Fulcher has represented the 1st District since 2019, and Mike Simpson, the top Republican on the House Appropriations Energy and Water Subcommittee, has held the 2nd District since 1999.
Idaho, one of the fastest-growing states between 2010 and 2020, came close to winning a third seat in the 2020 reapportionment. As a result of its growth and still having only two seats, its districts will be more overpopulated than districts in other states.
Each of Idaho's districts will have about 920,000 people, the most of any state with more than one district. Montana, which barely won a second district in reapportionment, will have about 542,000 people per district.
To contact the reporter on this story: Greg Giroux in Washington at ggiroux@bgov.com
To contact the editors responsible for this story: Kyle Trygstad at ktrygstad@bloombergindustry.com; Bennett Roth at broth@bgov.com