New Head of Student Loan Oversight Office Will Have Less Power
Change at CFPB comes at time of `exploding student debt'
Office in past helped gain $750 million in loan relief
A federal watchdog for the $1.5 trillion student loan industry has seen its formal role and staffing level decrease in recent months, the latest change that raises concerns about maintaining protections for student borrowers.
The next person who oversees the student loan arm of the Consumer Financial Protection Bureau will be a manager, not an executive as previously, according to a job listing on the agency's website.
"It's a meaningful change," said Christopher Peterson, a senior fellow at the Consumer Federation of America and former CFPB employee. "The exploding student debt is one of the most important problems facing American consumers right now, and it's baffling to me the Trump administration would demote the status and authority with one of the most important officials tasked with solving that crisis."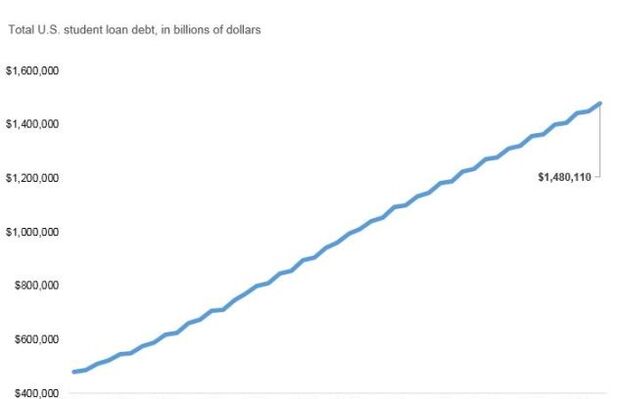 The section of the CFPB handled complaints from student borrowers, helping them receive $750 million in loan relief. The office also sued loan servicer Navient Corp., alleging it had given students incorrect information while enrolling them in more expensive repayment plans.
The previous head of the division, Seth Frotman, was an "assistant director," a senior executive position. The new position is one step below Frotman's.
"The executive is going to have much broader authority than the manager, whether that's the number of people they're managing or the amount of the budget they are overseeing," said Jason Briefel, executive director with the Senior Executive Association, the professional association for career employees who hold senior executive-level jobs.
The CFPB didn't respond to multiple requests for comment.
What the student loan office leadership change will mean for borrowers depends not just on how the CFPB ranks the job, but also court cases, lawmakers, and the credentials of the next person who heads the department said Richard Cordray, the first director of the CFPB.
"What matters more is what they do or don't do than some personnel designation," he said.
High Turnover
The position's demotion follows the Students and Young Consumers Office being foldedinto the bureau's Financial Education Office in May. At the time, a CFPB spokesman said the move was part of a modest organizational change and staffers would be working on the same material as before.
By September, all five employees of the office, including Frotman, had left.
In his resignation letter in August, Frotman said the administration had "abandoned the very consumers it is tasked by Congress with protecting."
To contact the reporter on this story: Emily Wilkins in Washington at ewilkins@bgov.com
To contact the editors responsible for this story: Paul Hendrie at phendrie@bgov.com; Robin Meszoly at rmeszoly@bgov.com