New Hampshire Tops States Hosting Final Primaries Before Nov. 8
Democrats Hassan, Pappas, Kuster face close N.H. races
Rhode Island Republicans making play for Langevin's seat
New Hampshire, the first state to hold a presidential primary, is the last this year to hold consequential Senate and House primaries before the Nov. 8 general election.
New Hampshire Republicans, intent on ending the state's all-Democratic congressional delegation, on Tuesday will nominate opponents for Sen. Maggie Hassan and Reps. Chris Pappas and Annie Kuster. Nonpartisan political analysts project all three races will be competitive in the fall and help determine whether Democrats can keep their majorities.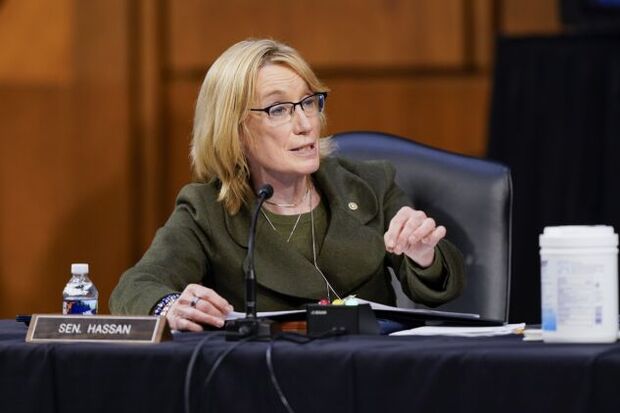 New Hampshire is in the last bloc of states holding primaries along with Delaware and Rhode Island. In Democratic-friendly Rhode Island, Republicans hope a pro-GOP "red wave" will materialize and deliver the party a US House seat for the first time in three decades.
Here's a look at the key races to watch. The vote percentages for President Joe Biden and Donald Trump in the 2020 election are noted parenthetically.
Delaware
At-Large (Biden won Delaware 59%-40%): Rep. Lisa Blunt Rochester (D), an Energy and Commerce Committee member who's the first woman and first Black person to represent Delaware in Congress, is favored to win a fourth term in the president's Democratic-friendly home state. She's unopposed in the primary.
New Hampshire
Senate (Biden won New Hampshire 53%-45%): Hassan is seeking a second six-year term and preparing to face the winner of a Republican primary in a state that voted mildly Democratic in 2020.
The top two Republicans probably are Don Bolduc, a retired Army brigadier general who was the runner-up in the 2020 Republican US Senate primary, and state Senate president Chuck Morse.
Bolduc referred to Biden and Hassan in an August candidate debate as "an existential threat to this country" and falsely claimed that Trump won the 2020 election. Bolduc said he would repeal the 17th Amendment, which established the direct election of US senators.
New Hampshire Gov. Chris Sununu (R) endorsed Morse and told Bloomberg Government last month he couldn't support Bolduc, describing him as "the most extreme of all the candidates." Morse's donors include the anti-abortion Susan B. Anthony List and Karl Rove, who was a senior adviser to President George W. Bush.
White Mountain PAC, a super political action committee that formed on Aug. 30 and hasn't disclosed its donors, spent more than $4.6 million promoting Morse and attacking Bolduc. One of the super PAC's ads revived some of Bolduc's past criticism of Trump and Sununu and said Bolduc had "crazy ideas." Another spot described Morse as "one tough conservative" who would work to secure the US-Mexico border.
Senate Majority PAC, the leading super PAC defending the Democrats' Senate majority, aired ads that linked Morse to Senate Minority Leader Mitch McConnell (R-Ky.) and lobbyists.
A third Republican candidate, former state Rep. Kevin Smith, ran as a political outsider and referred to Morse in a Sept. 8 candidate debate as a "career politician" and "establishment pick" preferred by McConnell. Smith also said Bolduc would be the "weakest candidate" against Hassan.
"So if you want six more years of Mitch McConnell, well, vote for Chuck Morse. If you want six more years of Maggie Hassan, vote for Don Bolduc," Smith said.
The Republican nominee will need to move quickly to replenish his campaign fund after the late primary. Bolduc had $84,000 in campaign cash-on-hand as of Aug. 24 compared with $582,000 for Morse while Hassan had amassed $7.3 million, Federal Election Commission reports show.
Read More: Late New Hampshire Senate Primary Divides Republican Voters
1st District (Biden 52%-46%): Ten Republicans are on the ballot seeking to oppose Pappas, who's vying for a third term in the more politically competitive of New Hampshire's two districts.
Matt Mowers, a former Trump State Department aide, is seeking a rematch with Pappas after losing 51%-46% to him in 2020. Mowers is the preferred candidate of House Minority Leader Kevin McCarthy (R-Calif.) and the Congressional Leadership Fund, the leading super PAC working to elect a House Republican majority.
Mowers's rivals for the nomination include Karoline Leavitt, who worked as an assistant press secretary in Trump's White House and then was communications director for House Republican Conference Chair Elise Stefanik (N.Y.). Leavitt referred to Mowers as a "New Jersey carpetbagger."
In a candidate debate Sept. 6, Leavitt echoed Trump's false statements about the 2020 election, saying that it was "undoubtedly stolen from President Trump."
Defending Main Street, a super PAC that sometimes intervenes in GOP primaries to help mainstream conservatives against more ideologically fervent opponents, supported Mowers and aired a TV ad that called Leavitt "woke, immature, and irresponsible."
Leavitt is a Generation Z candidate who just turned 25, the constitutional minimum age to serve in the House. So did another candidate, state Rep. Tim Baxter, who aligned with the libertarian conservative views of Sen. Rand Paul (R-Ky.) and attacked the pro-Mowers McCarthy as a "corrupt swamp rat" who shouldn't become speaker if Republicans win control of the House.
Russell Prescott, a former state senator and New Hampshire executive councilor, has underscored his 14 years of state government service. That experience is "priceless to getting the job done in Washington, DC," he said at the debate. Prescott primarily financed his own campaign.
The Republican field also includes Gail Huff Brown, a longtime former broadcast journalist. Her husband, Scott Brown, was a Massachusetts US senator from 2010 to 2013 and lost a close Senate race in New Hampshire in 2014.
Pappas, who's unopposed in the primary, has highlighted his efforts to ban stock trading by members of Congress.
Pappas, in a brief interview last month at a campaign event at his family's century-old Manchester restaurant, touted his support for abortion rights and Democratic proposals to boost infrastructure (Public Law 117-58), manufacturing (Public Law 117-167), and veterans care (Public Law 117-168).
"I run every campaign like we're a few votes behind, so this one is no different," Pappas said. "We knew this was going to be challenging from the start. But the more I'm out there, the more I realize that folks are appreciating some of the work we've been doing in Washington."
The 1st District includes Manchester, Dover, Derry, and Rochester, and was little changed by redistricting. The Republican-controlled state legislature sought more sweeping remaps unfavorable to Pappas, though Sununu opposed those proposals. The state Supreme Court assumed jurisdiction over redistricting and adopted a minimal-change map.
2nd District (Biden 54%-45%): Seven Republicans are seeking to unseat Kuster, who's running for a sixth term in a district that takes in Nashua, Concord, Salem, Keene, Hudson, and Hanover.
The leading Republican candidates are George Hansel, who's the mayor of Keene, and Robert Burns, a former Hillsborough County treasurer who ran for this House seat in 2018 and lost in the Republican primary.
Hansel's backers include Rep. Drew Ferguson (R-Ga.), the chief deputy whip for House Republicans, and American Liberty Action PAC, a super PAC that formed in July and hasn't yet disclosed its donors. Hansel and the super PAC highlighted his support of Keene's law enforcement officers.
Hansel described himself as "pro-choice" on abortion — rare for a high-profile Republican candidate — but said it was a state issue and he wouldn't vote for any federal abortion legislation, including a bill (H.R. 8296) that would codify Roe v. Wade in law. Burns described himself as an "unapologetic" pro-Trump "America First" conservative opposed to abortion.
A Democratic PAC called Democrats Serve intervened in the Republican primary with a TV ad that linked Burns to Trump and said New Hampshire is "gonna get burned" if he's elected to Congress. With a strategy the party has used elsewhere in the country, Democrats sought to boost the more conservative candidate with pro-Trump primary voters but who may have a harder time in the general election. Democrats could reprise that ad in the general election if Burns wins the Republican nomination in a district Trump lost by 9 percentage points.
Hansel, as a supporter of abortion rights and the mayor of Keene, which voted overwhelmingly for Biden and Kuster in 2020, may be a stronger general-election candidate against Kuster than Burns.
"I am the only one that can win in November — the only one that Kuster is scared of," Hansel said at a candidate debate Sept. 7. "Democrats have invested hundreds of thousands of dollars propping up my opponent because they are nervous and scared of me. They know I can win."
Burns described Hansel as a "woke, Democrat-lite mayor from Keene" and said Republicans "need the real deal, and somebody who's actually going to out there and fight and hold Kuster to task and not compromise his values or the Republican and conservative party."
Other Republicans in the race include Lily Tang Williams, who was born in China and came to the US in 1988.
Kuster was re-elected 54%-44% in 2020 — close to the Biden-Trump result in the 2nd District, and the fifth straight election Kuster won with less than 56% of the vote. A Kuster TV ad last month highlighted her support for a congressional stock ban and her opposition to a pay raise for members of Congress.
Rhode Island
2nd District (Biden 56%-42%): The retirement of 11-term Rep. Jim Langevin (D) and the emergence of a politically seasoned Republican nominee give the GOP an opening in a district that leans Democratic but not overwhelmingly so. The 2nd takes in Warwick, Cranston, and part of the state capital of Providence and was little changed in redistricting.
The Democratic contest features two candidates from families with strong party credentials. Rhode Island General Treasurer Seth Magaziner's father, Ira, was a key adviser to Hillary Clinton's health care task force during President Bill Clinton's first term. Primary rival Sarah Morgenthau, a lawyer who held positions in the Obama and Biden administrations, counts on her family tree an ambassador to the Ottoman Empire, a Treasury secretary under President Franklin Delano Roosevelt, and an uncle who was President John F. Kennedy's pick for a key federal prosecutor in New York.
Magaziner's donors include Majority Leader Steny Hoyer (Md.), Democratic Caucus Chair Hakeem Jeffries (N.Y.), and some labor unions. The environmentalist LCV Victory Fund paid for a TV ad that said Magaziner helped Rhode Island "become a leader in clean energy."
Morgenthau, at a candidate debate, promoted her "heck of a lot of experience in Washington" and background in issues including cybersecurity, domestic terrorism, and travel and tourism. One of Morgenthau's ads said that, following the reversal of Roe, "now is the time" for Rhode Island to finally send a Democratic woman to Congress.
Another Democratic woman in the race is Joy Fox, who worked for Langevin and for US Commerce Secretary Gina Raimondo when she was Rhode Island's treasurer and governor. David Segal, a former state representative and Providence city councilman, made opposition to "corporate special interests" a linchpin of his campaign, which was endorsed by the Progressive Change Campaign Committee. Segal sought Rhode Island's other House seat in 2010 and lost in the Democratic primary to David Cicilline, who's favored to win a seventh term Nov. 8 in the 1st District.
Awaiting the Democratic primary winner is Republican Allan Fung, a former Cranston mayor who was the Republican nominee for Rhode Island governor against Raimondo in 2014 and 2018. A Fung TV ad said he "worked with Republicans and Democrats" to turn Cranston into "one of the best cities in America." Republicans last won a US House election in Rhode Island in 1992.
With assistance from Zach C. Cohen
To contact the reporter on this story: Greg Giroux in Washington at ggiroux@bgov.com
To contact the editor responsible for this story: Bennett Roth at broth@bgov.com