New Hampshire Supreme Court Adopts Status Quo Congressional Map
Court approved law professor's map after Republican impasse
Democratic Reps. Pappas, Kuster still could face close races
New Hampshire's two congressional districts currently held by Democrats will undergo tiny changes under a proposal the state Supreme Court adopted Tuesday.
The map drawn by Stanford law professor Nathaniel Persily, who acted as a court-appointed "special master," moved five towns totaling fewer than 9,000 people from the southeastern 1st District of Rep. Chris Pappas (D) to the western-northern 2nd District of Rep. Annie Kuster (D) to make them about equal in population.
In a unanimous opinion, the court said Persily's map "fully complies" with its previous guidance, including a "least-change approach" that modified the existing districts as little as possible.
Pappas, whose district is a little more politically competitive than Kuster's, had been targeted under two maps the Republican-controlled state Legislature passed. But Gov. Chris Sununu (R) vetoed those proposals, which would have implemented more extensive changes to the districts than the governor could tolerate. The Legislature didn't bring up Sununu's preferred map for a vote.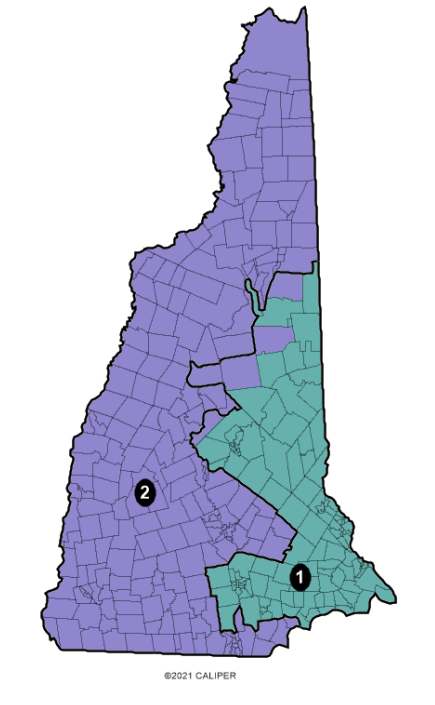 "Republicans in the legislature made a mockery out of the redistricting process as they sought to skew lines to their political advantage and silence voters of all parties in both districts," Pappas said in a statement. "With today's announcement from the court, the district lines have finally been settled in a fair manner."
Though Persily's status-quo map is closer to what Democrats sought, Pappas probably will still face a highly competitive re-election campaign in November as Democrats struggle to hold their five-seat House majority at the midpoint of President Joe Biden's four-year term. Biden (D) carried the 1st District by 6 percentage points and Pappas won it by 5 points in 2020.
(Sign up for Ballots & Boundaries , a weekly check-in as states change voting laws and revise political districts.)
Biden won four of the five towns that will shift from the 1st District to the 2nd District: Albany, Jackson, Sandwich, and Campton. Biden lost New Hampton to Donald Trump.
Kuster, who's never won more than 55.5% of the vote in her five elections, also could face a serious re-election fight if Biden's approval rating continues to sag and Republicans field a strong candidate in a district the president carried by 9 points.
The New Hampshire Supreme Court issued its ruling after hearing oral arguments on Persily's proposal earlier Tuesday. The state's candidate filing period for the Sept. 13 primary begins tomorrow.
New Hampshire is the last of the 44 states with two or more US House districts to enact new congressional lines, as is required every decade after the US Census is completed.
To contact the reporter on this story: Greg Giroux in Washington at ggiroux@bgov.com
To contact the editors responsible for this story: Bennett Roth at broth@bgov.com; Tina May at tmay@bloomberglaw.com