New Districts Too Tempting for Ex-Reps: Ballots & Boundaries

Redistricting promises to send a number of U.S. House members to their final Capitol exit. It also may pave a path for some comebacks.
Ex-Reps. Max Rose (D) and Renee Ellmers (R) are the latest to declare they're running again, joining Ryan Zinke (R), Harley Rouda (D), and Bruce Poliquin (R).
Although a new New York map hasn't been approved yet, Democrats control the process, and Rose could benefit if the district centered in Staten Island becomes bluer. He's going for a rematch with GOP Rep. Nicole Malliotakis, who beat him by 6 percentage points in 2020.
Ellmers lost in 2016 to a fellow GOP incumbent following a mid-decade, court-ordered North Carolina redraw that left her running for a seat with far fewer of her constituents. Seats have been redrawn, but everything's on hold; the state Supreme Court has delayed the primaries as it considers lawsuits challenging the GOP-drawn lines.
Zinke, who left his seat in Montana for a spot in Donald Trump's cabinet, is running in the state's new 1st District as the state gains a second seat. Rouda, who was unseated by Rep. Michelle Steel (R) in 2020 in Orange County, Calif., has been running for months and would benefit from the partisan shift displayed in the California Citizens Redistricting Commission's latest draft map.
Poliquin launched his challenge to Rep. Jared Golden (D)—who unseated him in 2018 thanks to Maine's ranked-choice voting—before the map was even proposed. Good news for him: It's still a solidly pro-Trump district. — Kyle Trygstad
(Was this newsletter forwarded to you? Get your own. It's free. SUBSCRIBE )
NEW MEXICO: POSSIBLE ALL-DEMOCRATIC DELEGATION
New Mexico's only Republican member of Congress would have a tough time getting re-elected under new district lines headed to the desk of Gov. Michelle Lujan Grisham (D).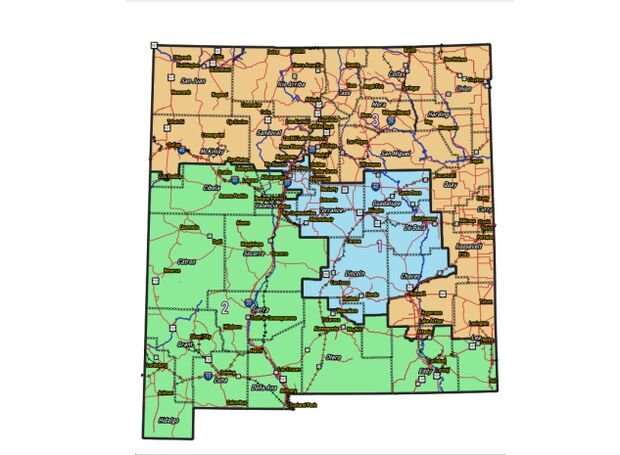 Rep. Yvette Herrell (R), who represents mostly rural and Republican-leaning southern New Mexico, would receive heavily Hispanic and Democratic-friendly precincts on the west side of Albuquerque. She'd lose Roswell and some Republican-leaning areas in the oil-rich southeast.
As a result of making Herrell politically vulnerable, the Albuquerque-area 1st District of Rep. Melanie Stansbury (D) and the 3rd District of Rep. Teresa Leger Fernández (D) would become more politically competitive but still Democratic-leaning. Leger Fernández's district would run from the northwestern corner of the state to Hobbs, about 500 miles to the southeast. — Greg Giroux
BGOV Webinar
Stay in the know or get caught up as Bloomberg Government walks through what has happened with congressional district line-drawing and what's left to do. Special guest: Wendy Underhill, National Conference of State Legislatures director for elections and redistricting. Sign up HERE for today's 1 p.m. ET webinar.
CONNECTICUT, MICHIGAN, PENNSYLVANIA: IN COURT
The Connecticut Supreme Court wants a status report tomorrow from the reapportionment commission on its progress on congressional redistricting. The commission also must furnish names of three people who could serve as a "special master" to help the court redraw lines if the commission can't finish its work by Dec. 21.
Also tomorrow:
Michigan's Supreme Court will hear arguments over whether the Michigan Independent Citizens Redistricting Commission can be forced to divulge internal attorney memos advising commissioners how to draw lines without violating the federal Voting Rights Act. Several Michigan news organizations have sued, claiming state law requires disclosure of the memos and prohibits closed-door meetings by commissioners.
The Commonwealth Court of Pennsylvania will hear arguments in three consolidated cases challenging subpoenas issued by Senate Republicans demanding voters' personal information for a probe of the November 2020 general election. The lawsuits claim the subpoenas threaten voters' rights to privacy as guaranteed by the Pennsylvania Constitution. — Greg Giroux, Alex Ebert, and Jennifer Kay
Tally: 20 Completed
Alabama | Arkansas | Colorado | Idaho | Illinois | Indiana | Iowa | Maine | Maryland| Massachusetts | Montana | Nebraska | Nevada | North Carolina | Ohio | Oklahoma | Oregon | Texas | Utah | West Virginia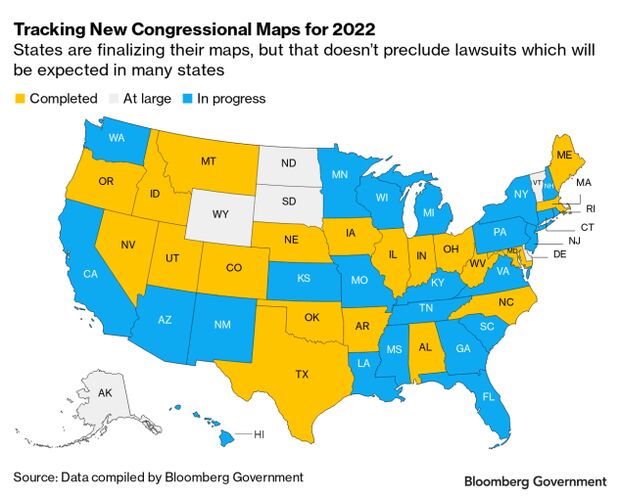 NEW YORK: NONCITIZEN VOTING
About 800,000 noncitizen residents of New York City would have the right to vote in local elections under a measure approved by the City Council. The legislation would cover legal permanent residents and those authorized to work in the U.S. Mayor Bill de Blasio (D) has said he would let the bill become law. State GOP Chairman Nick Langworthy called the measure a "dangerous attack on our election integrity," and pledged to fight it "using every legal means necessary." — Keshia Clukey
FLORIDA: NEW BUREAUCRACY
Florida's governor wants to create an "Office of Elections Crimes and Security." Budget priorities released by Gov. Ron DeSantis (R) include a proposed $5.7 million to set that up and $20 million for cybersecurity and infrastructure for the state's elections systems.
DeSantis also wants more election restrictions. Meanwhile, recent court filings by state attorneys general in 16 Democratic-led states and the District of Columbia argue that Florida's new law (S.B. 90) adding limits on voting by mail and ballot drop boxes is rooted in unproven allegations. — Jennifer Kay
WISCONSIN: BELEAGUERED ADMINISTRATORS
Wisconsin "is now ground zero" for attacks on elections professionals and "we are in danger of losing a generation of election administration experience," according to David Becker, executive director of the Center for Election Innovation & Research.
Wisconsin Assembly Speaker Robin Vos (R) approved spending more than $600,000 to investigate the state's 2020 presidential election. State municipal clerks have been subject to subpoenas while a "significant number" have received threatening and hostile messages, a report on the election by the Elections Research Center at the University of Wisconsin-Madison concluded. — Stephen Joyce
See also:
Political activists have begun seeking offices supervising the election systems they believe robbed Donald Trump of a second term. (The New York Times)
Georgia Republicans purge Black Democrats from county election boards. (Reuters)
Resources
Add Us to Your Inbox
Click HERE to sign up for Ballots & Boundaries, your check-in on redistricting and state voting laws.
With assistance from Kimberly Wayne
To contact the reporters on this story: Kyle Trygstad in Washington at ktrygstad@bloombergindustry.com; Keshia Clukey in Albany, N.Y. at kclukey@bloomberglaw.com; Jennifer Kay in Miami at jkay@bloomberglaw.com; Greg Giroux in Washington at ggiroux@bgov.com; Alex Ebert in Columbus, Ohio at aebert@bloomberglaw.com; Stephen Joyce in Chicago at sjoyce@bloomberglaw.com
To contact the editors responsible for this story: Tina May at tmay@bloomberglaw.com; Katherine Rizzo at krizzo@bgov.com