Nevada Races Show Democrats' Struggle to Find Economic Message
Three House incumbents in competitive House races
High prices, inflation top issue among voters
Rep. Steven Horsford wandered through the food stalls at the outdoor Broadacres Marketplace in Las Vegas, shaking hands, bumping fists, and doling out high-fives.
As diners at tables munched on doraditas pastries and pambazos sandwiches, Horsford reminded them on this late October Saturday that early voting in Nevada had started. He spoke about generating good-paying jobs, keeping communities safe from crime and violence, and the importance of voting.
Ivan Cuevas, 40, a day-trader who has lived in Las Vegas since 2007, listened politely to Horsford's pitch, but wasn't swayed. Cuevas voted for Joe Biden in 2020, but the economy and inflation has soured him on Democrats. He blames the government for "overspending" during the pandemic and thinks a change is needed.
"This is going to be one of my first times in a long time voting Republican," Cuevas said in an interview.
Democrats across the country are grappling with how to respond to high inflation, and in no place is it more crucial they get it right than Nevada. The state's tourism and entertainment-based economy was hit hard by Covid-19, and residents are still struggling. Average gas prices are among the nation's highest. Rents are skyrocketing, and buying a home is out of reach for many.
Las Vegas is home to three incumbent House Democrats, including Horsford, at risk of losing their seats—a critical mass in a midterm election year where Democrats hold only five more than Republicans and history favors the party out of power.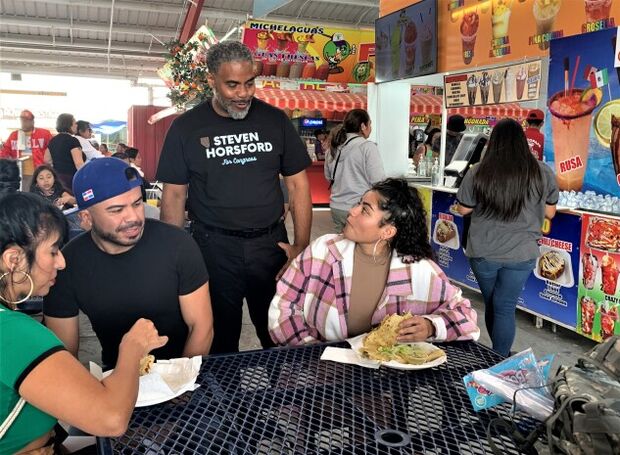 How Democrats fare in Nevada will be a bellwether for their fortunes in 2024 and beyond. The state's registered voters are split almost evenly among the two parties and unaffiliated voters. Hispanics are expected to make up 1 in 5 voters, and are seen as a key demographic by both parties. The state also has a large working-class population, a group that has increasingly embraced the GOP, and could help break the Democrats' recent hold on Nevada.
"We have a bigger lift because we're the party in power in tough economic times and we have the bigger lift because we want to get blue-collar voters," said Democratic pollster Celinda Lake.
Angst over the Democrats' messaging on inflation has heightened in recent weeks as polls have shown Republicans gaining steam. Speaker Nancy Pelosi (D-Calif.) reminded her colleagues last week that they "must communicate a clear, convincing message on why families are experiencing higher prices."
See also:
Whether voters will hear that message isn't clear. Hundreds of millions of dollars have already been spent on political ads just in Las Vegas. Another $63 million is booked for the final two weeks of the campaign, the highest of any market except Los Angeles, according to the tracking firm AdImpact.
It's enough to make voters like Lauren Taylor tune it all out.
"It's propaganda," Taylor said as she finished her grocery shopping while the sun set on the Palazzo and Wynn resorts in the skyline behind her. "I hear it and I laugh at it."
Assigning Blame
Horsford, 49, who became Nevada's first Black member of Congress in 2013, has a competitive race ranked "lean Democrat" by the Cook Political Report with Amy Walter. His fellow Vegas incumbents face even higher odds to win back their seats. Both Dina Titus, 72, a former political science professor who was first elected to Congress in 2009, and Susie Lee, 55, who worked in educational organizations before being elected in 2018, are in races deemed toss-ups.
In their ads and out on the campaign trail, Horsford, Lee and Titus sought to deliver a multi-pronged message on the economy—emphasize the pain voters are feeling, blame major corporations for keeping prices high, tout legislation that will lower prescription drug costs and healthcare, and argue that Republicans have no plan to reduce inflation.
And they keep reinforcing other issues—abortion, attempts to overturn the 2020 election—that may mobilize the Democratic base.
Their Republican challengers are making the surge in consumer costs a centerpiece of their campaigns, slamming Democrats for the highest inflation in four decades.
Sam Peters, a veteran and insurance company owner running to unseat Horsford, pitches himself as a "finance guy."
Debt and spending "is playing a huge role in our economy and inflation and gas, all these things," Peters told a prospective voter while standing one evening last week on a porch covered in Halloween decorations.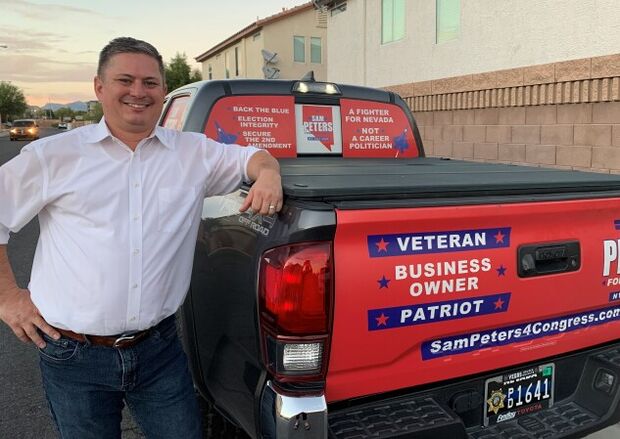 Retired Army Col. Mark Robertson, who is challenging Titus, promised in one ad to go on a "rescue mission" to protect taxpayers from the "radical left mishandling of the economy."
In another, Lee's opponent, litigator and real estate attorney April Becker, stood alongside gas pumps and accused the Democrat of downplaying concerns about prices.
In interviews, some Nevadans said they realize blame for the current economy doesn't belong with just a single culprit. Taking a break from fixing a car in his Las Vegas driveway, Pedro Cortez said global issues are raising the price of gas. Outside a Smith's grocery store, Clara Grayer explained that droughts and a lack of workers have led to high grocery prices. Nicholas Reid said he believed the causes of inflation are "complicated" and include supply chains.
Yet all three also said the Biden administration and Democrats have played a role.
"There are a lot of issues. People are losing their homes, rents are going crazy," said Cortez, who like the others said he had not yet decided who would get his vote. Democrats don't deserve all the blame, he said, but "in the end, they are the ones that are going to make the decisions."
Message Challenges
Democrats face several challenges on the economy. For starters, nearly twice as many registered voters say they trust Republicans over Democrats to tackle inflation, a dynamic underscored by a poll from ABC News/Ipsos.
Democratic strategists are urging their party's nominees to talk more frequently about the economy. Lake also said Democrats need to find a more unified message, ideally one that paints the election not as a referendum on the ruling party, but as a choice between it and the GOP.
"Each campaign has arrived at their own individual solution, and it shows," she said. "We don't have as much as an echo chamber."
In Vegas, Horsford, Lee and Titus all pull from the same playbook when it comes to the economy, but each are running slightly different plays.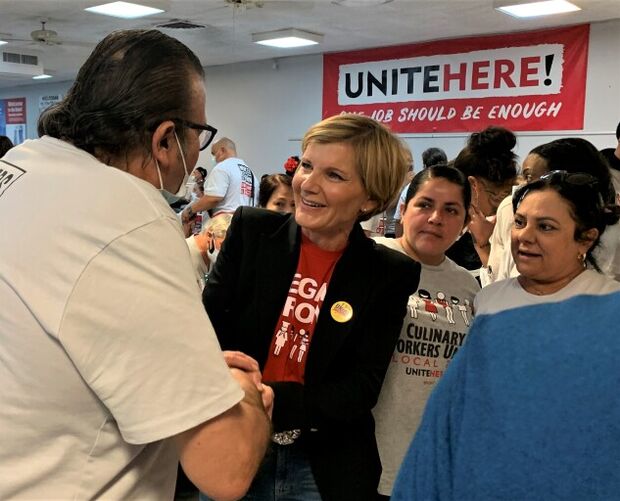 In ads, Lee's focus is abortion, the issue she says she hears most often about from folks who approach her in the grocery store.
"We've had inflation before in this country. This is something we will deal with, we will get it under control," she said in an interview last week at the Culinary Workers Union headquarters. "But your civil liberties are not permanent, and they can be taken away."
Shortly after the interview, she dipped into a larger room at the union offices and told a crowd of roughly 200 volunteers that she was in "the toughest fight of my short career."
"We obviously are dealing with rising costs, gas prices, food prices, healthcare prices, housing rents, mortgages— it's becoming unsustainable," she said. "But I want you to know you got a choice going forward. There is one party who takes care of working families. There is another party—and you're seeing it here in this state—that is completely funded and supported by big corporations and dark money."
Titus, whose once reliably Democratic district was redrawn after the 2020 Census, has homed in on blaming major corporations. In her advertisements, she tells the camera she's "mad as hell" about oil companies raising prices at the pump and says prescription drug costs are "highway robbery."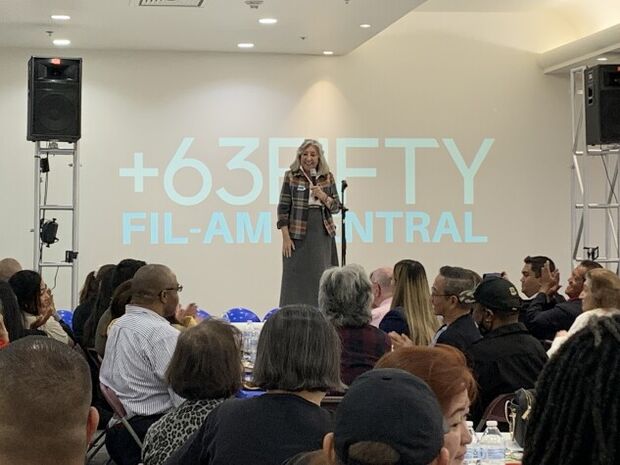 "Big corporations are not popular with good reason," Titus said in an interview. "When you talk about Republicans being in bed with big corporations, people get that."
Horsford has sought to tie inflation to big corporations, but his TV ads focus on what he has done to lower costs for healthcare, a reference to his support for Biden's healthcare-tax-climate change package (Public Law 117-169.)
"I can't change the price of the chicken," he said in an interview. "That's set by corporate greed from big grocers. I can't set the price for oil or gas, that's set by Big Oil. But I can give relief where I can and that's been in the form of prescription drugs, health care."
Candidates face another obstacle in their race to sway voters: election overload. The city known for over-the-top visuals has hit its limit between three House races, a competitive Senate race between Democratic Sen. Catherine Cortez Masto and Republican Adam Laxalt, as well as state races including governor.
Nonstop election ads air on TV while dozens of political groups swarm the city's neighborhoods. Volunteers sometimes step on literature from other organizations while they squeeze their own pamphlets into front doors.
Groups supporting Democrats are hoping a strong ground game will help with messaging. The Service Employees International Union has been talking to potential voters in the state for more than a year to combat what International President Mary Kay Henry calls "disinformation from our opposition."
See also:
Redrawn Districts on the Razor's Edge (BGOV OnPoint)
Henry said convincing voters that Democrats are working to lower prices "requires persuasion" but she's found if the message is framed the right way, it "punches through."
Melissa Morales, founder and president of Somos Votante and Somos PAC, which works to turn out Hispanic voters, said her group has found high prices are "top of everybody's mind." She said volunteers who talk to voters always begin by recognizing that economic pain and anxiety before pivoting toward solutions.
"Election Day will be the test whether it broke through or not," said Morales, standing outside the East Las Vegas Library when early voting opened Saturday, with a mariachi band playing to celebrate first-time voters.
The fact that races are still close, she said, "shows that voters are still open to closing arguments from both sides."
To contact the reporter on this story: Emily Wilkins in Washington at ewilkins@bgov.com
To contact the editors responsible for this story: John P. Martin at jmartin1@bloombergindustry.com and Katherine Rizzo at krizzo@bloombergindustry.com.