Neglected Nominees Show Labor Dept Lowest GOP Priority (Corrected)
Labor Department has only eight Senate-confirmed officials
Dispute over Democrat on NLRB stalled other confirmations
During the first two years of the Trump administration, Senate Majority Leader Mitch McConnell prioritized votes on nominees to the courts, Pentagon, Justice Department and Veterans Affairs Department.
The Labor Department's nominees have been the most neglected.
Now that William Beach has been confirmed to head the Bureau of Labor Statistics, 33 percent of Trump's nominees for Labor Department posts are on the job, according to a Bloomberg Government analysis of congressional data.
Compare that to the Defense Department, where 137 out of 165 Trump nominations have been confirmed (83 percent) or the VA, with 12 of its 13 nominees confirmed (92 percent).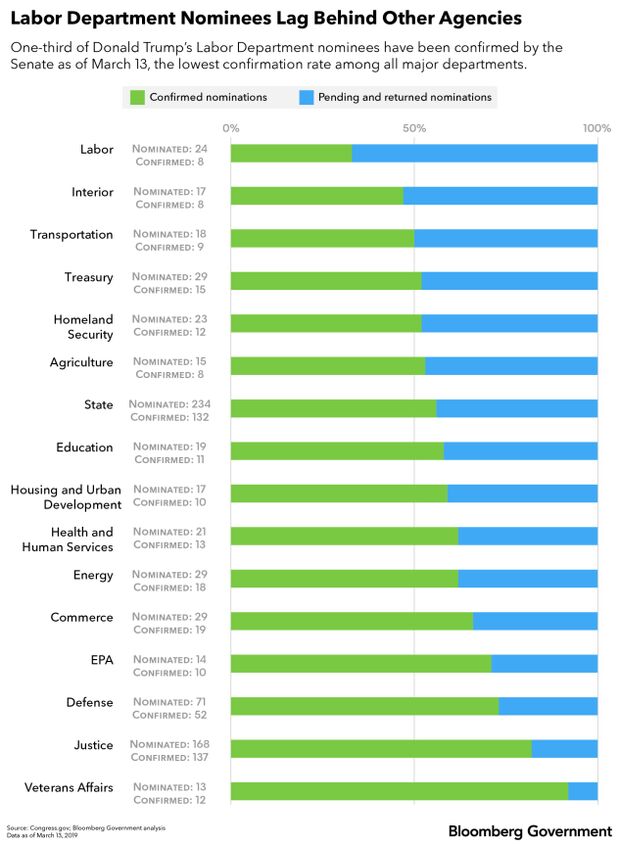 Those counts include every nomination that Trump has submitted to the Senate. For individuals nominated to more than one post, or nominated more than once for the same job, each submission is counted separately. For example, Stephen Akard was nominated a total of four times—twice each for two different positions within the State Department.
McConnell (R-Ky.) said he intends to use much of the next work period, which begins March 25, to confirm more federal judges and mid-level executive-branch nominees — the people who haven't been in place to run the day-to-day workings of the government.
"We're as serious as a heart attack," said Sen. John Cornyn (R-Texas). "I think the priority is always going to be the judiciary – just because they're lifetime jobs – but there's a need to get some of these sub-Cabinet positions filled as well."
The government's response to airworthiness questions following the crash of a Boeing 737 Max highlighted the lack of a confirmed leader at the Federal Aviation Administration. The FAA has an acting administrator, acting deputy administrator and acting chief of staff and President Donald Trump hasn't nominated anyone to the top job, vacant for more than a year.
Trump Wanted His Personal Pilot to Head the FAA. Critical Job Still Vacant: Wash. Post
Appointees to other safety-focused agencies within the Department of Transportation, which is headed by McConnell's wife, Elaine Chao, are part of the backlog of unconfirmed nominations.
Trailing Obama
At this point in Barack Obama's presidency, about 75 percent of his nominees had been confirmed. President Donald Trump is well behind that pace, with a little more than half of his nominees confirmed by the Senate.
In more collegial times, Republicans and Democrats hashed out long lists of nominees to confirm en bloc, often filling dozens of positions in less than a minute.
The working relationship between McConnell and Minority Leader Charles Schumer (D-N.Y.) seemed to deteriorate toward the end of 2018.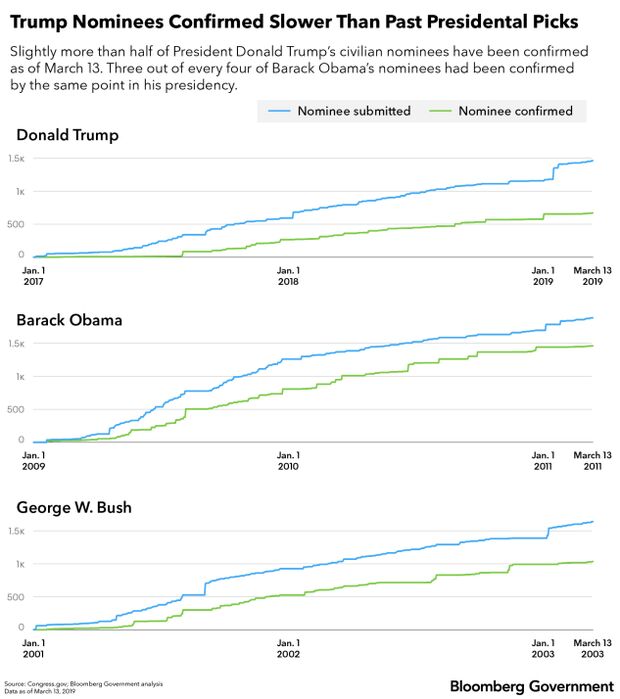 McConnell blames the slow pace of confirmations on "mindless obstruction in trying to keep the administration from being able to function."
"The Democratic minority is determined to make it nearly impossible for President Trump to form a government," agreed Senate Health, Education, Labor, and Pensions Committee Chairman Lamar Alexander (R-Tenn.).
NLRB Fight
A particular point of friction has been the National Labor Relations Board.
Assistant Minority Whip Dick Durbin (D-Ill.) said McConnell's end-of-2018 bargaining position was that Schumer should agree to confirm by unanimous consent a long list of nominees that didn't include Mark Gaston Pearce, a former NLRB chairman first nominated by Obama.
Though the slot is reserved for a Democrat and the board has a majority of Republicans, the U.S. Chamber of Commerce and other business groups opposed Pearce, saying he had been responsible for anti-business regulations.
Schumer insisted that Pearce be part of the yearend package, so there was no package. After the close of the 116th Congress, more than 270 nominations were returned to the White House.
Pearce recently withdrew his name and Trump hasn't nominated anyone else. The NLRB has a 3 to 1 Republican majority with one empty Democratic seat.
"It has been a major problem because we are entitled as Democrats to have a spot on that board and there's been an effort to stop that," Durbin said in an interview. "Schumer initially said he would work with Mitch McConnell on this but then McConnell was determined it would not be Pearce and so things really ground to a halt on many of the nominations."
"I don't know if they can find a mutually agreeable nominee," said Durbin.
Schumer's office declined to confirm reports that Jennifer Abruzzo, a former NLRB attorney, has been recommended by the AFL-CIO for the post.
OSHA Nominee
Beach, an economist who worked for the Senate Budget Committee and now is with George Mason University's Mercatus Center, was confirmed March 13 on a mostly 55-44 party line vote. His was the first Labor Department confirmation since the Senate approved Deputy Secretary Patrick Pizzella last April.
The department's nominees awaiting floor votes include John Pallasch to head the Employment and Training Administration; former FedEx official Scott Mugno to head the Occupational Safety and Health Administration; and Cheryl Stanton to run the Wage and Hour Administration.
Among the committee-approved nominations still pending:
Commerce Department: Jeffrey Kessler and Jeffrey Nadaner to be assistant secretaries
Defense: Veronica Daigle and Thomas McCaffery to be assistant secretaries
Education: Robert L. King to be assistant secretary for postsecondary education
Equal Employment Opportunity Commission: Janet Dhillon is awaiting confirmation to be a member and chairman. There are no nominees for two other open EEOC slots.
Energy: Rita Baranwal to be assistant secretary for nuclear energy; William Bookles to be principal deputy administrator, National Nuclear Security Administration; Christopher Fall to be director of the Office of Science
Export-Import Bank of the U.S.: Former Rep. Spencer Bachus (R-Ala.), Judith DelZoppo Pryor, and Claudia Slacik to be board members and Kimberly A. Reed to be president
Homeland Security: Joseph Cuffari to be inspector general
Housing and Urban Development: Seth Appleton and Robert Hunter Kurtz to be assistant secretaries
Justice: Donald W. Washington to be director of the U.S. Marshals Service
Transportation: Nicole R. Nason to be administrator of the Federal Highway Administration and former Rep. Thelma Drake (R-Va.) to head the Federal Transit Administration
Treasury: Michael Faulkender and Bimal Patel to be assistant secretaries; Dino Falaschetti to be director of the Office of Financial Research
"I think the question before the president and before the majority leader is how important is it to use Senate floor time to continue filling particular departments with Senate confirmed people versus allowing acting officials or career staff to do that work," said Kristine Simmons, vice president of government affairs at the nonprofit Partnership for Public Service.
Debate Time
McConnell has been threatening to change a Senate procedure to speed up the confirmation process by limiting floor debates time for some executive-branch posts and some judges.
Under a committee-approved measure (S. Res. 50), after a Senate vote to invoke cloture, or limit debate, addition floor time would be reduced to two hours from as many as 30 hours.
Senate Rules Committee Chairman Roy Blunt (R-Mo.) said in an interview that McConnell has the 51 Republican votes needed to adopt the resolution, but he's trying to get Democratic votes, as well.
With that change, "we could make an adequate floor commitment to get sub-Cabinet nominees done," Blunt said.
To contact the reporters on this story: Nancy Ognanovich in Washington at nognanov@bgov.com; Madi Alexander in Washington at malexander@bgov.com
To contact the editors responsible for this story: Katherine Rizzo at krizzo@bgov.com; Bennett Roth at broth@bgov.com