Navy Preparing for $2.5 Billion Fleet-Wide IT Contract Follow-On
The U.S Naval Information Warfare Systems Command, or NAVWAR, is looking for information from potential vendors as it prepares to compete its Consolidated Afloat Network Enterprise and Services (CANES) Full Deployment contract, according to a request for information released June 3. The follow-on contract will eclipse the $2.5 billion CANES contract that was awarded in 2014, which is consolidating a number of the Navy's existing, separately managed shipboard and operations networks.
CANES is a Commercial-Off-The-Shelf (COTS) systems integration effort intended to provide the complete technical infrastructure — including hardware, software, processing, storage, and end-user devices — for unclassified, coalition, secret, and sensitive compartmented information (SCI) network services to Navy ships, submarines and operations centers. For unclassified technical data on the system, click here.
The Navy is seeking information on companies that have:
Experience producing and assembling rack-mounted U.S. Navy surface and submarine technology systems;
Demonstrated ability to produce hardware units according to detailed technical data packages;
Experience teaming with industry partners for subsystem development;
Experience cooperating with other prime industry partners integrating complex systems; and
Experience maintaining fielded military hardware systems.
The existing contract began in fiscal 2015 and runs through August 2022. A total of $592 million in obligations of a $2.53 billion ceiling value have been awarded to seven contractors since fiscal 2015.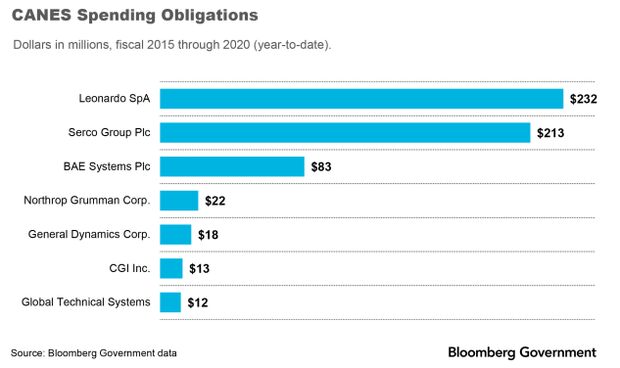 The top contractor, Leonardo SpA, has received about $232 million in spending obligations to date. One small business, Global Technical Systems, is among the list of contract holders on the predecessor contract. The follow-on contract contract is likely to run from fiscal 2023 through fiscal 2031.
Responses to the RFI are due July 28.
To contact the analyst: Robert Levinson in Washington, D.C. at rlevinson@bgov.com
To contact the editors responsible for this story: Daniel Snyder at dsnyder@bgov.com; Jodie Morris at jmorris@bgov.com