N.J. Primaries Tuesday Set Up House Races to Watch in November
New Jersey's primaries Tuesday feature party-switching Rep. Jeff Van Drew seeking re-election as a Republican and will set the matchups in three other districts Democrats captured from Republicans in 2018.
Democratic Reps. Josh Gottheimer and Albio Sires face primary challenges from anti-establishment progressives.
The New Jersey primary was postponed from June 2 because of the coronavirus pandemic. The election will be conducted primarily by mail, and all active registered Democrats and Republicans received a postage-paid vote-by-mail ballot.
Voting concludes at 8 p.m. Tuesday. Here's a look at the races to watch:
Senate (Hillary Clinton won New Jersey 55%-41%): An unsuccessful campaign for the Democratic presidential nomination didn't dim Sen. Cory Booker's prospects for re-election.
Booker has nominal primary opposition. None of the five Republicans challenging him are well-known, and none raised more than $600,000 through June 17 in a state that probably will vote decisively for Democratic presidential nominee Joe Biden over President Donald Trump. A Republican hasn't won a Senate election in New Jersey since 1972.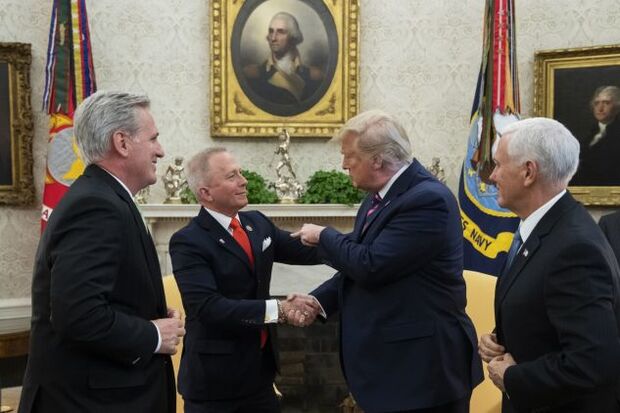 2nd District (Atlantic City, Vineland, Millville; Trump won 51%-46%): Van Drew, who bolted the Democratic Party less than a year into his term after refusing to back Trump's impeachment, is seeking re-election as a Republican with the president's backing.
The five Democrats running include Amy Kennedy, an educator and mental-health advocate who's married to former Rep. Patrick Kennedy (D-R.I.); Brigid Callahan Harrison, a political scientist at Montclair State University; and Will Cunningham, a former counsel to the House Oversight and Reform Committee, who finished third in the 2018 Democratic primary won by Van Drew.
Kennedy raised more than $1.4 million through June 17, more than three times what Harrison raised. Her donors include House Majority Leader Steny Hoyer (D-Md.). Kennedy called for expanding the Affordable Care Act and making Medicare "available to all who want it."
Gov. Phil Murphy (D) endorsed Kennedy, and at least two super PACs backed her. One of them, Blue Organizing Project, received $500,000 from Patrick Kennedy in February and spent $75,000 on digital ads opposing Harrison. America's Future First, which has spent more than $60,000 supporting Amy Kennedy, filed organizing paperwork with the Federal Election Commission on June 9 and hasn't disclosed its donors.
Booker and Sen. Bob Menendez (D) support Harrison, who said she wanted to serve on the Transportation and Infrastructure Committee to advocate for 66 miles of rail line connecting Atlantic City to the New Jersey transit system. Harrison criticized Kennedy for accepting political donations from executives with Wellpath, which provides health-care services to inmates. At a candidate forum last month, Harrison said Wellpath was "part of the inequity of our system of the school-to-prison pipeline that is victimizing Black and Brown men."
New Jersey Senate President Steve Sweeney also endorsed Harrison. General Majority PAC, a Democratic group whose treasurer is a former Sweeney aide, aired a television ad that highlighted Booker's endorsement and said Harrison would "fight for affordable health care and lower prescription drug costs."
Cunningham touted his six years of Capitol Hill experience and called for a Medicare for All health-care system, the Green New Deal climate-change blueprint, and free community college. Cunningham, who is Black, spoke of being targeted and handcuffed by police at age 13.
Van Drew's lone primary opponent is Robert Patterson, who was acting associate commissioner at the Social Security Administration earlier in Trump's presidency. He called himself a "real conservative" and attacked Van Drew's votes as a Democrat against the Trump administration on immigration, guns, health care and climate change. Patterson, who raised $273,000 through June 17, has made provocative statements about women and birth control.
Van Drew was one of three Republicans who voted last week for a $1.5 trillion highway and infrastructure package.
3rd District (parts of Burlington and Ocean Counties; Trump 51%-45%): Two Republicans are vying to unseat first-term Rep. Andy Kim (D) in a mildly Republican-leaning swath of south-central New Jersey.
David Richter, an engineer and lawyer with five academic degrees, compared himself to Trump. "Like President Trump, I'm a successful businessman and a political outsider," he said at a candidate forum last month. Richter loaned his campaign $600,000, which accounted for most of his campaign's $800,000 in receipts through June 17.
His rival Kate Gibbs is a former elected freeholder in Burlington County, which is the more-Democratic-friendly of the two counties in the district. "I break the stereotype of what a Republican looks like. As a young, working-class female Republican, I can relate across our broad base of conservative voters" in the district, she said.
Gibbs raised just $284,000 through June 17 but received independent assistance from the super PAC Jersey Real, which is funded partly by former pharmaceutical executive Bob Hugin. Defending Main Street, a Republican super-PAC that says its candidates support "fiscally responsible, socially inclusive policy," also supported Gibbs.
Richter's campaign attacked Gibbs' "criminal record for shoplifting, drugs, and drinking." Gibbs said she "made mistakes" in college but owned up to them.
Kim, who's unopposed in the primary, ousted Tom MacArthur (R) in the 2018 election and is the only Korean-American serving in the 116th Congress. Kim is a member of the Armed Services Committee who's frequently co-sponsored bills with Republicans, including on health care and military veterans. He had $3.2 million in campaign cash-on-hand.
Read More: Snooki Comparison Exemplifies 'Jersey Shore' District GOP Brawl
5th District (most of Bergen County; Trump 49%-48%): Gottheimer, a co-chairman of the bipartisan Problem Solvers Caucus and a member of the Blue Dog Coalition of Democrats who promote fiscal restraint, is opposed in the primary by the more liberal Arati Kreibich, a neuroscientist and councilwoman in the borough of Glen Rock in Bergen County.
Kreibich said Gottheimer's centrist views are out of step in a district that's trending Democratic, and that he's too close to Wall Street with his votes and political contributions. She's endorsed by Sen. Bernie Sanders (I-Vt.) and Rep. Ayanna Pressley (D-Mass.) and supports Medicare for All, the Green New Deal, ending "qualified immunity" for police activity, and restoring the Depression-era Glass-Steagall law that separated investment and commercial banking.
"I'm a real Democrat. I'm working for real change," Kreibich said at a meet-the-candidate event organized by the Progressive Change Campaign Committee.
Kreibich raised $475,000 through June 17 and had $145,000 on hand compared with $8.5 million for Gottheimer, one of the most prolific fundraisers in Congress. His most recent donors include Robert Rubin, a former Treasury Secretary and Goldman Sachs co-chairman.
Gottheimer, a member of the Financial Services Committee and in his second term, sponsored legislation the House passed last week that would allow consumers to more easily obtain their credit reports and challenge inaccurate information.
Four Republicans are seeking the nomination. The best-funded is Frank Pallotta, a former investment banker who's been the source of most of his campaign's receipts, including $125,000 on June 29. John McCann, a lawyer and former councilman in the Bergen County borough of Cresskill, is running again after losing to Gottheimer 56%-42% in 2018.
7th District (Bridgewater, Westfield, Summit; Clinton 49%-48%): Republican Tom Kean Jr., a state senator and namesake son of a former governor, is favored to advance to a November matchup with first-term Rep. Tom Malinowski (D).
Kean, who faces two little-known and lightly financed candidates, is one of the best-funded Republican challengers in the nation, with more than $1.2 million on hand as of June 17.
Malinowski, who unseated Leonard Lance (R) in the 2018 election, is unopposed in the primary and had $3 million in his campaign account. Malinowski has advocated for the Gateway project to reconstruct Trans-Hudson transportation networks and for repealing the $10,000 cap on state and local tax deductions.
8th District (Elizabeth, parts of Jersey City & Newark; Clinton 76%-22%): In this Hispanic-majority Democratic bastion, Sires has two primary opponents including Hector Oseguera, a lawyer who volunteered on the 2018 campaign of progressive icon Alexandria Ocasio-Cortez (D-N.Y.)
Like Ocasio-Cortez, Oseguera is seeking to oust a well-connected veteran politician while on a meager campaign budget. Oseguera identified affordable housing as a top campaign issue and linked Sires to wealthy real estate developers. He said Sires hasn't been a visible presence in the district.
Sires, a member of the Transportation and Infrastructure Committee, last week highlighted his vote for a $1.5 trillion highway and infrastructure package that he said would advance the Gateway project. He has a liberal voting record.
Sires' campaign last month reactivated its Twitter account, which had been dormant since 2012, to highlight his accomplishments in office. Democratic Majority for Israel PAC spent money to promote Sires' re-election.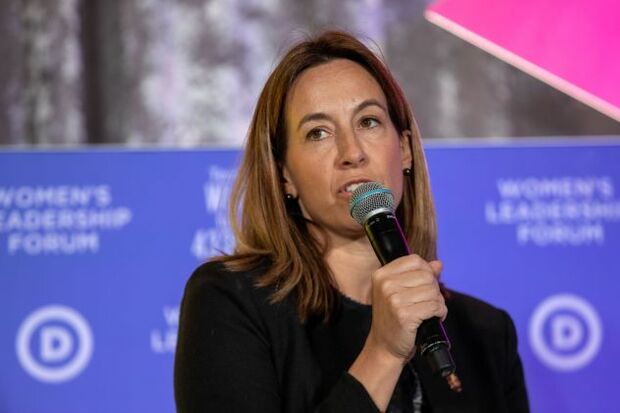 11th District (Wayne, Morristown; Trump 49%-48%): Neither first-term Rep. Mikie Sherrill (D) nor Rosemary Becchi (R) have primary opposition in a competitive district Sherrill easily wrested from Republican control in the 2018 election.
Becchi, a tax policy lawyer who formerly worked for the Senate Finance Committee, initiated a campaign for the 7th District before switching to the 11th District early this year. She had $224,000 in her campaign account on June 17 compared with $3.2 million for Sherrill.
Sherrill, a former Navy pilot, sits on the Armed Services Committee and is chairwoman of the Science, Space, and Technology's Environment Subcommittee. She didn't back Pelosi for speaker at the start of the 116th Congress but has otherwise voted as a loyal Democrat. Sherrill was elected 57%-42% in 2018, the biggest win of any non-incumbent Democratic candidate in a district that Trump won in 2016.
To contact the reporter on this story: Greg Giroux in Washington at ggiroux@bgov.com
To contact the editors responsible for this story: Kyle Trygstad at ktrygstad@bgov.com; Heather Rothman at hrothman@bgov.com