Musk, Zuckerberg Lead Parade of Tech Titans to Senate AI Event
Schumer's inaugural AI forum features tech CEOs, civil society
Attendees seek fruitful talks, critics call for more balance
Bloomberg Government subscribers get the stories like this first. Act now and gain unlimited access to everything you need to know. Learn more.
Senators are poised Wednesday to question the nation's top leaders on technology as Congress confronts the threats and promise of artificial intelligence.
Among those on the roster for an inaugural AI summit: Tesla Inc.'s Elon Musk, Meta Platforms Inc.'s Mark Zuckerberg, Alphabet Inc.'s Google CEO Sundar Pichai and former CEO Eric Schmidt, and Microsoft Corp.'s Satya Nadella and co-founder Bill Gates.
Senate Majority Leader Chuck Schumer (D-N.Y.) is hosting the closed-door gathering to respond to the rapidly advancing, transformative technology. The event is the first in a nine-part series of AI forums focused on promoting innovation, national security, and privacy, among other issues. Lawmakers, acknowledging past failures to set social media safeguards, want to get ahead of this latest technological boom.
Schumer, with Sens. Todd Young (R-Ind.), Martin Heinrich (D-N.M), and Mike Rounds (R-S.D.), since the spring have been leading efforts to educate members on AI in hopes of guiding eventual legislation to address its risks and benefits.
AI's Threats and Promises Are Rare Unifying Issue in US Senate
Still, some lawmakers, attendees, and observers are concerned the meeting lacks transparency and a greater balance of voices, lest future regulation skew in favor of the companies. The attendance list includes mainly industry officials with a sliver of civil society groups.
"It's an opportunity for them to lobby Congress without anybody to push back against them, and I'm not in favor of that," Sen. Elizabeth Warren (D-Mass.) said on Monday, referring to the tech industry.
Heinrich said the senators remain committed to listening to a range of perspectives to inform AI policymaking. Schumer has touted the various backgrounds coming to Wednesday's meeting and said on the Senate floor that the series of forums will "be high-powered, diverse, but above all, balanced."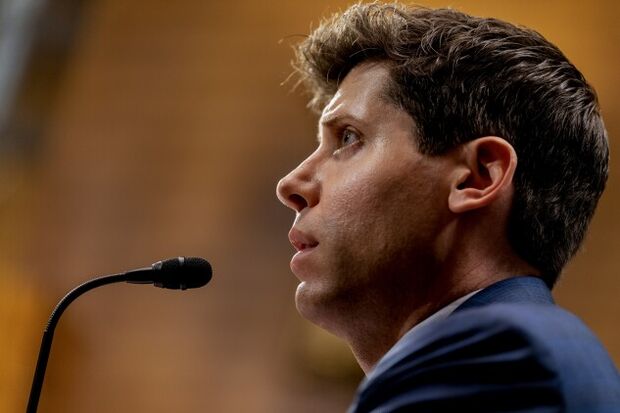 Tech Perspectives
A newer crop of industry luminaries, including OpenAI's Sam Altman, Hugging Face's Clément Delangue, and Anthropic's Jack Clark, will also attend Wednesday's all-day meeting.
The tech companies invited are leading the AI race, creating the latest tools—from chatbots to software platforms and automation services—for consumers and businesses. Many executives want the federal government to boost AI development to ensure the US maintains its competitive edge.
AI Bipartisan Plan Touches Consumer Privacy, National Security
Any regulation should focus on the end use, rather than the underlying technology, said Dario Gil, director of research at IBM Corp. whose chief executive officer Arvind Krishna will be at the summit.
"I don't think it's the right idea to regulate the mathematics or the large neural networks" that underpin artificial intelligence, Gil said. IBM opposes any kind of licensing regime for foundation models, he said.
IBM, Palantir to Join AI Safeguards as Biden Effort Expands
Several of the tech CEOs have publicly shared their thoughts on the AI explosion, and some of them have butted heads. Musk and Zuckerberg, who recently hurled insults at each other on social media for unrelated reasons, take different stances. Musk is an AI doomsdayer, while Zuckerberg voices optimism.
"AI isn't a monolith and I think the meeting roster shows that," said Joe Hoellerer, director of government affairs at the Information Technology Industry Council, which counts Google, IBM, Meta, and Microsoft, among its members.
Other company executives take similar sides or land somewhere in between. Many advocate open-source AI, or democratizing access to AI tools. Some have called for regulatory measures based on risk level. Senators are likely to hear those opinions and get a better grasp of the current AI landscape as the developers race to beat each other in the market.
Learning Forum
The senators are planning two three-hour sessions of guided questions-and-answers to facilitate discussion among the attendees. The morning panel, moderated by Schumer, will feature all 22 participants. Then they'll break for lunch. For the afternoon conversation, moderated by Rounds, at least a few of the tech executives will tap out and have their deputies fill in.
"We're gonna try to ask them to be quick and to the point," Rounds said. "I think they'll come with their messages, and we'll do our best to make sure they kind of have a sense of the direction we're going."
Civil society groups say they're encouraged to have a seat at the table for the senators—and the tech executives—to also take their AI concerns into consideration.
AFL-CIO President Liz Shuler plans to emphasize during the conversation the importance of including workers in AI decision-making.
"Public support for unions is at near record highs because workers are tired of being guinea pigs in an AI live experiment. The labor movement knows AI can empower workers and increase prosperity—but only if workers are centered in its creation and the rules that govern it," she said in a statement.
Identifying AI's opportunities and threats and establishing guardrails requires serious discussions and different perspectives, said Maya Wiley, president and CEO of The Leadership Conference on Civil and Human Rights, who will attend the forum.
"The tech sector cannot accomplish these things by itself and without the voices, viewpoints, and experiences of people who are going to be on the receiving end of it," Wiley said. "What's important about this forum is it's an opportunity to bring that discussion together."
Mixed Reactions
Some senators, attendees, and AI policy experts have expressed reservations about the large tech presence and private setting of the forum.
"Unfortunately, it might not be the most representative and inclusive list but I will try my best to share insights from a broad range of community members, especially on topics of openness, transparency, inclusiveness and distribution of power," Hugging Face's Delangue posted on X, Musk's social media platform formerly known as Twitter.
The dearth of independent voices sets a bleak tone for the first summit, said one prominent AI researcher, who declined to be identified to speak candidly. It's hard to hold a serious, well-informed debate in a closed room tilted to corporations, the researcher said.
Others said they wish to see a more equal balance of perspectives at future events. "There's been quite a lot of skepticism around whose views are represented and whether the concerns of the public are adequately represented here," said Sarah Myers West, managing director of the AI Now Institute, a policy research group.
Still, observers anticipate the forum will help build senators' knowledge of AI to craft measures.
"There's no way that you get all of these incredibly talented, smart, capable people in a room and you're not going to come away with new ideas, new lessons learned—even if they're not the ones that you maybe initially thought that you were going to come out of the meeting with," Jordan Shapiro, director of the Innovation Frontier Project at the Progressive Policy Institute, said.
—With assistance from Anna Edgerton and Steven Dennis
To contact the reporter on this story: Oma Seddiq at oseddiq@bloombergindustry.com
To contact the editors responsible for this story: Robin Meszoly at rmeszoly@bgov.com; Michaela Ross at mross@bgov.com
Stay informed with more news like this – from the largest team of reporters on Capitol Hill – subscribe to Bloomberg Government today. Learn more.