Murdoch Scion's Spouse Boosts Democrats With $1 Million Donation
A $1 million contribution from the daughter-in-law of conservative media mogul Rupert Murdoch has buttressed Democrats' campaign to win the Senate majority.
The donation in May from Kathryn Murdoch, wife of Rupert Murdoch's son, James, was her latest political break from a family whose media empire includes Fox News, where commentators routinely cheer on President Donald Trump.
Murdoch has increasingly staked out an independent political course from her in-laws, embracing causes such as addressing climate change and revamping the voting process. She and her husband have acknowledged philosophical differences with the rest of the Murdoch family. Kathryn Murdoch said in a Politico podcast in January they were excited to back the Democratic candidate for president "whoever the nominee is, no matter what."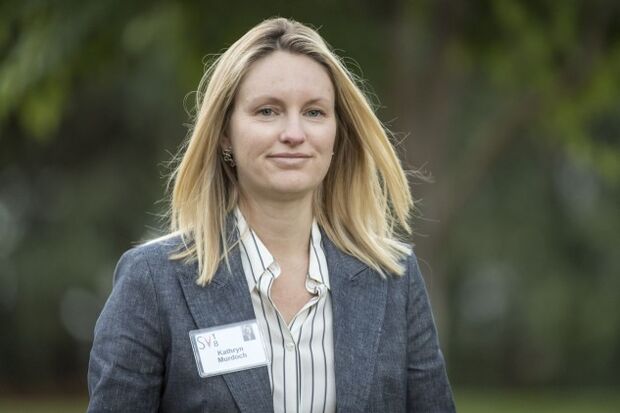 Murdoch made her contribution to the Senate Majority PAC, which is aligned with Minority Leader Chuck Schumer (D-N.Y.). The super PAC raked in $11.4 million in May, according to reports filed June 20 with the Federal Election Commission.
Murdoch's was the largest contribution in May to the Democrats from an individual donor. The Electrical Workers Union also gave the super PAC $1 million last month. For the full election cycle, there have been more than a dozen donors who've given the Democratic group at least $1 million. Investor and liberal philanthropist George Soros is the top contributor at $8.5 million.
Other top donors in May to the Democratic super PAC include James Simons, the founder of hedge fund Renaissance Technologies, and Newsweb Corp. Chairman Fred Eychaner. It has also received multi-million-dollar contributions from unions, led by the United Brotherhood of Carpenters and Joiners, and the Laborers International Union of North America.
Officials with the Senate Democratic fundraising group declined to comment on the Murdoch contribution.
Mending Government
Kathryn and James Murdoch contributed to candidates and political committees of both major parties before 2019, but Kathryn Murdoch began making much larger contributions in the current election cycle.
Last year Kathryn Murdoch gave nearly $4 million to Unite America, a PAC that supports moderate congressional candidates on both sides of the aisle, as well as changes to the voting and redistricting process.
"We must mend our political institutions if we are to begin healing our country," Kathryn Murdoch said in a June 4 statement, along with two other co-chairs of Unite America. The statement discussed how the country needs to address the challenges of the coronavirus pandemic and racial justice issues, including nonpartisan efforts to improve the voting process.
Kathryn Murdoch, who did not respond to a request for comment on the donation, has served on the board of Climate Central, which researches climate change, since 2018 and previously worked for the Clinton Climate Initiative. Last year she took her climate activism more public in a series of interviews with the New York Times. She and her husband founded Quadrivium, which, according to it website, "supports practical, evidence-based solutions for critical societal problems."
James Murdoch was CEO of 21st Century Fox until 2019 when a deal was completed to sell the entertainment business to the Walt Disney Company. Murdoch and his five siblings were in line to receive $2 billion each from the sale if the proceeds were divided equally, according to January 2019 Bloomberg News calculations.
GOP Givers
The Senate Leadership Fund, aligned with Majority Leader Mitch McConnell (R-Ky.), raised $8 million last month.
Big contributions to the Republican super PAC in May came from several traditional GOP donors, including brothers Christopher and Jude Reyes. The owners of a beer and food distribution company gave a combined $1.5 million. The group also got $2 million in May from Home Depot founder Bernard Marcus and $1 million from investment banker Warren Stephens.
The two party-aligned Senate-focused super PACs have raised a total of $190 million so far. Spending is expected to be concentrated in about a half-dozen states, most with vulnerable Republican senators, though it could be spread further.
The Cook Political Report rates 11 seats in competitive categories, nine of them held by Republicans. Democrats need a net gain of three or four seats to take control of the chamber, depending on who wins the White House.