Montana's 2nd House Seat Gives Democrats New Midterm Opportunity
State added seat through reapportionment after 2020 census
Bipartisan commission's map will determine competitiveness
Bloomberg Government subscribers get the stories like this first. Act now and gain unlimited access to everything you need to know. Learn more.
Montana's first congressional redistricting in four decades provides House Democrats with an unlikely offensive opportunity after years of futility.
The party's nine Senate and governor race victories over the past 20 years always failed to translate down-ballot to the statewide contest for the lone House seat. That could change with the addition of a second seat in reapportionment.
But whether its new seat can be part of Democrats' path to retaining their endangered majority in the 2022 midterm elections depends on how Montana's bipartisan commission divides the state in half.
"Where do you draw the actual boundary?" said Jeremy Johnson, a political scientist at Carroll College in Helena, summing up the key question.
The sprawling 147,000-square-mile state has had one district since the early 1990s. It was awarded a second one this spring following above-average population growth in the past decade, making Montana the first state to go to two districts from one since Nevada in the 1980 reapportionment.
To sign up for our weekly newsletter on what states are doing to change voting laws and reconfigure political boundaries, click here.
Montana's commission will likely divide the state into a western mountain district and an eastern prairie district—similar to the layout in the 1980s, when Democrat Pat Williams represented the west and Republican Ron Marlenee had the east. Williams defeated Marlenee in the 1992 election after the two districts were merged, but Republicans have held the at-large district since Williams retired in 1996.
The new two-district map will differ from the 1980s map, though, because western Montana— bolstered by a diverse economy that includes technology, tourism, and higher education — has grown more rapidly. According to 2020 population estimates from the Census Bureau, there were about 650,000 people in the 19 counties that were part of the old 1st District, compared with about 431,000 people in the 37 counties that comprised the old 2nd District. Congressional districts within a state are required to be about equal in population.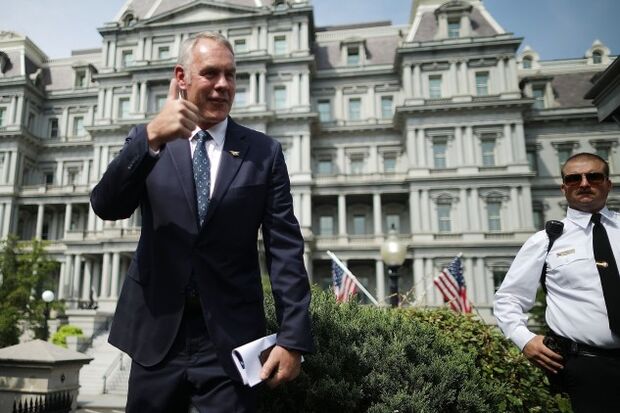 Former Rep. Ryan Zinke (R), who resigned from the House in 2017 to become Interior secretary under President Donald Trump, didn't wait to find out the details. Zinke, who faced ethics inquiries at Interior, filed a statement of candidacy with the Federal Election Commission in April, three days after Census Bureau data confirmed Montana would get a second seat.
Democrats weighing a campaign include Whitney Williams, a Missoula businesswoman and 2020 candidate for governor who's the daughter of Pat Williams and former Montana Senate majority leader Carol Williams.
The state is currently represented in the House by Rep. Matt Rosendale (R), whose hometown of Glendive in Dawson County is in the far eastern part of the state. He's expected to seek re-election in an eastern district. Zinke is from Whitefish in Flathead County, a Republican stronghold in northwestern Montana that could be part of a western district.
"We don't have district lines yet but Zinke plans to run in the district he lives in, and has no plans to primary Matt," Heather Swift, a longtime Zinke aide, said in an e-mail.
The commission will enact a new map later this year, within 90 days of receiving official block-level population data from the Census Bureau. All states will receive data in an older "legacy" format by Aug. 16, then in a more user-friendly format by Sept. 30.
Dividing Line
Where to draw the dividing line will be determined by Montana's five commissioners, which includes two Democrats, two Republicans, and a chair who was selected by the state Supreme Court and will likely cast tiebreaking votes. Republicans have groused that the commission chair, former University of Montana tribal law professor Maylinn Smith, previously made campaign contributions to Democratic candidates.
Democrats are pushing for a western district that's politically competitive. Counties where Democrats thrive or are competitive include Gallatin County, which includes fast-growing Bozeman and Montana State University; Missoula County, a Democratic bastion that has the University of Montana; Lewis and Clark County in and around Helena, the state capital; and Silver Bow County, which takes in Butte.
Those areas would be in a district "that is not red or blue, but is a competitive district that is about 50-50," Democratic commissioner Joe Lamson said in an interview. "And we just think it's just more fair to—rather than create two solid Republican districts and disenfranchise hundreds of thousands of voters who won't really have any input in it—draw a competitive district that a good candidate of either party can win."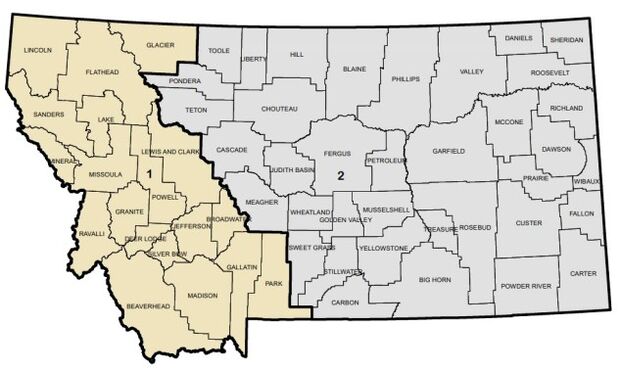 But even a western district that lassoed in the most Democratic areas of Montana would still lean Republican if it includes other western counties such as Ravalli, a fast-growing area on the Idaho border that's heavily Republican. Even the old labor strongholds of Silver Bow and next-door Deer Lodge County (Anaconda) are not voting as heavily Democratic as they did in the 1980s.
"Republicans would probably be favored in both districts" under any map, though a western district could be competitive for Democrats, Johnson said.
Many Republicans would like to see Gallatin County drawn into an eastern district, where Bozeman progressives would be absorbed by heavily Republican counties in eastern Montana. Under that configuration, Republicans would likely be solid favorites in both districts, rather than hold only a slight edge in the western district and a huge advantage in the eastern district.
"I do believe it should be east-west and it should roughly follow the continental divide," Republican commissioner Jeff Essmann, a former Montana legislator, said in an interview about a new map. "I think it's clear that there are certain communities in the state that are growing faster than others and they should not all reside in the same district."
To contact the reporter on this story: Greg Giroux in Washington at ggiroux@bgov.com
To contact the editors responsible for this story: Kyle Trygstad at ktrygstad@bgov.com; Bennett Roth at broth@bgov.com
Stay informed with more news like this – from the largest team of reporters on Capitol Hill – subscribe to Bloomberg Government today. Learn more.