Moderna Confronts 'Poster Child' Label as Price Crackdown Looms
Senator, citing federal help, argues for pricing reductions
Covid vaccines show system works, industry backers say
Bloomberg Government subscribers get the stories like this first. Act now and gain unlimited access to everything you need to know. Learn more.
Sen. Bernie Sanders is pressing his case that drugmaker Moderna Inc.is the "poster child" for pharmaceutical companies' corporate greed and an example of why Congress should expand the government's power to lower drug prices in the US.
Moderna's chief executive Stéphane Bancel will go before the Senate Health, Education, Labor, and Pensions Committee that Sanders (I-Vt.) chairs to talk about the company's pricing for its Covid-19 vaccine Wednesday. He'll have a chance to make the opposite argument: that his company repaid the government for its investment and is setting a fair private market rate for its vaccine.
The federal government this year will stop being the sole purchaser of Covid vaccines in the US. Moderna expects to charge about $110 to $130 per dose for its vaccine, Moderna's president, Stephen Hoge, said in an interview. Sanders and groups aligned with Democrats in the drug-pricing debate say Moderna has reaped billions of dollars in profits using government-funded research, with too few strings attached.
Read More: Moderna Paid the US Back and More for Covid Shot, Executive Says
"There's a lot of unused power by the government to prevent these abuses, and the law should be broader and easier to use," said Peter Maybarduk. He directs the access to medicines group at Public Citizen, a consumer advocacy nonprofit, which has worked to shape drug-pricing legislation in the US.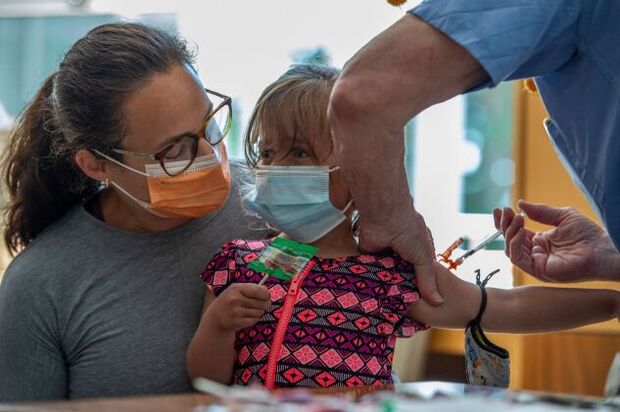 Maybarduk said government research agencies such as the National Institutes of Health should require private companies that use their work to agree to keep their prices "reasonable" — or face the possibility the government allows a competitor to sell their product too. The government has some authority to do this now, but lawmakers should expand that power, he said.
Sanders has yet to spell out what drug-pricing legislation he wants to advance through his committee. He has said first he'll hold hearings with drugmakers to highlight what he sees as abuses by these companies and profiteering by executives.
President Joe Biden has asked for Congress to expand the government's power to negotiate with drugmakers for lower prices and to cap insulin costs for more Americans, policies that Sanders has endorsed in the past.
Read More: 'Very Aggressive' Pharma Probes Top Senate Health Panel Agenda
Moderna's Role
Whether Moderna is an ideal first example depends largely who you ask.
The federal government has paid Moderna more than $10.1 billion for 500 million doses of its Covid vaccine, government records show. That vaccine was developed as part of Operation Warp Speed, a public-private collaboration meant to spur speedy production of effective virus countermeasures.
The Trump administration at the time lauded it as an unqualified success; vaccines were produced in record time and made free for Americans thanks to federal spending.
Hoge said Moderna agreed to give the government a discount on the vaccine during the emergency period of the pandemic—which is set to end in May—but needs to set a price that reflects the cost of distributing the doses, as well as their value. He points out competitor Pfizer Inc., which didn't take the same deal as Moderna did of US investment in vaccine development, was paid billions of dollars more by the government for its vaccine. Pfizer was paid about $12.5 billion for 550 million doses of its Covid vaccine, government records show.
The government gave Moderna about $1.5 billion to support development of its vaccine, Hoge said, and never asked the company to set a lower price for private markets once the emergency phase of the pandemic ended.
"We've paid that back, and then some," he said.
Moderna's plan to charge $110 to $130 per Covid dose is based on what Medicare and other purchasers pay for similar medicines such as influenza and pneumonia vaccines, as well as rival Pfizer's Covid vaccine, Hoge said.
The government purchased Moderna's Covid vaccine in various deals, the largest 200 million at about $16.50 per dose, according to government records. Pfizer's largest purchase agreement was 200 million doses of its vaccine at about $24.35 per dose.
Moderna has promised to make its vaccine free to people without insurance or those who are underinsured. People with insurance could still pay some amount of cost-sharing for the vaccine.
Sanders, in announcing the committee hearing with Bancel, called Moderna the "poster child for corporate greed" but noted the company isn't alone.
Pharma Profits Rise
Pharmaceutical companies have seen their profits increase, and awarded almost $2 billion in stock awards to executives last year, according to a report by HELP Committee staff, the first in a series Sanders commissioned. The reports aim to highlight that pharmaceutical companies make enough money to charge consumers less without hurting innovation.
"The American people want us to lower the cost of prescription drugs, and we're going make that case," Sanders told reporters last week.
Requiring private companies to agree to allow the government to dictate the price of any technology that arises from publicly funded research could stymie the public-private partnerships common in agencies like the NIH, said Joe Allen, executive director of the Bayh-Dole Coalition, which supports existing rules for private companies using government-developed technologies. A former congressional staffer, he helped write the law that allows universities and private companies to commercialize inventions developed under federally funded research.
Allen said it's unlikely Moderna would have agreed to participate in Operation Warp Speed or a similar program if it came with the threat the government could cut into their future profits.
"No VC is going to lend you risk capital if when you succeed, the government is just going to license your rivals if they don't like your price," he said, referring to venture capitalists.
The NIH has in the past struggled to find drugmakers willing to take their work and develop commercial vaccines for diseases such as Zika and the West Nile Virus, according to NIH officials.
To contact the reporter on this story: Alex Ruoff in Washington at aruoff@bgov.com
To contact the editors responsible for this story: Robin Meszoly at rmeszoly@bgov.com; Anna Yukhananov at ayukhananov@bloombergindustry.com
Stay informed with more news like this – from the largest team of reporters on Capitol Hill – subscribe to Bloomberg Government today. Learn more.