Moderate Republicans Woo Suburban Women Turned Off by Trump
Moderate Republicans are crafting an election-year agenda to win back suburban women who, as one lawmaker said, are alienated by a president who reminds them "of their ex-husbands."
The centrist Republican Main Street Partnership is tailoring a legislative package based on a survey of more than 600 women in nine key metropolitan areas that addresses traditionally Democratic issues including health care, equal pay, the environment, and even mild gun restrictions.
The defection of suburban women voters contributed heavily to the GOP's loss of the House majority in 2018 and further thinned the already dwindling ranks of moderates in the conference. Some lawmakers are pushing the party to recalibrate its message and legislative agenda to appeal to this constituency, which may be key to Republicans making a comeback in the 2020 election.
Health care is a vital issue that these women want to hear about, said Rep. Kay Granger (R-Texas), the top Republican on the Appropriations Committee and one of only 13 GOP women in the House.
"Women take care of themselves, their children, and their parents often," said Granger, a 12-term lawmaker. "They've got to know they have strong, knowledgeable people in office who understand this."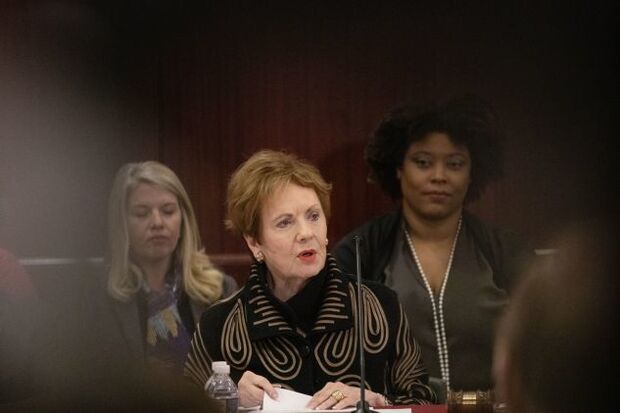 Trump's contentious style and rhetoric was also an issue with the suburban women surveyed, said Rep. Tom Reed (R-N.Y.), a member of the Main Street group.
He said it was an "eye opener" to hear in focus groups how many women rated Trump unfavorably, saying the president "reminded them of their ex-husbands."
"They just don't like the style, the effect" the president has, Reed said in an interview. "All they're looking for is for people to be genuine."
Rep. Carol Miller(R-W.Va.), the lone freshman Republican woman elected to the House in 2018 and a Main Street member, suggested that style and rhetoric does have an impact with voters.
"People respond more to honey than to vinegar," said Miller, a member of the GOP leadership's whip team. "But I do feel in politics, actions speak louder than words."
Abortion Rarely Mentioned
Republicans are hoping to take back some of the more than three-dozen seats Democrats turned from red to blue in 2018. The vast bulk of those districts were suburban, and the surveys conducted by the Women2Women Conversation Tour were in counties where Democrats made sizable gains.
Sarah Chamberlain, current president and CEO of the Republican Main Street Partnership, said women identified health care as the most important issue facing families and the issue significantly outranked other matters such as the economy, the environment, and education. She said suburban women also increasingly want lawmakers to address growing gun violence, a view held even among women who own firearms.
"They don't want guns to be removed; everybody should have their gun but they do support Red Flag laws and background checks," Chamberlain said, referring to measures that would allow police or family members to ask courts to remove guns from people who may be a danger to themselves or others .
Other issues such as government spending, immigration, opioid addiction, human trafficking, and terrorism weren't named as top concerns, Chamberlain said. Also rarely mentioned, she said, were reproductive issues such as abortion.
Main Street has translated some of the survey results into a "suburban families" legislative agenda that Republicans can talk up on the campaign trail. Topping the list is legislation (H.R. 692) to ensure coverage for pre-existing conditions and to guarantee coverage if the Affordable Care Act doesn't survive a legal challenge that the GOP itself has backed. Another priority is a measure (H.R. 3630) to protect against surprise hospital bills.
Reed said many Republicans recently backed new bipartisan tax breaks (H.R. 5523) for wind, solar, and other new forms of energy. The group is also supporting clean water legislation (H.R. 535) that would require the Environmental Protection Agency to designate fluorinated chemicals as hazardous substances.
Main Street also supports legislation to address gun violence, backing bills (H.R. 2786/H.R. 744) to keep firearms out of the hands of persons deemed dangerous.
Reed said the caucus is mostly open to talking about mental health and school safety solutions to protect the public. But he said Main Street hasn't backed the bipartisan universal background check bill (H.R. 8) the House passed last year.
"Universal background checks, I think, would be a bridge too far," Reed said.
Diminished Clout
The moderates, however, face a challenge selling their agenda in a House Republican conference dominated by conservatives.
Main Street says its House membership has fallen to 53 from 70 lawmakers in 2016. A number of more senior coalition members who held committee chairmanships in the past such as Reps. Peter King (R-N.Y.) and Greg Walden(R-Ore.) aren't running for re-election. A major loss is the upcoming retirement of Rep. Susan Brooks (R-Ind.), a Main Street member who represents an Indianapolis-area district and has led the party's recruitment efforts, with an emphasis on electing more women.
A formal House caucus of moderates was disbanded in 2019 after the midterm elections. The caucus was separate from the Republican Main Street Partnership, which is a non-profit. Its political action arm raises campaign funds for centrist candidates. The partnership said it had addressed criticism about its handling of campaign funds and had independent audits conducted which refuted accusations of mismanagement.
When Republicans controlled the House, the moderates skirmished with conservatives, led by the Freedom Caucus, which contributed to difficulties in forging budget agreements and led to the retirement of Speaker John Boehner (R-Ohio).
Rep. Jim Jordan (R-Ohio), a former chairman of the Freedom Caucus and a leading Trump defender during impeachment, said some items being pushed by moderates such as lowering prescription drugs are priorities of the broader conference. But he also expressed satisfaction with the party's current agenda.
"I think we will have a message that will resonate, and it starts with the record of achievement under President Trump — taxes cut, regulations reduced, and lowest unemployment in 50 years, for all women," Jordan said in an interview.
Former Rep. Tom Davis (R-Va.) said being in the minority may prod the various factions to work together.
"But being in the minority does funny things," said Davis, who was a member of the Main Street Caucus while in Congress and later served as president of the partnership. "Being in the minority tends to get people working together. At this point they realize they hang together or they hang separately."
To contact the reporter on this story: Nancy Ognanovich in Washington at nognanov@bgov.com
To contact the editors responsible for this story: Bennett Roth at broth@bgov.com; Kyle Trygstad at ktrygstad@bgov.com