Minnesota Judges Adopt Congressional Map With Minimal Changes
Reps. Craig, Kistner prep rematch in competitive 2nd District
Judges drew lines after legislature, governor couldn't agree
A panel of Minnesota judges adopted a congressional map that mostly maintains the present partisan and geographic composition of the state's eight districts, which are evenly divided between Democrats and Republicans.
The five judges, who intervened after the state legislature and governor failed to agree on new lines for the next decade of House elections, said in an order Tuesday that they took a "restrained approach" that equalized district populations by applying politically neutral redistricting principles such as preserving communities of interest.
"Election districts do not exist for the benefit of any particular representative or political party," the judges wrote. "Rather, they exist for the people to select their representatives. And our role in this redistricting process is to establish congressional districts of equal population so that each Minnesotan has equal voting power."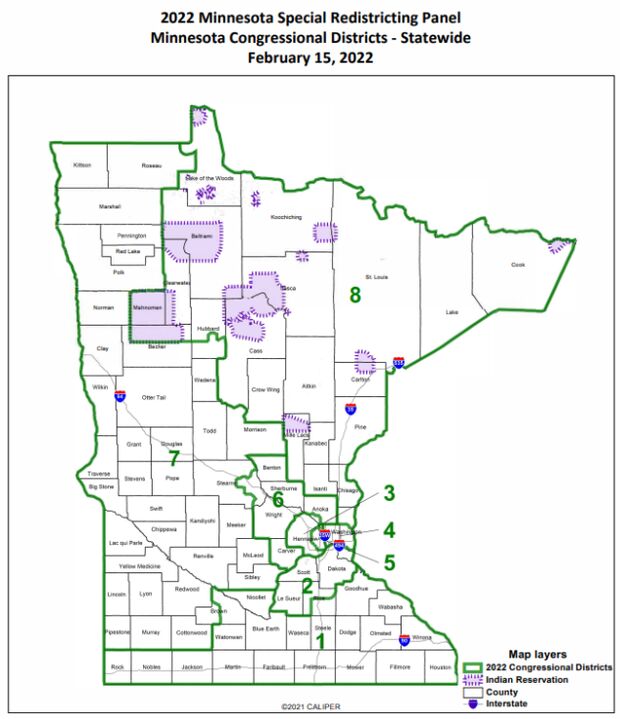 ( Sign up for Ballots & Boundaries, a weekly check-in as states change voting laws and revise political districts.)
The map preserves a highly competitive suburban 2nd District, dominated by Dakota and Scott counties south of the Twin Cities of St. Paul and Minneapolis. Joe Biden defeated Donald Trump by 7 percentage points in both the current and new 2nd—the smallest margin of victory in any Minnesota district in the 2020 presidential election.
Immediately after the court's ruling, Democratic Rep. Angie Craig (D) and Tyler Kistner (R) announced they would run in the new 2nd in a rematch of a 2020 race that Craig won by just over 2 points.
Craig represents 93% of the people in the reconfigured 2nd, which added Le Sueur County and more of Rice County south of Dakota and Scott counties. The 2nd also received a little more of Washington County close to St. Paul. The 2nd would no longer include Goodhue and Wabasha counties on the Mississippi River's west bank.
Craig is on the Democratic Congressional Campaign Committee's list of 32 "Frontline" House members facing the most difficult re-elections. Republicans working to unseat Craig include National Republican Congressional Committee Chair Tom Emmer, who represents the neighboring and GOP-leaning 6th District.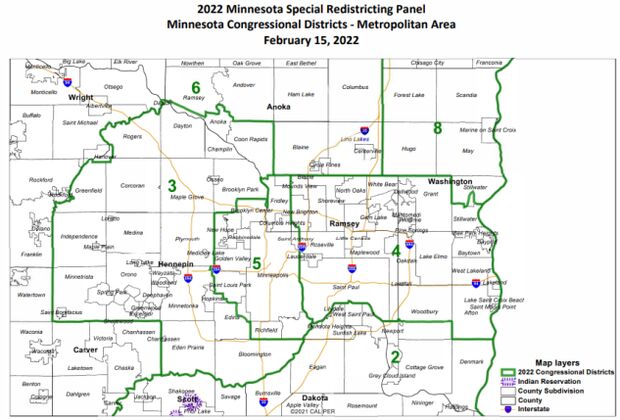 The map narrowly reduced Trump's victory margins to 9 points from 10 points in the southern 1st District of Rep. Jim Hagedorn (R), and to 11 points from 15 points in the northeastern, Iron Range 8th District of Rep. Pete Stauber (R), according to Dave's Redistricting App. Republicans won both districts from Democratic control in 2018. Hagedorn was re-elected by 3 points in 2020, running well behind Trump's performance, while Stauber was re-elected convincingly.
The judges' map kept the 3rd District anchored in Hennepin County suburbs west of Minneapolis and made it a little more Democratic-friendly. This area long favored Republican centrism, but Rep. Dean Phillips (D) unseated a Republican incumbent in the 3rd District in 2018 and was re-elected by 11 points in 2020.
The new map preserves the 7th District, a mostly rural area encompassing much of Minnesota's western border, as the state's most Republican-friendly district. Rep. Michelle Fischbach (R) unseated 15-term incumbent Collin Peterson (D) in 2020.
Minnesota's most heavily Democratic district is the Minneapolis-based 5th, represented by Ilhan Omar (D), followed by the St. Paul-based 4th, held by Betty McCollum (D).
The judges released their map on the statutory deadline for the state legislature to enact a new map. The Democratic-led House and the Republican-controlled Senate couldn't come to an agreement.
To contact the reporter on this story: Greg Giroux in Washington at ggiroux@bgov.com