Minimum Wage Hike Pits Chamber Versus Labor in Congress Fight
Advocates on both sides flood Capitol Hill with calls, emails
Democrats want to make wage increase part of virus relief
Bloomberg Government subscribers get the stories like this first. Act now and gain unlimited access to everything you need to know. Learn more.
A proposal to gradually raise the minimum wage to $15 by 2025 has triggered a fierce lobbying battle on Capitol Hill, pitting some powerful business groups such as the U.S. Chamber of Commerce against large labor unions and civil rights coalitions.
These groups have been holding virtual meetings and mobilizing grassroots letter-writing and phone call blitzes to sway lawmakers, particularly moderates in both parties, as they consider attaching the wage increase to the larger pandemic relief package sought by President Joe Biden.
It's serving as a test of whether unions and other groups generally aligned with Democrats can push through a top issue for them now that the party narrowly controls both chambers of Congress and holds the White House. For the Chamber and some other large business groups, who in the past have had more ties to Republicans on policy, the debate will test their clout with the new Congress.
Democrats and Senate Budget Committee Chairman Bernie Sanders (I-Vt.) are intent on increasing the minimum wage. But how they get it across the finish line is in question.
The House Education and Labor Committee approved the wage increase in its portion of the pandemic relief bill. But opposition from moderate Democrats in the Senate may doom the strategy to pass it using the reconciliation process, which only requires a simple majority.
Sen. Joe Manchin (D-W.Va.) has opposed a $15 minimum wage and suggested an increase to $11. Another crucial Democratic vote, Sen. Kyrsten Sinema (Ariz.), said she doesn't support including the wage hike in a stimulus bill.
Biden said during a CBS News interview that aired Feb. 5 that he doubted it would survive as part of the package. Along with the political realities, his reasoning included the additional complication that Senate reconciliation rules may not even allow it. The Senate parliamentarian hasn't made a ruling on that yet, but a minimum wage hike could also be pushed as a standalone bill.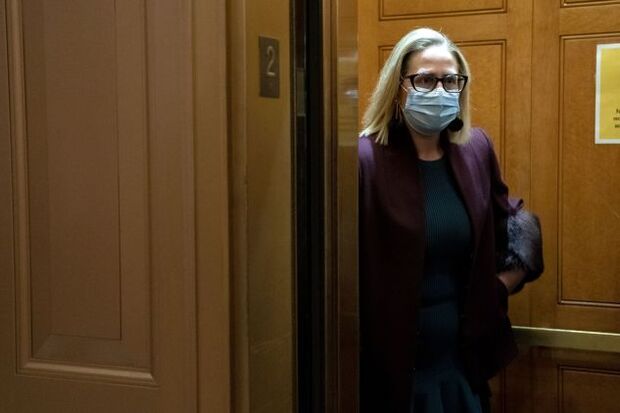 Proponents of the hike such as the Service Employees International Union, or SEIU, and the National Employment Law Project say the virus-driven economic downturn illustrates that a boost is necessary to help lift people out of poverty. Coalitions of companies, such as Business for a Fair Minimum Wage, argue that raising the wage is better for business by reducing worker turnover and increasing productivity. Heavy-hitters including Amazon.com Inc. have also thrown their weight behind support for the proposal, saying $15 "is the minimum that anyone in the U.S. should earn for an hour of labor."
"In this moment where front-line workers and essential workers put their lives on the line during this pandemic and are still having trouble making ends meet, it really shows how overdue this change is," said Gaylynn Burroughs, senior policy counsel of the Leadership Conference on Civil and Human Rights, a coalition of more than 200 organizations. The $7.25 federal minimum wage has been in place for almost 12 years.
"There's obviously lobbying going on in D.C., and we'll make our strongest case possible. But this isn't a fight that's going to be won inside the halls of Congress. This is about members of Congress hearing from their constituents," said Judy Conti, the government affairs director at the National Employment Law Project.
Phone Calls
SEIU, which started the Fight for 15 campaign in 2012, worked with its partners to place roughly 3,000 phone calls to members of Congress during the week the minimum wage measure was introduced on Jan. 26.
The Coalition on Human Needs, a collection of organizations including civil rights and religious groups, has generated more than 150,000 letters to House and Senate offices from individuals in support of raising the minimum wage. Deborah Weinstein, the group's executive director, said she will also be increasing virtual meetings on the Hill in the days ahead.
Opponents of the boost, such as the American Farm Bureau Federation and the International Franchise Association, argue that a large nationwide wage increase would hinder economic recovery by spurring business closures, higher prices for consumers, and increased unemployment.
Read More:Biden's $15 Wage Bid Hits Headwind in CBO Job-Loss Warning
"There's no reason Congress shouldn't discuss raising the minimum wage, we just think that the $15 number is a political number that's not based on a real economic analysis," said Glenn Spencer, the senior vice president of the employment policy division at the Chamber. "Hopefully we'll find people who are a little more willing to get something done. Otherwise, we're back into that '15-or-bust' mentality which results in an increase of zero."
The International Franchise Association has been "connecting people that are going to be impacted by this firsthand with offices that clearly have anxiety" about supporting the increase, said Matt Haller, the group's senior vice president of government relations and public affairs.
Restaurants Oppose
The National Restaurant Association activated its grassroots network and has already sent "tens of thousands" of messages to lawmakers' offices regarding the wage increase and another part of the proposal that would eventually eliminate the tip credit, said Sean Kennedy, the group's executive vice president for public affairs. He called it "one of our more successful" campaigns over the past five months.
The group has calculated that at least 110,000 restaurants have already closed and warns that, in an industry with such thin profit margins, an increase in labor costs created by the proposal would spur even more to struggle or shutter.
"This is a huge challenge for an industry that's on the ropes, and it will have the exact opposite impact of relief for us," said Kennedy.
To contact the reporter on this story: Megan R. Wilson in Washington at mwilson@bgov.com
To contact the editors responsible for this story: Bennett Roth at broth@bgov.com; Kyle Trygstad at ktrygstad@bgov.com
Stay informed with more news like this – from the largest team of reporters on Capitol Hill – subscribe to Bloomberg Government today. Learn more.