Military Movers Bleed Red Ink as Troop Transfers Delayed Anew
Bloomberg Government subscribers get the stories like this first. Act now and gain unlimited access to everything you need to know. Learn more.
Bill Lovejoy would normally be ramping up his San Diego moving company for the rush of U.S. military personnel that typically begins in May. Instead, his revenue has cratered and he and other movers are holding on for survival.
The Pentagon, as the coronavirus continued to spread, has extended through June 30 its halt—originally set to end May 11—on most troop moves. That vaporized the bulk of business for Lovejoy's Republic Moving and Storage and hundreds of other companies that transport military households throughout the country.
"We had planned for a 10% increase and now we've taken it down to a 50% decrease for the months of May and June," said Lovejoy, the president of the moving company.
Industry associations are asking Congress for $450 million as part of a new stimulus package to tide over military movers, which already have slender profit margins and need to stay open for when troop transfers resume. The money would be in addition to emergency Paycheck Protection Program assistance in two enacted in two stimulus packages Public Law 116-136and Public Law 116-139.
"We don't want to lose a quarter of our moving companies because of this," said Katie McMichael, the director of government affairs for the American Moving and Storage Association, a non-profit trade association. The industry faces an uphill battle in Congress as the pandemic continues to batter the nation's economy and demands grow for federal assistance across the board.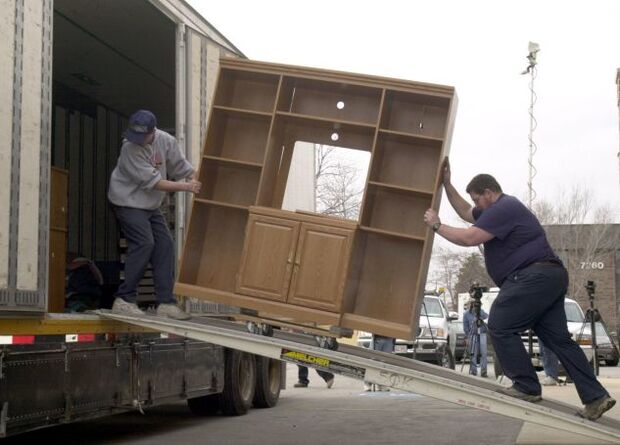 BGOV Bill Summary: Senate-Passed H.R. 748, Virus Funding
BGOV Bill Summary: H.R. 266, SBA Loans & Hospital Aid
The military is the largest customer for the domestic personal property moving and storage industry, accounting for about 15 percent of all business and 400,000 moves a year, according to the Government Accountability Office. The global network of commercial movers comprises about 900 companies responsible for packing, booking, storing, and transporting troops' belongings.
Since the pandemic struck, the moving companies have handled only 20%-30% of anticipated shipment volumes. Plummeting demand "clearly has an impact on their revenue flow," the U.S. Transportation Command, which manages the network of commercial movers, said in a written response.
Summer Surge
In a usual year, troops tend to take new assignments in the summer so household shipments often balloon to between 60,000-80,000 between May and August, compared with 40,000 to 50,000 in the winter, according to Defense Department numbers reported to the GAO.
Normally, about 80 percent of Lovejoy's business, with gross revenue of about $15 million annually and 100 employees, comes from military moves around Marine Corps Camp Pendleton and Naval Base San Diego.
The pandemic has similarly hit other companies such as Dodge Moving and Storage of St. Louis, which has gross revenues of $17 million and about 150 employees. It services nearby Scott Air Force Base and the Army's Fort Leonard Wood.
Overall, the company typically makes 25% of its annual profits in May and June. About 40% of those profits would normally come from the military but the halt in moves wiped that business out, said Tom Linhares, the company's executive vice president and chief operating officer.
"A huge, huge, huge percentage of our annual revenues are generated by the military in these two months," Linhares said.
Trade associations initially urged Congress to pass $187 million to help the industry after the Pentagon stopped the moves on March 16. The bailout would cover 60% of lost revenue through the original May 11 expiration of the freeze, the groups said.
Jobs at Stake
The American Moving and Storage Association and the International Association of Movers raised their request to $450 million on April 27, warning of "unprecedented economic losses" causing movers to go out of business, with widespread job cuts.
"Once DOD has lifted the travel ban there will be no companies to service the shipment and service members will be left on the curb, unable to move," they told Congress in their written proposal.
Many in the industry, including Lovejoy and Linhares, have tapped the Paycheck Projection Program, a $659 billion emergency pandemic stimulus program that provides loans if employees are kept on payrolls for eight weeks. U.S. Transportation Command has also allowed companies to be reimbursed for 10% of scheduled shipments that were canceled.
The command said it has also made other "common sense" changes to ease the stress of the pandemic on companies such as adjusting transit times and easing reporting requirements.
But the loans and relief measures may not be enough, movers say. Companies that received assistance can't re-apply for PPP, for example.
"I am also working with the Pentagon on additional tools we can use, including regulatory relief and policy updates, to halt the mounting negative impacts on this industry, particularly on the many small businesses that have been hardest hit," Senate Armed Services Chairman Jim Inhofe (R-Okla.) said in a statement.
The trade associations have sent letters to leadership in both chambers of Congress and the Armed Services committees in recent weeks, but help has yet to materialize.
Won't `Go Unscathed'
"We have engaged directly with officials in the moving industry and understand their concerns," said Monica Matoush, a spokeswoman for the House Armed Services Democratic majority. "The effects of the global pandemic are unprecedented and will have severe and lasting economic implications for all sectors of the economy, and the moving and storage industry will not go unscathed."
Economic damage to the industry threatens to exacerbate normal July pressures for Transportation Command leaders.
"The service members that are on hold are going to have to move at some point," said John Becker, interim president of the American Moving and Storage Association. "They're all gone on 1 July because they want to be set up before the school starts or their kids."
Most moving companies hire and train additional employees to handle the surge, and that can take weeks.
"We'll bring anywhere between 15 and 20 additional employees," said Chuck Bailey, the owner of Cornerstone Moving and Storage, a small company based in Fredericksburg, Va., with about $3.5 million in annual revenue and 18 year-round employees.
Transportation Command said it is concerned about the financial well-being of the industry but is "not aware of broad closures or contractions to capacity that will impact movements this summer."
Matoush said the House committee will work with the command to ensure the "eventual return to regular operations is smooth and provides industry ample time to revamp their capacity to handle the influx of future moves."
Movers also face an added layer of stress. Transportation Command signed a $7.2 billion contract with American Roll On Roll Off Carrier Group Inc. of New Jersey to take private management of the global system to move troops' household goods.
The military and new management company will spend nine months working out IT systems and processes before the contract goes into full effect.
The change could eliminate international booking companies that match movers with military shipment orders. It has led to fears the booking companies may not pass on the payments for jobs completed this summer before going out of business, Bailey said.
"You can have that and now you have the pandemic," he said. "The industry is spinning right now."
To contact the reporter on this story: Travis J. Tritten at ttritten@bgov.com
To contact the editors responsible for this story: Paul Hendrie at phendrie@bgov.com; Robin Meszoly at rmeszoly@bgov.com
Stay informed with more news like this – from the largest team of reporters on Capitol Hill – subscribe to Bloomberg Government today. Learn more.