Military Blamed for Cancers, Illnesses Over Forever Chemical Use
Bloomberg Government subscribers get the stories like this first. Act now and gain unlimited access to everything you need to know. Learn more.
Jim Holmes was flying recovery missions in the aftermath of Hurricane Maria in 2018 when he received a call from the family doctor who told him that his teenage daughter had a rare and aggressive form of brain cancer—not just blurred vision because she needed new glasses.
A year later, his daughter Kaela died three days after turning 17 of the brain cancer called DIPG, which forms inside the brain stem and affects 150 to 300 children every year in the U.S. Soon after, Holmes discovered her cancer could have had a connection to contaminated water at Patrick Air Force Base, Fla., where they had lived. Within the last year, there has been a cluster of about 15 more cancers around Satellite Beach, eight of them being rare brain cancers, Holmes said in an interview.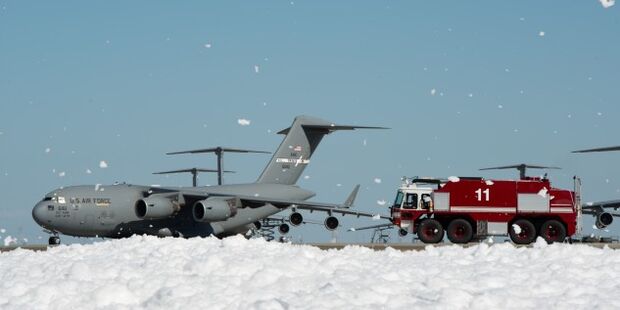 Holmes is poised to tell the House Military Construction and Veterans Affairs Appropriations Subcommittee on Wednesday that the contamination at Patrick Air Force base has been attributed to the use of aqueous film-forming foam concentrates during training exercises over the past 40 years. The Department of Defense created and patented the foam product in the late 1960s and knew by the early 1970s that it was toxic to fish. By the 1980s, it was also shown to be toxic to animals, Holmes said in his written testimony obtained by Bloomberg Government.
By the 2000s, it was known that the chemicals were building up in the human blood stream, he wrote.
"During this time the residents of Satellite Beach, Fla., have experienced a much higher rate of brain and breast cancers than the general population," he said in the prepared testimony. "Even as residents were raising alarms over the high rate of cancer in the local area the Air Force stood quiet."
"I will have to live the rest of my life knowing that my decision to serve in the military and reside on a United States Air Force Base resulted in the death of my beautiful daughter," he's poised to tell the panel. "I pray that no other service member will ever have to unknowingly sacrifice the life of their child by serving their country."
The Florida Department of Health reports no specific "cancer cluster" in Brevard County, where Patrick Air Force Base is located. While the state did find a statistically significant increase in some cancer rates, it said this could happen by chance, and there was no evidence of per- and polyfluoroalkyl substances, known as PFAS, contamination in the base's drinking water.
Firefighting Foam
Use of firefighting foam has been blamed for drinking water laced with PFAS around the country. Once released into the environment, PFAS are highly mobile and don't break down, leading to the designation as "forever chemicals." Because some PFAS have a long half-life in the body, they build up in blood serum and organs, according to testimony written by Scott Faber, senior vice president of the Environmental Working Group, an environmental health organization.
Military service members and their families say they are disproportionately affected by the forever chemicals' pollution. The primary source of PFAS at military installations is the firefighting foam developed by the Defense Department in the 1960s and first required by the Navy and the Marine Corps in 1967. Perfluorooctane sulfonate, or PFOS, is a component of "lightwater" foam, which can break down into many PFAS, Faber wrote in the testimony reviewed by Bloomberg Government.
The Pentagon is preparing to report to Congress this month on work by a task force, formed by Defense Secretary Mark Esper to manage potential pollution at 401 facilities with a cost estimated earlier at $2 billion. Faber said his organization has so far confirmed the presence of forever chemicals at 328 military bases, according to the testimony. Many service members, their families and residents of neighboring communities have been drinking water contaminated for decades, he said.
The military has done a poor job raising awareness among service members about the contamination and the dangers of these chemicals, Holmes said in the telephone interview.
"They aren't given the service members the right information," he said.
Many of the highest detections of PFAS in the U.S. have so far been found at military bases, with some of the highest numbers at England Air Force Base, in Louisiana, Patrick Air Force Base, Air Force Plant 4, in Fort Worth, Texas, and Naval Air Station Jacksonville, Fla., according to Faber's testimony.
3M Co. and DuPontwere the original companies developing and producing PFAS, dating to the 1940s. The chemicals have been used by hundreds of companies such as Wolverine World Wide Inc. and W. L. Gore & Associates Inc. to make thousands of products, including semiconductors, sticky notes, and shoes. The original PFAS manufacturers, Chemours Co., and some companies using the chemicals are the subject of several lawsuits.
Holmes said he is working with Rep. Bill Posey (R-Fla.) to start a $25 million pilot program funded by the government that would equip every home in Satellite Beach, Patrick Air Force Base, and Cocoa Beach with a point of entry filtration system to ensure that safe drinking water is being provided after water main brakes, routine system maintenance, and pressure drops.
Travis J. Tritten also contributed to this story.
To contact the reporter on this story: Roxana Tiron in Washington at rtiron@bgov.com
To contact the editors responsible for this story: Paul Hendrie at phendrie@bgov.com; Robin Meszoly at rmeszoly@bgov.com
Stay informed with more news like this – from the largest team of reporters on Capitol Hill – subscribe to Bloomberg Government today. Learn more.