Midwest State Races Ignite National Party Redistricting Battles
Five states contain half of GOP redistricting targets
Democrats take on Midwest congressional bulwark
Bloomberg Government subscribers get the stories like this first. Act now and gain unlimited access to everything you need to know. Learn more.
National redistricting groups are pouring money into the Midwest, where slight changes in state legislative control could help build partisan advantages in the fight to control Congress in the next decade.
A whopping 54 of the Republican State Legislative Committee's 115 target districts for redistricting lie in Minnesota, Wisconsin, Kansas, Nebraska, and Iowa. Those legislatures hold the keys to redrawing 27 Congressional districts, of which 15 are currently held by Republicans, thanks in part to the party's redistricting prowess following the 2010 Census.
"The Midwest still matters," said University of Wisconsin Professor Barry Burden.
The Democratic Legislative Campaign Committee said it's spending a record $16 million on key states—many in the Midwest—in the hope that even small gains can yield a congressional advantage.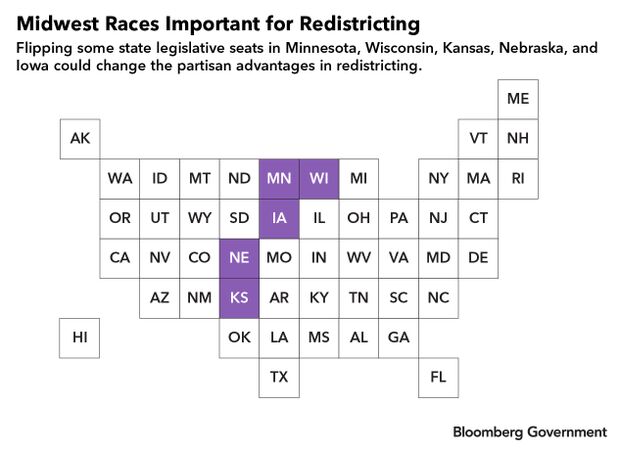 "All of our targets in the Midwest are chambers where we're just seats away from the majority, like the Iowa House, where we need four seats, Michigan House, where we also need four seats, Minnesota Senate, where we need two seats to create another Democratic trifecta, and in Kansas, where we need to flip just one seat in the House and three in the Senate to break the GOP supermajority," Christina Polizzi, the group's spokeswoman, said in an email.
Stami Williams, spokeswoman for the Republican State Leadership Committee, said that group is willing to spend "whatever it takes to protect Republican majorities." It announced a $23 million fundraising haul in the third quarter.
Redistricting River
The northern Mississippi River splits two of the most hotly contested redistricting battles, both with eight congressional districts on the line.
In Wisconsin, where the GOP's gerrymander following the 2010 Census helped the party dominate congressional races, Democrats fear GOP legislative supermajorities could cement another decade of conservative advantage.
"If Republicans grab three seats in the Assembly and three seats in the Senate to achieve supermajority status, they would be able to lock in gerrymandered maps for the next decade," Democratic Party of Wisconsin Chair Ben Wikler said. "What happens in Wisconsin legislative races will shape what happens nationally for the next decade plus."
Republicans fear the opposite in Minnesota.
The GOP must protect its three-seat state Senate advantage to prevent the Democratic Farmer Labor Party from controlling redistricting—something the party has planned for years, Minnesota GOP Chair Jennifer Carnahan said.
In 2018, Carnahan was grabbing lunch in a Twin Cities suburb when she ran into more than a dozenDemocratic leaders holding a meeting. "I asked them what it was about. They said, 'redistricting,'" she said. "Most voters don't realize the manipulation that can take place behind the scenes."
Minnesota's congressional districts were last redrawn in court, so a one-party gerrymander could potentially turn three swing districts into safe Democratic seats by including voters from the Minneapolis and St. Paul suburbs in more rural districts, said University of Minnesota Professor Larry Jacobs. That big payoff is worth the national party investment.
"Wisconsin and Minnesota are a much cheaper investment than putting money into California. And both of them are really on a razor's edge," he said. "Every year, 5,000 to 10,000 votes out of millions are pushing the Minnesota Senate majorities one way or another."
'Never Enough'
The flip of one state House seat or three state Senate seats could prevent Kansas Republicans from redrawing the state's four congressional maps over Gov. Laura Kelly's (D) veto. That would frustrate GOP plans to gerrymander the 3rd Congressional District in the Kansas City suburbs held by Rep. Sharice Davids (D).
In Iowa, national Democrats are focusing on suburban state Houseraces in hopes of gaining a majority in the chamber to block GOP bills and get a seat at the table for votes on maps created by the state's nonpartisan redistricting commission.
In Nebraska, where the GOP dominates, national Republicans are targeting five races to build on a 30–to–18 advantage in the unicameral state Legislature.
With tighter legislative control, the GOP would be more in step when redrawing maps, including the 2nd Congressional District in metro Omaha, the state's one swing seat, University of Nebraska Professor John Hibbing said. Republicans are motivated to create a safe seat and lock in electoral college points for a Republican president under Nebraska's peculiar split-vote system.
In redistricting, "you want to get the maximum efficiency of a distribution of your partisans and get more seats than the number of votes you have in the state would indicate," he said. "That's just the game—it's never enough."
To contact the reporter on this story: Alex Ebert in Columbus, Ohio at aebert@bloomberglaw.com
To contact the editor responsible for this story: Tina May at tmay@bloomberglaw.com
Stay informed with more news like this – from the largest team of reporters on Capitol Hill – subscribe to Bloomberg Government today. Learn more.