Michigan Report May Weaken Trump Case: Ballots & Boundaries

A state Senate investigation into Michigan's portion of the 2020 presidential election could become ammunition against lawyers who tried to convince judges that Donald Trump was a victim of voter fraud and election mismanagement.
The Michigan Senate Oversight Committee's 55-page report concluded there was "no evidence of widespread or systematic fraud in Michigan's prosecution of the 2020 election." Only the committee's Republicans signed the report; the panel's only Democrat said he didn't sign it because the document also proposed election-law changes he opposes.
Sydney Powell and other attorneys who defended Trump's claims in court must appear for a sanctions hearing July 6, and the federal judge is being asked to consider the report as evidence that the lawyers' challenges to the 2020 election were frivolous.
Trump's Save America PAC issued a statement calling the report a "cover up" to "hide the truth about November 3rd." — Alex Ebert
Tension Grips Michigan as Trump's Election Attacks Continue to Reverberate (Washington Post)
COLORADO: STARTING POINT
The clear winner in the first draft of Colorado redistricting is GOP freshman Lauren Boebert, whose district lines would lose some areas that backed Democrats in past elections.
State redistricting commission members are weighing how to move to an eight-district configuration from the current seven.
Weld County commissioners complained that their starting-point map would divide the county among three congressional districts. They want the county to be considered a community of interest with one representative, the Greeley Tribune reports. — Tripp Baltz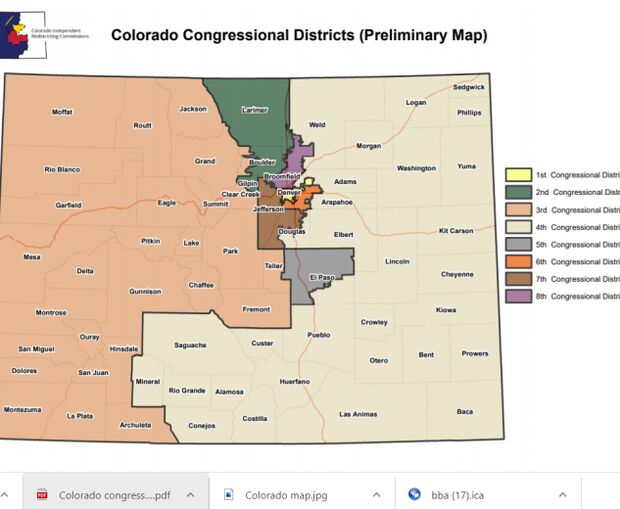 COLORADO: VOTING LAWS
Two new state laws signed by Colorado Gov. Jared Polis (D) are designed to make it easier for multilingual speakers to vote, and the other to broaden access to ranked-choice voting at the local level.
The first measure (H.B. 1011) tasks the secretary of state with creating a multilingual ballot hotline with translators and interpreters, beginning with the November 2022 election.
Cities that wish to use ranked-choice voting will be able to do so in nonpartisan elections in coordination with the secretary of state and county clerks, under the other law (H.B. 1071). Only a handful of jurisdictions use the instant runoff system because the previous state law required county clerks to run standard whoever-gets-the-most-votes-wins elections. — Tripp Baltz
(Did you get this newsletter as a forward? Subscribe here.)
ARIZONA: TARNISHED TABULATORS
Maricopa County will forever retire the equipment it used in the 2020 election.
County attorneys have agreed with Secretary of State Katie Hobbs (D) that the equipment sent to the state Senate's vendor, Cyber Ninjas, should no longer be trusted. It "will never use equipment that could pose a risk to free and fair elections," a county bulletin said. — Brenna Goth
See also:
ARIZONA: POWER SHIFT
The Republican-controlled state legislature's election legislation is siding with Arizona Attorney General Mark Brnovich (R) over Secretary of State Katie Hobbs (D).
Hobbs last year filed a bar complaint against Brnovich's office related to election lawsuits. Now a state budget bill (S.B. 1819) includes provisions to limit Hobbs' authority over election litigation. Hobbs went to Twitter to say that lawmakers "egregiously weaponized" the process.
The budget language also would require ballot watermarks as a "fraud countermeasure."— Brenna Goth
PENNSYLVANIA: VETO COMING
Pennsylvania Gov. Tom Wolf says he's got his veto pen ready for the elections overhaul the state's GOP-led Legislature sent to his desk. In a Twitter statement, Wolf (D) called the bill (H.B. 1300) "a retaliation against Pennsylvania voters."
"I will not allow this conspiracy theory-driven bill to silence voters," he tweeted.
The bill would require more identification information on absentee ballot applications, limit ballot drop boxes, create a Bureau of Election Audits, and require audits of ballots, machines, and processes. It also would change the deadlines to register to vote and request absentee ballots, and require counties to publicly test all vote-tabulating equipment before an election. — Jennifer Kay
MISSOURI: QUOTE OF NOTE
"If my district runs into Des Moines, Iowa, I'd have to reconsider" running in 2022.
Rep. Emanuel Cleaver, one of two Democrats in Missouri's eight-member House delegation, tells Kansas City NPR affiliate KCUR he doesn't know how drastically his state's Republican-run redistricting will change his Democratic-leaning district in and around Kansas City. — Greg Giroux
GEORGIA: LOCAL CASE TRIMMED, FEDERAL CASE OPENED
A Fulton County, Ga., Superior Court judge tossed out most of a case that alleged fraud in absentee ballots, reports the Atlanta Journal-Constitution — one of two noteworthy developments in that the state.
The other: the U.S. Department of Justice lawsuit against Georgia's new voting law.
Bloomberg Law examined how the strategy being used in Georgia charts a course for how President Joe Biden's Justice Department could challenge other state election laws. READ MOREfrom Alex Ebert and Kimberly Strawbridge Robinson.
Must Reads
Resources
Put Us in Your Inbox
Click HERE to sign up for Ballots & Boundaries, your weekly check-in as states change voting laws and revise political districts.
To contact the editors responsible for this story: Tina May at tmay@bloomberglaw.com; Katherine Rizzo at krizzo@bgov.com