Michigan Maps Offer Incumbent Bloodbath: Ballots & Boundaries

Taking line-drawing from the hands of Michigan politicians has set up an incumbent culling, with half of the U.S. House delegation squaring off in citizens mapping the commission's redistricting proposals.
Under the proposals, Republican Reps. Bill Huizenga and Fred Upton would square off in a combined western Lake Michigan shoreline district; John Moolenaar (R) would face Dan Kildee (D) in a central district beneficial to Democrats; and Lisa McClain (R) would challenge Elissa Slotkin (D) to an eastern "thumb" district favoring Republicans. Depending on the map, Rep. Brenda Lawrence (D) would have her Southfield district combined either with Andy Levin's (D) more north-central district or Debbie Dingell's (D) southeastern Dearborn district.
While not set in stone, it's unlikely that most of these incumbents will be spared a challenge. That's because the maps generally use the same communities of interest to draw the lines.
In 2011, Republicans redrew current lines to pit six Democrats against each other. But this time around the commission can't consider incumbency, and the fact that the process is creating headaches for both major parties likely shows it's working, said John Chamberlin, University of Michigan political science professor emeritus.
"In the past, redistricting would have started with a map of Michigan, and in those days 14 homes of the incumbents would have been their stars, and you either decided we want to get rid of these people or we want to protect these people," Chamberlin said. "A bloodbath for incumbents isn't necessarily bad for citizens. The lesson is, we were not out to make you political animals happy, we were out to improve representation in our state. It puts the spotlight on the citizens instead of the party leaders and the incumbents, and that's a good thing on the whole."
The commission plans a final vote in December to adopt a map for the state's 13 congressional districts. The proposals range from a 7-6 Democratic advantage to one map with an 8-5 GOP advantage. — Alex Ebert
(Were you forwarded this newsletter? Subscribe for free.)
TEXAS: GOP MAP CLEARS LEGISLATURE AS DEMOCRATS READY LAWSUIT
The Republican-led state legislature gave final approval late Oct. 18 to a 38-district congressional map that bolsters GOP incumbents and includes 25 districts that Donald Trump would have won over Joe Biden in the 2020 election. The map, sent to Gov. Greg Abbott (R) for his signature, is a compromise between competing maps the House and Senate passed earlier this month.
It gives Republicans an opening in the 15th District, a Hispanic-majority area running from near San Antonio south to the Mexico border. The map revised the 15th to be mildly pro-Trump. Rep. Vicente Gonzalez (D), re-elected 51% to 48% there in 2020, is planning to run instead in the next-door 34th District, a more Democratic area that was tweaked late in the redistricting process to include Gonzalez's home. Rep. Filemon Vela (D) isn't seeking re-election there.
The final map put Black Reps. Sheila Jackson Lee (D) and Al Green (D) in separate districts in the Houston area. The Senate-passed map had drawn Jackson Lee's home into Green's district.
Rep. Lloyd Doggett (D) said he would run in the new 37th District, a Democratic bastion anchored in Austin, rather than in the Democratic and more Latino 35th District running from Austin to San Antonio. The new 38th District is a Republican-leaning area within Harris County (Houston).
Democrats said the map doesn't reflect that people of color accounted for 95% of the net population increase in Texas during the past decade. According to a federal lawsuit the Mexican American Legal Defense and Educational Fund filed Oct. 18 on behalf of a coalition of Latino groups, the new map contains seven districts with a majority Latino citizen voting-age population compared with eight under current district lines. — Greg Giroux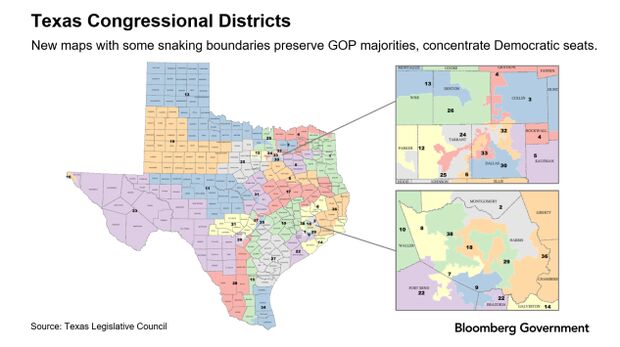 NEW MEXICO: DRAFT MAPS ENDORSED
The New Mexico Citizen Redistricting Committee decided on three congressional map options to recommend to the state legislature. Proposed districts "would consolidate Native American representation and strengthen a Hispanic majority," the AP reported.
The committee will submit written evaluations for the maps that include an analysis of partisan fairness. The Democrat-led legislature will have final say and could tweak the endorsed maps or reject them. The committee will continue work this week to adopt recommendations for state legislative districts. — Brenna Goth
MICHIGAN: ELECTION BILLS HEADED FOR VETO
A series of Republican-backed election-law overhaul bills that would tighten voter ID requirements cleared the legislature Oct. 14 and are headed to certain veto.
The Republican-sponsored package (H.B. 5007, S.B. 303, and S.B. 304) would require photo identification to cast a ballot, eliminate the ability for voters to sign an affidavit in lieu of presenting ID, bar third-party contributions to local election processes, prohibit universal mailing of absentee ballot applications, and would provide funding for a free state ID program.
Gov. Gretchen Whitmer (D) has pledged to veto the bills. While the measures won't take effect, part of the package closely mimics a GOP petition which could use Michigan's "adopt-and-amend" process to change state election law in a way that evades governor veto. — Alex Ebert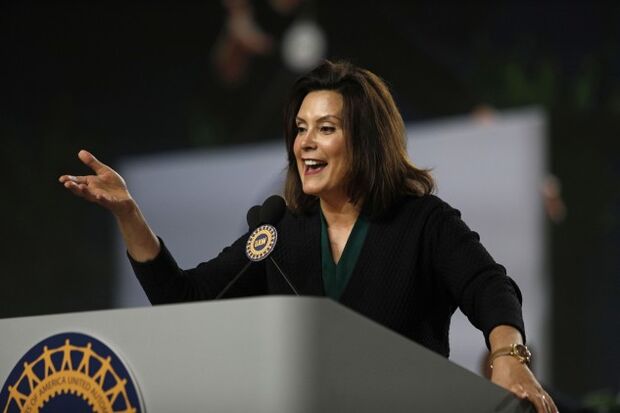 OREGON: FIRST IN MAPS, NOW IN COURT
Oregon's new congressional districts map was gerrymandered in a process that gave five of six congressional seats to Democrats, according to a new lawsuit.
Four former Republican office holders, including former Oregon Secretary of State Beverly Clarno, sued the state seeking to block implementation of the map the Democratic-majority legislature approved last month.
The lawsuit claims "under heavy pressure from national Democrats and Democrat Party aligned special interest groups," the majority on state legislative redistricting committees "never negotiated proposed congressional maps with their Republican committee-member counterparts."
The Marion County Circuit Court lawsuit said the "result of this highly partisan process is a clear, egregious partisan gerrymander."
The bill (S.B. 881-A) enacting congressional districts violates Oregon law, the suit says, "by unnecessarily splitting counties and communities of common interest, while ignoring political and geographic boundaries in such an egregious way that no reasonable Legislative Assembly would do."
Oregon was the first state to finish the process of drawing boundaries, with Gov. Kate Brown (D) signing the legislation crafting the new boundaries hours ahead of the state Supreme Court-imposed Sept. 27 deadline for lawmakers to act. — Joyce E. Cutler
NEW YORK: SEEKING PUBLIC INTEREST
The New York redistricting commission on Wednesday will launch a series of hearings, as required under the state's constitution, to collect public comment on the two draft sets of maps it released last month. The hearings will take place across the state through Nov. 23. — Keshia Clukey
FLORIDA: TRANSPARENCY WARNINGS
Drafts of Florida's redistricting plans, including any supporting documents, would no longer be exempt from the state's public records law, under two newly filed bills (H.B. 6053 and S.B. 530). Florida Senate Redistricting Committee Chairman Ray Rodrigues (R) warned lawmakers to document all communication with people submitting maps for consideration; failures in transparency marred Florida's previous redistricting process, allowing Republican political consultants to conduct "shadow" map-drawing eventually invalidated by state courts. — Jennifer Kay
ILLINOIS: KINZINGER GOING, LIPINSKI RETURNING?
Illinois Democrats on Friday unveiled new, proposed congressional districts, which compelled an incumbent Republican to begin contemplating life after Washington and a former member of Congress to consider throwing his hat into the ring—again.
"Following the release of the new congressional maps for Illinois, my team and I will spend some time looking them over and reviewing all of the options, including those outside the House," GOP Rep. Adam Kinzinger said in a statement hours after the proposed congressional district map was released. Kinzinger is a vocal critic of former President Donald Trump, angering some Republicans, and has said he's considering leaving the House and launching a campaign for statewide office, including challenging incumbent Gov. J.B. Pritzker (D), who is running for re-election in 2022.
Meantime, former Rep. Dan Lipinski (D), an anti-abortion Democrat who represented the state's 3rd District from 2005 to 2021, told reporters he's considering a primary challenge to Rep. Marie Newman (D), who defeated Lipinski for the Democratic nomination in 2020. Both politicians' home towns are located in the redrawn district. But the proposed map cuts out some liberal-leaning neighborhoods south of Chicago and replaces them with a large swath of territory jutting west of the current district, slicing through three existing districts and stopping less than 100 miles from the Iowa border.
Newman, in a statement, said the proposed map "is not only retrogressive but substantially diminishes the diverse and progressive voices of Chicago's Southwest side and suburbs." — Stephen Joyce
Caught Our Eye
Trump supporters in Florida are canvassing door-to-door in their push to audit 2020 election results. (Tampa Bay Times)
Resources
Add Us to Your Inbox
Click HERE to sign up for Ballots & Boundaries, your weekly check-in as states change voting laws and revise political districts, influencing power and policy for the next decade.
To contact the reporters on this story: Greg Giroux in Washington at ggiroux@bgov.com; Brenna Goth in Phoenix at bgoth@bloomberglaw.com; Jennifer Kay in Miami at jkay@bloomberglaw.com; Alex Ebert in Columbus, Ohio at aebert@bloomberglaw.com; Joyce E. Cutler in San Francisco at jcutler@bloomberglaw.com; Keshia Clukey in Albany, N.Y. at kclukey@bloomberglaw.com; Stephen Joyce in Chicago at sjoyce@bloomberglaw.com
To contact the editors responsible for this story: Tina May at tmay@bloomberglaw.com; Heather Rothman at hrothman@bgov.com