Mental Health Next Up on Congress Health Agenda: HEALTH BRIEFING
Bloomberg Government subscribers get the stories like this first. Act now and gain unlimited access to everything you need to know. Learn more.
Lawmakers are unveiling the early, bipartisan ideas they have for tackling the nation's ongoing mental health crisis, laying the groundwork for larger action this summer.
These moves set the stage for Congress to reach an agreement on a broad set of changes to respond to rising drug overdose deaths and increases in suicide rates among some Americans in recent years.
Leaders of the Senate Finance Committee Thursday unveiled a draft of their proposal to expand telehealth services for Medicare beneficiaries, including encouraging more virtual and telephonic mental health visits. Importantly, the draft includes eliminating the requirement a person have a periodic in-person visit to get telemental-health services.
"The pandemic made clear that telehealth is a game-changer, particularly so Americans can get mental health care when they need it," Finance Chairman Ron Wyden (D-Ore.) said in a statement. Wyden has promised his panel will offer further plans for Medicare and Medicaid coverage of mental health services. The Health, Education, Labor and Pensions Committee is likewise working on its own mental health package, Chair Patty Murray (D-Wash.) has said.
In the House, the Energy and Commerce Committee last week approved a bill (H.R. 7666) that, among other things, would terminate the special waiver doctors need to prescribe substance use disorder treatment medicine.
Mental health advocates say Congress appears poised to act, but they aren't sure how much money lawmakers are willing to commit to expanding coverage of these services or boosting federal programs meant to help people with addiction. "I'm confident there will be a bill coming: the question is how big will it be," Chuck Ingoglia, president and chief executive officer of the National Council for Mental Wellbeing, said.
Lawmakers have been trying to find ways to deal with what many call a mental health crisis plaguing the nation. The Centers for Disease Control and Prevention reported this month that over 107,000 people died of drug overdoses in 2021, an all-time high.
Some have responded with personal stories meant to highlight the issue: Sen. Tina Smith (D-Minn.) tweeted Monday about her struggles with depression, something even a decade ago would have been much less common in politics due to the stigma around the issue, Alex Ruoff reports.
Also Happening on the Hill
Thursday's Hearings:
'Red-Flag' Law Seen as Starting Point for Gun Talks: The massacre at a Texas school has revived discussions of red-flag laws as one potential compromise between Democrats and Republicans. Red-flag laws allow law enforcement officials or family members to ask a court to take away firearms temporarily or prevent their purchase by someone deemed a danger.
Sen. Susan Collins (R-Maine) said Sen. Chris Murphy (D-Conn.), who was elected to the Senate one month before the Sandy Hook shooting, reached out to her and they discussed Maine's version of the law. "I think it's the kind of law that could have made a difference in this case, since according to press reports if they were accurate it appeared he suffered from mental illness," Collins said of the Texas shooter. Read more from Steven Dennis and Laura Litvan.
Senate Panel Approves Contractor Conflict of Interest Bill: Following the Food and Drug Administration's decision to stop contracting with McKinsey & Company after revelations that it contracted with both government clients and opioid manufacturers on related issues, the Senate Homeland and Governmental Affairs Committee approved a bill (S. 3905) to tackle federal contractors' conflicts of interest, Patty Nieberg reports.
Industry & Regulation
HHS Names No. 2 for New Biomedical Research Unit: A former DARPA project manager will serve as the first senior official of Biden's new biomedical entity, a move that marks significant strides in getting the new National Institutes of Health agency off the ground. Adam H. Russell will serve as acting deputy director of the Advanced Research Projects Agency for Health, a new unit within the NIH. Read more from Jeannie Baumann.
Pharmacists Get FDA Guidelines on Canadian Imports: A licensed pharmacist or wholesale drug distributor may participate in programs to import any drug from Canada that could be sold legally there or in the American market, the FDA said in a guidance on Wednesday. The guidance document includes recommendations for small entities to comply with the agency's 2020 final rule. Read more from Celine Castronuovo.
Employer Savings Eyed in Plan to Ease Family Obamacare Subsidies: An IRS proposal that would make it easier for families to get subsidies for health insurance in the Obamacare exchanges would help businesses that would no longer need to pay some of those costs, health insurance brokers say. Currently, family members are excluded from ACA subsidies if anyone in a household has access to an employer-sponsored plan that meets ACA requirements for affordability and coverage, which has been dubbed the "family glitch." Sara Hansard has more.
Quarter of Retirees Cited Covid as Factor in 2021: One-quarter of Americans who retired last year said the pandemic was one of the reasons why they made the decision, according to the latest Federal Reserve report on household finances. Read more from Alex Tanzi.
Cities, States Target Formula Prices: Local leaders are cracking down on infant formula sellers that have responded by jacking up the cost of the limited supplies. New York Mayor Eric Adams this week declared a state of emergency and issued an executive order, D.C. city council members followed, and the attorneys general of Oregon and Georgia are also taking action. Sarah Holder and Angel Adegbesan have more.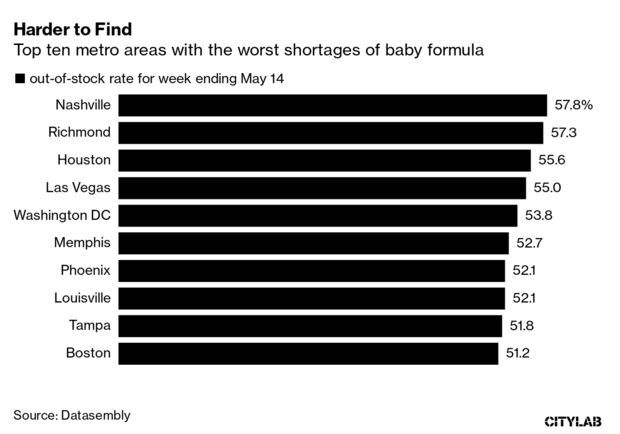 More Headlines:
From the Federal Courts
Skip Anthem-Express Scripts Fight, SCOTUS Asked: A case asking whether insurers and pharmacy benefit managers face ERISA liability when negotiating drug prices doesn't merit a Supreme Court review, a US government brief advising the justices to skip a case involving Anthem and Express Scripts says. Read more from Jacklyn Wille.
Ignore Outside Abortion Investigators, Michigan Governor Orders: Michigan officials have to refuse to help out-of-state abortion criminal or civil investigators under an executive directive Gov. Gretchen Whitmer (D) issued Wednesday. The directive instructs executive branch workers to ignore "authorities of any state in any investigation" related to "obtaining, providing, or assisting" with an abortion "that is legal where the health care is provided." Read more from Alex Ebert.
More Headlines:
To contact the reporters on this story: Alex Ruoff in Washington at aruoff@bgov.com; Brandon Lee in Washington at blee@bgov.com
To contact the editors responsible for this story: Giuseppe Macri at gmacri@bgov.com; Michaela Ross at mross@bgov.com
Stay informed with more news like this – from the largest team of reporters on Capitol Hill – subscribe to Bloomberg Government today. Learn more.