Men Run Most Powerful Committees Despite Rise of Women in House
Most committee chairs, staff directors are men in GOP House
Women claim gavels, top staff jobs across only three panels
Bloomberg Government subscribers get the stories like this first. Act now and gain unlimited access to everything you need to know. Learn more.
Men are taking control of most powerful committees in the newly Republican-controlled House at both the leadership and staff levels even as the number of women hit a record level in the chamber.
While women represent almost a third of House members, they hold gavels at only three of the chamber's 20 standing committees under the fresh Republican majority. Beyond the chairmanships, the majority of those panels will be run by the chairs' staff of predominantly men, who will shape the details of the GOP's legislative and political agendas.
Bloomberg Government analyzed the elected committee leadership and top staff members for each party for the House's 21 committees. The people in these positions of power influence which bills advance, what hearings are held to spotlight topics, and which witnesses are called to testify.
Lawmakers are still staffing up for the 118th Congress, but new Republican chairs have announced teams placing men at the helms of 17 of the chamber's committees. Only three have women in the top staff jobs.
The men who chair three of the most influential House committees — Armed Services, Financial Services, and Ways and Means — appointed men as their top staff members. Appropriations Committee Chair Kay Granger (R-Texas) assigned a woman to oversee her panel.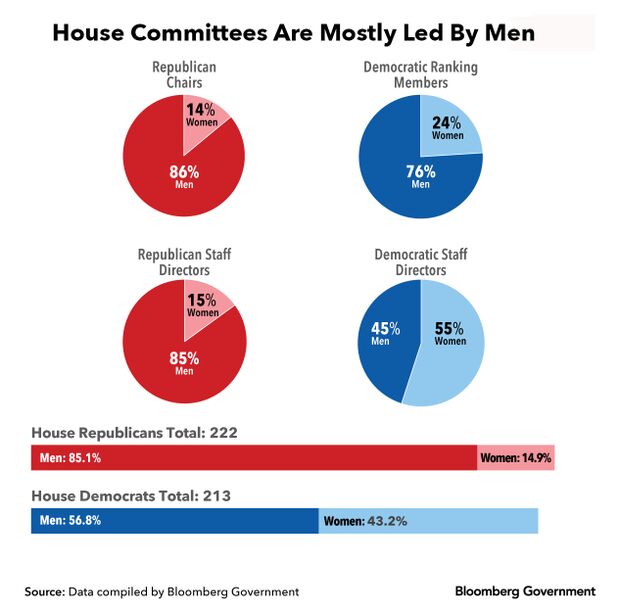 It's a 180-degree pivot from recent years, when Democrats broke ground tapping women to chair and lead the staff at many of the same panels. After Republicans claimed the majority, many top Democratic women aides shifted into minority staff director roles with Democrats counting 11 women staff directors spread across 20 committees.
Granger, who came to Congress in 1997 when women held fewer senior roles, said she's underwhelmed by her GOP colleagues' placement of only a few women in the top staff jobs. She recalled the days when one of the few leadership positions for women was the House Beauty Shop Committee, which existed through the 1960s and 70s.
"That's not enough," said Granger, who in her first year as Appropriations chair this year installed many women into senior posts in the front office and throughout the subcommittees. "I thought we were doing better than that."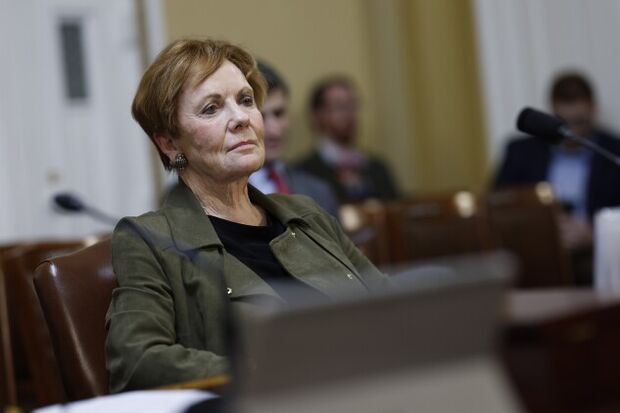 Rules Committee Chair Tom Cole (R-Okla.) is also among the few committee chairs with women staff directors. Cole said change comes slowly but increasing diversity in Congress is as important as anywhere else.
"It always matters," Cole said. "It's better than it was but not as good as it needs to be."
Kelly Dittmar at the Center on American Women and Politics at Rutgers University said committee staff directors play an outsize role in determining the committee's legislative and political strategies. In many cases, she said, "they have the ear and trust of the chair, saying yes or no to whatever they've proposed."
"At the end of the day they make the ultimate decisions and therefore that perspective or position weighs most heavily on what ultimately happens in the committee," Dittmar said.
Republicans' three women staff directors held the same posts in the minority in the 117th Congress. The final tally could still change as the new majority continues to organize. The 11 women Democrats leading committee staffs grew from eight two years ago.
Party Realities Reflected
The current crop of committee staff directors driving the party's legislative and political initiatives also is overwhelmingly white, even at a time when Congress is becoming more diverse, according to LaShonda Brenson of the Joint Center for Political and Economic Studies, a Washington-based think tank that works to advance Black leadership in government.
The center, which has studied diversity in congressional staffing, found in its own recent analysis of committee staff directors in both parties that of more than 40 chiefs, only seven were people of color, including five Black people and two with Latino backgrounds.
Cole, the longest serving Native American lawmaker in Congress, said the mostly white, male lineup of GOP staff directors isn't a surprise.
"You have to look at your pool, like at how many African-American Republicans there are," Cole said. "They tend to staff, and members tend to reflect, the demographics of their party."
Dittmar also said the developments say less about women's leadership gains and more about the realities of the two political parties. Women, she said, are more likely to vote for Democrats and if they win office they are likely to be Democrats, who, in turn, hire other women to be top aides.
"When we shift to Republican control, we reduce the number of women chairs because women are a lower percentage of the Republican Party," Dittmar said. Fewer top women staffers "also would be consistent based on those partisan differences."
Rules and Natural Resources also have majority staff directors who are women. At Natural Resources, both Committee Chair Bruce Westerman (R-Ark.) and ranking member Rep. Raul Grijalva (D-Ariz.) put women in the top staff role.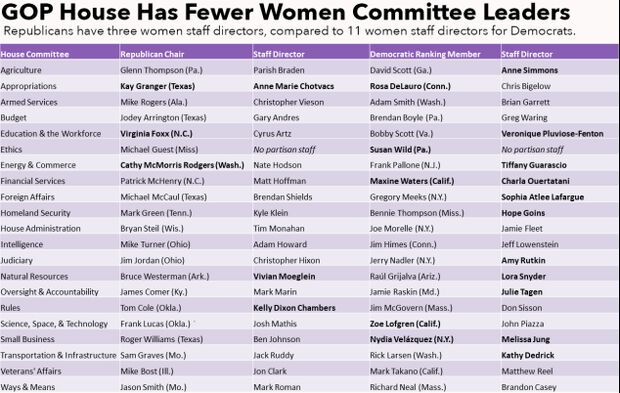 Even most women chairs followed the majority trend of hiring men to be their top aides. Energy and Commerce Chair Cathy McMorris Rodgers (R-Wash.) and Education and the Workforce Chair Virginia Foxx (R-N.C.) named male staff directors.
Some committees are led entirely by men regardless of party. Armed Services Chair Mike Rogers (R-Ala.) and ranking member Rep. Adam Smith (D-Wash.) both have male staff directors, as do Ways and Means Committee Chair Jason Smith (R-Mo.) and ranking member Rep. Richard Neal (D-Mass.).
Other panels feature more gender contrast. Republicans have male staff directors at Judiciary, Homeland Security, Financial Services, Energy and Commerce, Education and the Workforce, Transportation and Infrastructure. At those same committees Democrats have women leading the minority staff.
Dittmar said even within committee staffs led by Republican men, many women hold senior positions as deputy staff directors and counsels. In many cases the next tier of aides is dominated by women. Republicans have women serving as deputy staff directors at Appropriations, Budget, Education, Energy and Commerce, Foreign Affairs, and Natural Resources.
The dominance of male chiefs "doesn't negate the fact that diversity in these other positions is also going to have a positive effect," Dittmar said.
Bipartisan Problem
Though Democrats have women staff directors at about half of committees, research by the Joint Center still shows senior staff for both parties is overwhelmingly white, while people of color account for 40% of the US population.
"It all corroborates the claim there is widening diversity within staff overall, but it's predominantly in the mid-level and entry-level positions," said Taylor J. Swift of Demand Progress, a progressive organization that advocates for changes to modernize Congress.
According to Brenson, the Joint Center found most top Black staffers at House committees were put in those positions by Black lawmakers who previously chaired the panels and are members of the Congressional Black Caucus. They include staff directors who recently switched from the majority to the minority at Education and Labor, Financial Services, Foreign Affairs, and Homeland Security.
Of the Black chiefs, all had been women except for Brandon Casey, who Ways and Means Committee ranking member Neal first tapped to be his staff director while in the majority. Casey now serves as minority staff director on the committee. Recently Budget Committee ranking member Brendan Boyle (D-Pa.) named Greg Waring to be minority staff director at his panel.
Neal skirted issues of diversity in Congress when asked about his pick and said naming Casey to head the tax-writing panel's staff was an "easy call" because of his reputation.
"They said that he was the best person out there so it became natural for me," he said.
Andrew Small and Seemeen Hashem in Washington, DC also contributed to this story.
To contact the reporter on this story: Nancy Ognanovich in Washington at nognanov@bgov.com
To contact the editors responsible for this story: Giuseppe Macri at gmacri@bgov.com; Angela Greiling Keane at agreilingkeane@bloombergindustry.com
Stay informed with more news like this – from the largest team of reporters on Capitol Hill – subscribe to Bloomberg Government today. Learn more.