Memorial Day Parades Go Virtual for Members of Congress, Voters
Memorial Day parades are annual must-dos for members of Congress, and every other year they mark the unofficial start of summer campaign season.
This year's events, like so many other mass gatherings, are canceled in small towns and big cities across the country because of social distancing policies put in place in response to the coronavirus pandemic.
Local papers have captured the disappointment among area residents, from northern California to southeastern Pennsylvania, but the disruption of a political norm also steals another opportunity for sitting and aspiring lawmakers to "press the flesh" with voters.
"I think it's going to be like that through the summer," said Dick Wadhams, a Colorado Republican political consultant. "The local celebrations, county fairs, and rodeos and festivals will not happen. So the ability of candidates to get out and do some retail campaigning will be very limited."
Large parades like the one Sen. Susan Collins (R-Maine) led last year to celebrate the 150th anniversary of the city of Auburn are on hold this year. So, too, are her keynote speeches that drew hundreds of veterans. Instead, the four-term senator in the heat of a re-election race is planning to visit a local veterans memorial in central Maine with her husband to lay flowers and pay their respects.
The Chappaqua, N.Y., parade that often featured Bill and Hillary Clinton is another casualty of the virus. House Appropriations Committee Chairwoman Nita Lowey (D-N.Y.), whose hard-hit district includes the town, instead is preparing a video address that she said will be aired on social channels.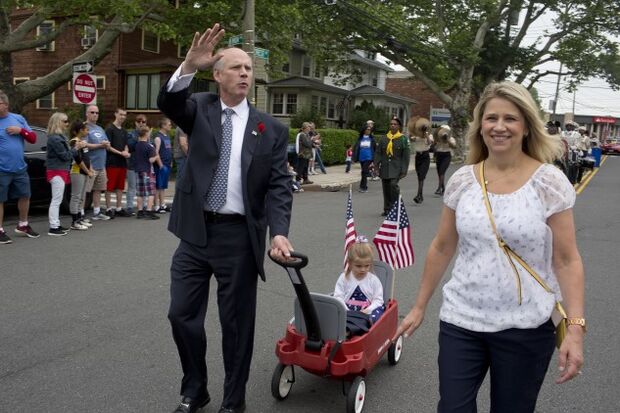 It's much the same for House Veterans' Affairs Committee Chairman Mark Takano (D-Calif.). Last year he hosted an event where he met with Chinese-Americans who served in the U.S. military during World War II. On Friday, Takano will join Randy Reeves, the VA's under secretary for memorial affairs, to lay a wreath at Riverside National Cemetery in Takano's district. The VA plans to share live-stream and recorded video of the event on Facebook and Twitter.
Resistance to New Rules
Not all lawmakers are embracing the restrictive approach that the VA said will limit many events to "most solemn" wreath laying, moments of silence, and the playing of Taps. That's particularly true in states where a reopening of the economy is already underway and lawmakers are pushing back against what they see as restrictive rules.
Rep. Chip Roy (R-Texas), who faces a competitive challenge from former state Sen. Wendy Davis (D), led a group of 13 House Republicans this week in writing a letter to Reeves and VA Secretary Robert Wilkie expressing their opposition to prohibitions on public events at national cemeteries during the Memorial Day weekend. They said the first casualty of the new rules will be the long-time tradition of Boy Scouts and other groups placing flags on graves.
"These men and women gave everything for their country," Roy said in a tweet. "Willing Americans should be allowed to honor them. Period."
Rep. Kay Granger (R-Texas) didn't sign on to the letter, but she won't be staying virtual on Memorial Day. Granger survived a conservative primary challenge in March from Chris Putnam, a former city councilman from a Fort Worth suburb who recently led protests of state and local coronavirus shutdown orders.
"Texas has moved quite a bit toward reopening, so she will be at a traditional ceremony in her district," Granger spokeswoman Sarah Flaim said.
Still, others are working around their state-specific realities. The Washington, D.C., motorcycle parade Rolling to Remember was canceled, but Sen. Joe Manchin (D-W.Va.) plans to complete his own motorcycle ride on Sunday. Manchin, who has campaigned on a motorcycle, undertook a similar ride to honor military members last summer. AMVETS plans to post a video of Manchin with other riders on Facebook.
Manchin said he supports the "innovative ways" veterans are being celebrated this year and wants to celebrate "our American heroes in person when it is safe to do so."
Members of both parties are signing up to participate in other events they see still have the potential to reach thousands of veterans — and voters — once they're shared online.
Senate Veterans' Affairs Committee Chairman Jerry Moran (R-Kansas) said he'll speak at a ceremony at the Fort Riley Cemetery in Kansas that will be closed to the public but still broadcast online and on social media. He'll share it with other senators to help get a national audience and reach more vets. And he'll join Reps. Emanuel Cleaver (D-Mo.) and Sharice Davids (D-Kansas) for events at the National World War I Museum that will be live-streamed.
"This Memorial Day may have fewer of the events that typically occur, but I am hopeful more families can tune in to a virtual event or simply think about why we observe Memorial Day and what it means for us as a country right now," Moran said.
To contact the reporter on this story: Nancy Ognanovich in Washington at nognanov@bgov.com
To contact the editors responsible for this story: Kyle Trygstad at ktrygstad@bgov.com; Bennett Roth at broth@bgov.com