Meet the Technocrat Who Keeps Killing Trump Voter Fraud Claims
Detail-focused authority says 'I can bore people to death'
Judge, board members, GOP committee all looked to Thomas
(Corrects the ninth paragraph, adding Thomas's second university degree.)
Bloomberg Government subscribers get the stories like this first. Act now and gain unlimited access to everything you need to know. Learn more.
Christopher Thomas took a consulting gig last year thinking he'd use his decades of experience as Michigan's elections director to help Detroit prepare for a recount.
It didn't turn out to be the routine retirement gig he expected.
Thomas became a star witness undermining Donald Trump's claims of "voter fraud" at multiple turns. He testified in a court case seeking to stop the election, addressed the meeting where the vote nearly wasn't certified, and shaped the Republican lawmaker's report finding no widespread fraud in Michigan's 2020 presidential race.
"Chris is not an expert," David Fink, lead attorney for the city's post-2020 election litigation, said in an interview. "He's the election expert in Michigan."
(Sign up for Ballots & Boundaries , a weekly check-in as states change voting laws and revise political districts.)
Thomas retired in 2017 to his boyhood home town of St. Joseph, Mich. after a 36-year career running state elections under both Republican and Democratic leaders. Then Detroit called him in as a consultant.
Overnight, the 71-year-old transformed into a key witness against former President Donald Trump's claims of election fraud in Michigan, where President Joe Biden won by more than 100,000 votes.
In the summer of 2020, facing a raging pandemic, a history of counting struggles, and Trump's claims that the presidential contest would be rigged, Detroit officials decided they needed some expert help.
Thomas recalled thinking that, at worst, he might have to deal with a complicated recount like the one that occurred in 2016. What he got instead: hundreds of protesters swarming Detroit's TCF Center, chanting "Stop the count."
"There were demands to shut down the whole place," he said in an interview. "It deteriorated from there."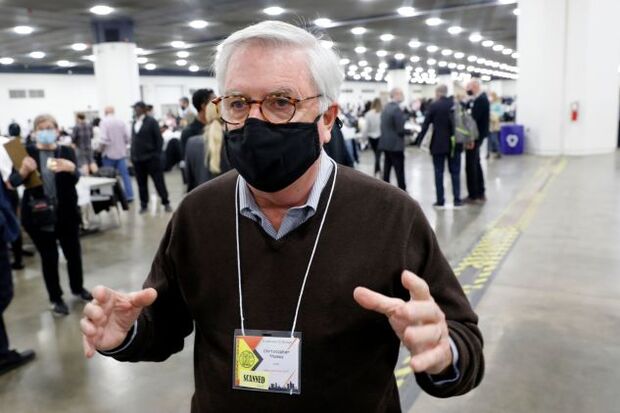 Thomas moved to Washington in 1974 with degrees from Michigan State and St. Louis University, and dreams of advocating for urban policy. The job he landed, in the records office for the Speaker of the House, was all about attention to detail.
That position exposed Thomas to the intricacies of campaign finance, which led to a job at the Federal Election Commission. After giving Michigan election officials a tour of the FEC office, they recruited Thomas back to his home state.
He took the opportunity and ended up overseeing decades of elections — a background that helped him be a calm, authoritative voice responding to allegations, claims, and guesses after the 2020 election.
When partisan vote-count observation teams complained that boxes of ballots arrived late to the counting center, Thomas told them that's neither unusual or illegal.
Back-dated absentee ballots? Again, he could cut through the confusion, explaining that ballots were pre-processed at another office and envelopes were stamped with the correct dates. Fake birth dates in the electronic data? No, those are placeholders that kick in when the voters' real dates weren't properly saved in that file.
"There's a little piece of me that thinks maybe my whole career is aimed at that day, where I was in the right place at the right time," he said.
From Expert to Witness
After getting through the vote count, interruped frequently to answer allegations with facts, the conspiratorial claims had a change of venue. A lawsuit sought to prevent the certification of votes in Detroit and the rest of Wayne County.
Suddenly Thomas wasn't just the city's election expert. He was its all-star witness.
Circuit Court Judge Timothy Kenny issued a Nov. 13 opinion rejecting fraud claims and finding Thomas's affidavit dispelling the allegations "compelling" based on his "background, expertise, role at the TCF Center during the election, and history of bipartisan work."
Sparse Voter-Fraud Cases Undercut Claims of Widespread Abuses
Gathering the Data on Voting Fraud Prosecutions (Podcast)
Ten days later the Michigan Board of State Canvassers—the four-member bipartisan committee that certifies state elections—held a hearing in which Republicans pressured commission members Norm Shinkle (R) and Aaron van Langevelde (R) to reject the results and leave the state's electoral college votes in limbo instead of going to Joe Biden.
The first witness called to testify was Thomas.
"You're the endgame of the statewide elections for 2020," he told the board. "We don't have any ties."
Van Langevelde said that Thomas "raised important things" and had an "extensive legal background." He voted to certify the results with the two commission Democrats; Shinkle abstained.
After the election, the GOP-controlled Michigan Senate Oversight Committee took dozens of hours of testimony from election critics including Trump lawyer Rudy Giuliani. Thomas testified for three hours on how perceived election "irregularities" were normal procedures in Michigan's complicated vote-counting process.
"I can bore people to death—I never thought that was going to be an asset," said Thomas.
The committee 's report cited Thomas more than any other witness. Its bottom line: "no evidence of widespread or systemic fraud" in the 2020 election.
Final Say
"I think it's fair to say that every witness and every expert challenging this election was out of their league when they came up against Chris Thomas," said Fink. The city did the right thing by bringing in Chris Thomas to make this a bullet-proof election, and, thank God, it worked."
Thomas, meanwhile, has been helping Detroit prepare for Tuesday's primary election. He said his focus has been on decreasing the number of "unbalanced" precincts with discrepancies between the number of votes cast and the number of voters in the poll book—a common issue cited by election skeptics.
"I can't say I'm any more prepared to retire now than I was four years ago," he said. "We still have work to do."
To contact the reporter on this story: Alex Ebert in Marshfield, Wis. at aebert@bloomberglaw.com
To contact the editors responsible for this story: Katherine Rizzo at krizzo@bgov.com; Cheryl Saenz at csaenz@bloombergindustry.com
Stay informed with more news like this – from the largest team of reporters on Capitol Hill – subscribe to Bloomberg Government today. Learn more.