Meet the Best-Funded Primary Challengers to House Incumbents
Moderate Democrats and Republicans toting political baggage are among the House members who face primary challengers boasting notable fundraising hauls.
While it doesn't necessarily portend victory, campaign cash is a critical early metric of viability. Having ample funds can boost a contender's name recognition and ability to consistently disseminate a message, which helps level the playing field with an electorate inherently more familiar with the incumbent.
Here's a look at the best-funded House candidates challenging incumbents from their own party in 2020. The dollar figures noted parenthetically refer to a campaign's cash on hand as of Sept. 30. The next fundraising reports are due at the end of January and will cover activity over the last three months of 2019.
Carl DeMaio (R), California's 50th District ($1.2 million cash-on-hand). DeMaio, a former San Diego councilman, is among the Republicans opposing Rep. Duncan Hunter, who's seeking re-election even as he faces trial in January on charges of misusing campaign funds. Hunter has denied wrongdoing. DeMaio lost a close 2014 bid to unseat Rep. Scott Peters (D) in the adjacent 52nd District.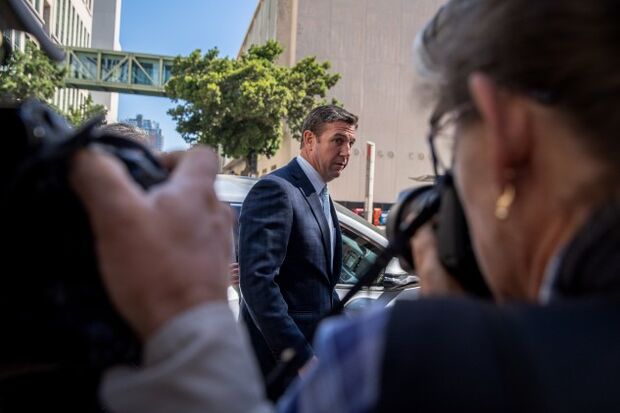 Other Republicans running include former Rep. Darrell Issa, who was one of the wealthiest members of Congress until retiring last year from the neighboring 49th District, and state Sen. Brian Jones. So is Democrat Ammar Campa-Najjar, who lost 52-48% to Hunter in 2018 in the strongly Republican district near the U.S.-Mexico border. Under California's top-two primary format, the two candidates with the most votes in the March 3 primary will advance to the November general election, regardless of party affiliation.
Jake LaTurner (R), Kansas' 2nd District ($527,000). LaTurner, the state treasurer, pivoted to oppose one-term Rep. Steve Watkins in the Topeka-area 2nd District after previously campaigning for the state's open Senate seat. Former Gov. Jeff Colyer (R) urged LaTurner to instead challenge Watkins, who won by fewer than one percentage point in 2018 and underperformed in a Republican-friendly district President Donald Trump carried by almost 20 points in 2016.
Marie Newman (D), Illinois' 3rd District ($514,000). Newman, a lawyer, is seeking to unseat Rep. Dan Lipinski in a rematch of a 2018 primary that Lipinski won 51-49%. Newman began her second bid against Lipinski much earlier than her first campaign. She's again backed by EMILY's List, which aids Democratic women who support abortion rights. Rep. Alexandria Ocasio-Cortez (D-N.Y.), who unseated a House Democrat last year, endorsed Newman in September.
Lipinski, a member of the Blue Dog Coalition of Democrats who prioritize fiscal restraint, is one of the few anti-abortion-rights Democrats left in Congress. He's a senior member of the Transportation and Infrastructure Committee and chairman of its Railroads, Pipelines, and Hazardous Materials Subcommittee.
Newman won't have a 1-on-1 race against Lipinski this time, though. Rush Darwish, a businessman, is also seeking the Democratic nomination and had banked $318,000 — thanks in part to a $78,000 personal loan — by the end of September. In most states, including Illinois, a plurality of the vote is sufficient for victory.
Chris Putnam (R), Texas' 12th District ($448,000). Putnam is a businessman and former Colleyville city councilman who's attacked Rep. Kay Granger for not endorsing Trump in 2016. Granger, who's been in Congress since 1997, is the most senior Republican on the Appropriations Committee and a former Fort Worth mayor. She's never been seriously threatened in a primary and last faced a Republican opponent in 2012. The Texas primary is March 3.
Randy Feenstra (R), Iowa's 4th District ($406,000). Feenstra, a state senator, is the leading Republican seeking to unseat nine-term Rep. Steve King. The outspoken conservative incumbent was stripped of his committee assignments by House Republican leaders early this year for making incendiary remarks, inviting plenty of opposition. Former Iowa Gov. Terry Branstad (R), former President George W. Bush's political adviser Karl Rove, and Rep. Adam Kinzinger (R-Ill.) have donated to Feenstra. Former Iowa Republican House Speaker Christopher Rants organized a super-political action committee that's aiding Feenstra.
Democrat J.D. Scholten is seeking the seat again after coming within 3.3 percentage points of unseating King last year in the strongly Republican district.
Jessica Cisneros (D), Texas' 28th District ($292,000). Cisneros, a human rights lawyer, is taking on eight-term Rep. Henry Cuellar, a Blue Dog who works well with Republicans and represents a Hispanic-majority district that includes Laredo and some suburbs of San Antonio. Cisneros has the backing of EMILY's List and Ocasio-Cortez.
Cuellar, a member of the Appropriations Committee, ran unopposed in five of the previous six Democratic primaries. His 91% rating from the U.S. Chamber of Commerce on its 2018 vote scorecard was the highest for a House Democrat.
Morgan Harper (D), Ohio's 3rd District ($239,000). Harper, a lawyer who worked for the Consumer Financial Protection Bureau, is opposing Rep. Joyce Beatty (D) in a strongly Democratic, Columbus-based district and running on a platform that includes a Medicare-for-All health-care system, a Green New Deal to aggressively combat climate change, tuition-free public college, and reparations for African-Americans. Harper's supporters include Justice Democrats, a progressive activist group that helped Ocasio-Cortez win in 2018.
Beatty has a liberal voting record and is chairwoman of the Financial Services Diversity and Inclusion Subcommittee. She sponsored House-passed bills in the 116th Congress that seek to increase diversity on regional Federal Reserve Banks and provide mortgage insurance discounts to first-time homebuyers who complete a financial literacy course.
Holly Lynch (D), New York's 10th District ($174,000). Lynch, who has a background in advertising and angel investing, is among several primary challengers to Judiciary Committee Chairman Jerry Nadler, a House member since 1992 and a key figure in the Democratic-led House's impeachment probe of Trump. Lynch has mostly self-financed her campaign.
Nadler's other intraparty challengers include Lindsey Boylan, a former state economic development official who had $157,000 in the bank as October began. The district includes parts of Manhattan and Brooklyn and is staunchly Democratic.
Esmeralda Soria (D), California's 16th District ($133,000). Soria, a member of the Fresno City Council, is opposing eight-term Rep. Jim Costa in the top-two primary. Soria is running to the left of Costa, a veteran California politician and a compromise-minded Blue Dog who leads the Agriculture Committee's Livestock and Foreign Agriculture Subcommittee and has voted with Republicans on some energy and regulatory legislation.
Alex Morse (D), Massachusetts' 1st District ($123,000). Morse, the 30-year-old Holyoke mayor, is seeking to unseat Ways and Means Chairman Richard Neal, who began serving in Congress the year Morse was born. When first elected in 2011 at age 22, Morse was Holyoke's youngest and first openly gay mayor. Neal won his 2018 primary, 71-29%.
For more:
Liberals Seek to Repeat Ocasio-Cortez Feat by Ousting Incumbents
Pro-Business House Democrat Loses Union Money as AOC Backs Rival
To contact the reporter on this story: Greg Giroux in Washington at ggiroux@bgov.com
To contact the editors responsible for this story: Bennett Roth at broth@bgov.com; Kyle Trygstad at ktrygstad@bgov.com