Medical Cannabis in Mississippi Faces Constitutional Challenge
Three states' 2020 cannabis initiatives now face litigation
July 1 deadline for Mississippi medical cannabis program
Bloomberg Government subscribers get the stories like this first. Act now and gain unlimited access to everything you need to know. Learn more.
Mississippi has four congressional districts. Except when it has five.
That conundrum is the heart of a case before the Mississippi Supreme Court, which hears arguments Wednesday in a suit that could derail the state's new medical marijuana program and also affect voter identification and eminent domain laws.
A mayor is challenging the 2020 ballot initiative creating Mississippi's medical marijuana program, claiming that a "zombie law" makes it unconstitutional.
That law requires signatures for initiatives to come equally from the five congressional districts that existed when Mississippi's constitution was amended in 1992 to allow citizen-initiated ballot questions. Since 2001, though, Mississippi has had only four congressional districts.
Legislators have made seven attempts to update that law, failing each time, according to court documents.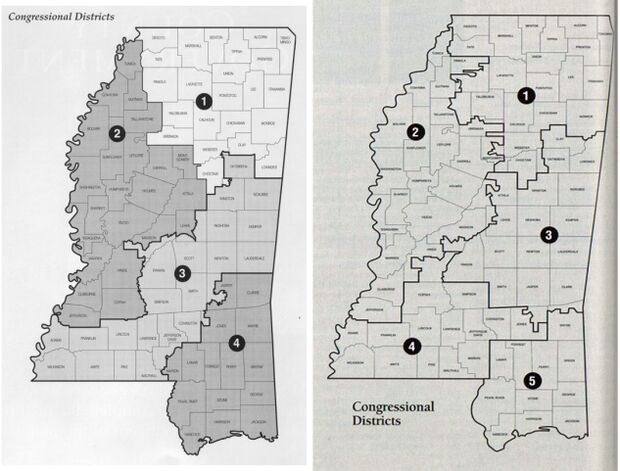 Having two sets of congressional districts is complicated, but it works, Mississippi Secretary of State Michael Watson said in court documents defending Initiative 65, which voters overwhelmingly approved in November.
Four districts exist for congressional elections, and five districts exist for everything else, such as electing judges to the Mississippi Court of Appeals, Watson explained in a Dec. 28 filing.
Two successful, Republican-backed citizens initiatives on the 2011 ballot followed the same process without facing legal challenges. One now requires Mississippi voters to show identification when they cast a ballot. The other stops state and local governments from taking private property through eminent domain for use by another private business or individual.
Political Subtext
The medical marijuana initiative had bipartisan support among voters, context that could factor into the justices' decision-making because they, too, face voters, said University of Mississippi political science professor Miles Armaly.
"They don't want to make an unpopular decision that strips away direct democracy from people, that strips away medical marijuana that a lot of people voted for, and then go up for reelection, some of them in only four years," he said. "So they'll probably weigh, 'how quick will the voters forget' versus 'how much is this going to get me in trouble next time I want to be elected to the bench.'"
Nullifying the medical marijuana initiative would jeopardize future efforts by citizens to change their state constitution, said Jared Moffat of the advocacy group Marijuana Policy Project.
"If the Supreme Court rules that this shouldn't have been placed on the ballot because of this kind of silly mathematical issue with congressional districts, well, there's just no way forward for any future initiatives," Moffat said.
Zoning Argument
Over 73 percent of Mississippi's voters approved the initiative creating a medical marijuana program for patients with certain conditions.
Mary Hawkins Butler, mayor of Madison, Miss., filed an emergency petition seeking to invalidate the initiative a week before Election Day. She and other mayors contend local autonomy over zoning would be threatened if the state allows medical marijuana businesses to set up shop.
Since the signature math doesn't add up under a strict interpretation of the language about districts, the secretary of state shouldn't have let Initiative 65 go onto the ballot, Butler's attorneys wrote in her Oct. 26 petition.
In response, Watson said Butler should have filed her complaint earlier than October 2020, since the signatures had been certified in November 2019.
Butler is represented by Jones Walker LLP and Madison City Attorney Chelsea H. Brannon. Watson is represented by the Mississippi Attorney General's office.
Other Challenges
Mississippi is one of three states where 2020 ballot initiatives on cannabis are being reviewed by state courts. Lawsuits active in Montana and South Dakota challenge the validity of voter-approved initiatives legalizing recreational marijuana.
Carly Wolf of the pro-legalization advocacy group NORML called the litigation "cynical attempts to undermine the democratic process."
The Mississippi State Department of Health has filed briefs supporting Butler, saying the constitutional violation was "only the tip of the iceberg" when it comes to the amendment's problems, including being too broad, conflicting with state and federal law, and creating an implementation burden.
The Mississippi State Medical Association, American Medical Association, Mississippi Municipal League, and Mississippi Sheriffs' Association also filed briefs supporting Butler.
State health officials have a July 1 deadline for establishing a medical marijuana program.
"We still have the intent of meeting our constitutional deadlines and doing it in a way that maximally protects Mississippians—from a safety perspective in the product, but also safe for children, pregnant women and vulnerable groups," Dr. Thomas Dobbs, the state health officer, said April 6 at a briefing in Jackson, Miss.
The Mississippi Cannabis Trade Association is proceeding with registering new members despite the pending litigation, Executive Director Jessica Rice said.
"People are cautious, of course, of making large investments and getting started, but I think people realize the desire is there for most Mississippians," Rice said. "Whether it's this program or another program, cannabis is coming to Mississippi, and they want to get in on that industry."
The case is Mary Hawkins Butler v. Michael Watson, Miss., 2020-IA-01199-SCT
To contact the reporter on this story: Jennifer Kay in Miami at jkay@bloomberglaw.com
To contact the editors responsible for this story: Katherine Rizzo at krizzo@bgov.com; Heather Rothman at hrothman@bgov.com
Stay informed with more news like this – from the largest team of reporters on Capitol Hill – subscribe to Bloomberg Government today. Learn more.