Meatpackers Press for Covid-19 Vaccine to Protect Line Workers
Tyson, JBS, Cargill, Perdue prepare to vaccinate workforce
Labor groups urge Biden to develop national safety standard
Bloomberg Government subscribers get the stories like this first. Act now and gain unlimited access to everything you need to know. Learn more.
Meatpacking workers and their employers are pushing to the front of the line for coronavirus vaccinations as state governments roll out their distribution plans to combat the pandemic.
President-elect Joe Biden's administration is pushing to implement an emergency temporary standard that would compel most American workplaces to develop Covid safety protocols in line with guidance from the Centers for Disease Control and Prevention, but the meatpacking industry — where workers still don't maintain the recommended six-foot social distance — will face particular scrutiny after a series of large-scale infections.
The Occupational Safety and Health Administration has cited several meat companies for failure to separate workers. The Food and Environment Reporting Network estimates at least 53,620 meatpacking workers have tested positive for Covid-19 and 269 have died as of Jan. 15.
With an executive order by President Donald Trump compelling plants to remain open to sustain the nation's food supply, industry and safety professionals are weighing how soon workers can be inoculated and when an emergency standard can be mandated.
The nation's meatpacking heavyweights, including Tyson Foods Inc., JBS SA, and Cargill Inc., are driving to vaccinate their employees quickly, partnering with medical experts and union representatives in the meantime.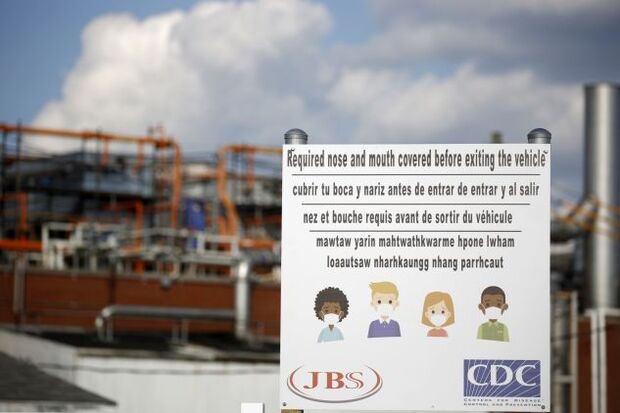 Vaccine Priority
The United Food and Commercial Workers International Union, the nation's biggest union for meatpacking workers, and the North American Meat Institute pressed all 50 U.S. governors to give meat and poultry workers "very high priority" for vaccinations in a Dec. 23 letter.
"Many meat and poultry establishments are top employers in rural communities that can experience challenges with access to adequate health care," the groups wrote. "Vaccinating meat and poultry workers will maximize the health of entire rural communities and increase health equity."
Iowa plant workers will be eligible for vaccinations on Feb. 1, while leaders in California, Colorado, Kansas, and other states have also said they will prioritize meat-processing workers. In Nebraska, where food and agriculture workers will be eligible for a vaccine phase that could start by February, plant employees without legal work authorization may face challenges as Gov. Pete Ricketts (R) wants citizens and legal residents to get priority.
The major meatpackers are well-prepared for vaccine distribution, but it's too early to say which company will be most effective, UFCW said in a Jan. 14 statement. An emergency temporary standard for meatpacking workers must include expanded access to personal protective equipment, increased social distancing, and stronger ventilation requirements, the union said.
Sarah Little, a representative from the North American Meat Institute, said its member companies "have been strong advocates for all meat and poultry frontline employees to have priority access to the vaccine. State and local health authorities are distributing vaccines to those most in need in accordance with CDC recommendations."
Anticipating an ETS
Debbie Berkowitz, worker health and safety program director with the National Employment Law Project, said vaccinations need to be offered alongside the Biden administration's proposed emergency temporary standard.
She expects a national emergency temporary standard to look similar to one already implemented in Virginia that labels meatpacking plant positions "medium hazard" occupations, following health-care workers.
Virginia also "mandates that workers have to be 6 feet apart," Berkowitz said. "And if they can't separate them, they have to find another way to protect them, with respirators — not masks." California, Washington, Michigan, and Oregon also have emergency standards in effect.
Attorney David Muraskin of the Washington, D.C.-based group Public Justice last year fought and lost a lawsuit seeking increased safety protocols for Smithfield Foods Inc. workers at the company's Milan, Mo., facility.
He said reducing infections and protecting workers with methods that are "practically possible" should be implemented immediately.
If separation isn't possible,"we don't have an institutional objection to N95s being offered, for instance," he said. "However, they're expensive and they run out. There are concerns about the way air is moving throughout these plants. We've consistently heard about heat, exertion and sweating through masks. I worry that an N95 versus spacing requirement may not be sufficient."
'Doing the Right Thing'
Tyson Foods, the country's largest meat processor, announced its partnership with clinical services company Matrix Medical Network on Jan. 13 to ensure vaccine access for team members. Tyson also will provide information in multiple languages about the inoculation process.
"Providing vaccine education and accessibility is a critical part of our ongoing commitment to put the health and safety of our team members first," Dean Banks, Tyson's president and CEO, said in a statement. Vaccines will be administered at the earliest opportunity following guidance from health officials, the company said.
Cameron Bruett, head of corporate affairs at JBS USA and Pilgrim's Pride Corp., said corporate efforts to vaccinate team members have been underway for weeks, extending to partnerships with local union representatives and an internal vaccine campaign for employees delivered in their native languages. JBS USA is a subsidiary of Brazilian meat-processing giant JBS SA, which also owns Pilgrim's Pride.
"In some states, some of our occupational health staff and team members above a certain age have received vaccines," Bruett said in a Jan. 13 emailed statement, adding that company nurses and occupational health staff may be able to administer vaccines directly to workers, depending on the location.
The pandemic response at Cargill involves "putting people first and doing the right thing," said Daniel Sullivan, media relations director for the company's protein business. The corporation is working with local health authorities to promote vaccinations and ensure employee access, he added in a Jan. 13 statement.
The nation's fourth-largest poultry producer, Perdue Farms Inc., has urged both states and the CDC to make the meat and poultry workforce a priority for vaccine distribution.
"We are grateful that much of our Wellness Center staff has received the vaccines already since they are healthcare workers who fall in to phase 1A, but unfortunately distribution has not yet reached meat and poultry processing workers as a general group," Diana Souder, Perdue's corporate communications and brand public relations director, said in an emailed statement.
Perdue has recorded "some" confirmed Covid-19 cases, but "we've decided not to specify details out of respect for our associates' privacy under applicable confidentiality guidelines," Souder said. Tyson, JBS, and Cargill didn't provide updated data on total positive coronavirus cases among their workers.
To contact the reporters on this story: Fatima Hussein in Washington at fhussein@bloombergenvironment.com; Megan U. Boyanton in Washington at mboyanton@bgov.com
To contact the editors responsible for this story: Andrew Harris at aharris@bloomberglaw.com; Sarah Babbage at sbabbage@bgov.com
Stay informed with more news like this – from the largest team of reporters on Capitol Hill – subscribe to Bloomberg Government today. Learn more.